Catching up with Gerli Liinamäe, Gabriele Frangipani
October 13, 2023
By Reut Golinsky
Photo © Reut Golinsky
Gerli Liinamäe and Gabriele Frangipani are competing this weekend at the ISU CS Budapest Trophy*. We had the opportunity to catch up with both of them at the start of the season, during the Nebelhorn Trophy and Nepela Memorial, respectively. They have quite different stories to share and find themselves at very different stages of their careers, but one common thread that runs through both conversations is their passion for what they do.
Gerli Liinamäe discusses her final competitive season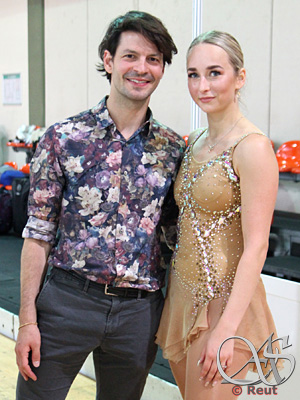 Four-time Estonian National champion Gerli Liinamäe commenced her season at the Nebelhorn Trophy, and I used this opportunity to inquire about her programs and her work with Stéphane Lambiel. Even though they've been collaborating for the past few seasons, it turns out that their initial encounter occurred much earlier, when Gerli was one of the girls holding flowers during the medal ceremony at the European Championships in Tallinn.
Stéphane, who happened to be nearby, offered his insights on the significance of skaters having their own opinions, Isabeau Levito's use of "his" music in her short program, and, in his charming and enthusiastic manner, basically took over this conversation.
Tell me more about when and how you started working together.
Stéphane: This is our third season. First season when we worked together it was the choreography to Celine Dion ("I Surrender" by Celine Dion, SP for season 2021/22), next year I made [a program to] Shakira (FS for seasons 2022/23 and 2023/24) and this is our third year.
Gerli, how has this collaboration started? How did you know about him, think about this option?
Gerli: I've known who he was since I was little. And at the Europeans 2010, in Tallinn, I participated at the medal ceremony holding the flowers. So I was standing next to him! (Stéphane was silver medallist - ed.)
Stéphane: Can you imagine? It was thirteen years ago!
Gerli: And about our collaboration... it kind of just happened. It was during the COVID-19 pandemic, because before that I used to train in the US, and then I went back to Estonia and we didn't have a choreographer and then somehow I found him!
Stéphane: Yes, she found me hidden in my mountains! (laughs)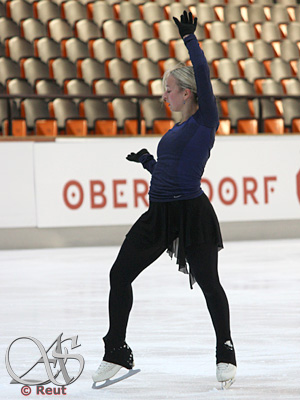 I saw you training at the summer camp in Champéry, but do you also come during the season?
Gerli: Yes, it was more than just summer camps, whenever I want I go to the mountains to train.
I understand that you decided to keep your Shakira free skate and Stéphane also choreographed this new short program to "When We Were Young" by Adele, right? Adele is one of his favourite singers as far as I remember.
Stéphane: No, but she picked Adele. I like it so much about Gerli that she always picks musical pieces that matter to her. As a skater it was so important for me that we skate to something we believe in. [As a choreographer] I might have something in my mind and try to convince a skater to skate to it, but what I like about Gerli is that she has experience, she has her opinion and she comes up with the music she chose [for herself].
Shakira was also Gerli's choice?
Stéphane: Yes. And the first part (Oriental by Raul Ferrando, Fathi Aljarah, Adam Hurst) was something I found that I wanted to connect to this Shakira's song. (to Gerli) I like that about you! That you really go for the thing that matters to you. And this is so important for figure skating, that we have people who actually have an opinion about what they want to perform.
OK, so back to the new short program. Why this song?
Gerli: It's so emotional actually. This is going to be my last season and this song is about looking at the past...
Stéphane: ...when we were young.
Believe me you're still young.
Stéphane: I mean when we were younger.
Gerli: Thirteen years ago! (both laugh) So, yes, for me this is a perfect song to end this season with.
Which competitions do you plan to do this season?
Gerli: My next one is in Hungary (the ISU CS Budapest Trophy 2023)* and then I have one in Lausanne (the 2023 Swiss Ice Skating Open). And then we will see how it goes.
Stéphane: And she definitely needs to compete at Nationals.
You decided to keep your free skate for the second season because it was so good?
Stéphane: Shakira is... like a firework!
Gerli: The song is so good that you don't really want to change it. And the combination with the mix at the beginning...
Stéphane: And I saw that Isabeau copied us! [During women's SP] I heard your free skate's music and for a moment I thought it was your music [playing], but then it developed into something else. But I was like...
"...who stole my music?!?"
Stéphane: Yes, exactly! It was my discovery! That part was really my discovery, I was so proud of it, it was from last season and now, not even six months later, - bam! (to Gerli) So you inspired Isabeau!
Gerli, as this is probably the last time I see you compete, is there any message, advice you would want to give to the younger generation?
Gerli: Skate as long as you can, don't stop after juniors. Personally, I loved that era - (to Stéphane) your era - when Carolina Kostner and Sara Meier competed...
Stéphane: ...when people had longer careers.
Gerli: Yes, I miss that.
It's a beautiful advice. And it's wonderful that you could have a long career yourself, and I wish you all the best for this final season.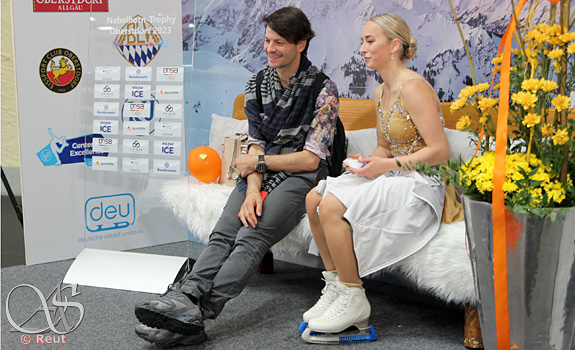 Gabriele Frangipani talks hard choices and big changes
What began as a nightmarish off-season and a challenging start to the competitive season ultimately concluded with a happy ending and his second Nepela Memorial title. We spoke to Gabriele Frangipani after his free skate while the final result was still unknown. He appeared exhausted yet content with his performance, and our conversation in the mixed zone was essentially his monologue, with him working through his emotions
and thoughts over the past challenging months.
I'm happy but I'm not satisfied because I was more ready than I showed, I can do more. This season especially I grew a lot during my practices, I'm close to being in shape already.
This summer was not an easy period for me, a lot had changed in my life as you could see... The first choice I had to make was about the training base, because the Academy in Egna was supposed to have a collaboration with Milan and my former coach Angelina Turenko moved there, but I wasn't sure what to do, I was pretty confused at that point, quite scared of this choice and I felt a lot of pressure [to do the right one]. That's why at this competition I wanted to skate with everything I had, and this is going to be like that for every competition, I'm not going to hold back or save energy anymore, I'm going to give everything I can every single time. And this is what kept me going during this summer. I was alone, as till the end of August I didn't make my choice, I was travelling all over Europe. I was with my choreographer, Benoît Richaud, I spent most of my summer with him but I felt alone as I still didn't have a coach or a place to go. I felt a bit like a migrant. I had almost all my things in my car from the end of June till the end of August; six or seven suitcases, my computer, my piano [keyboard], everything was there. I could never take things out because every week I was in a different place, I was pretty much homeless.
So, yes, it was a hard period but I feel it made me maturer. I feel it on the ice, the way I'm practising, and even when I'm tired or feel pain, mentally or physically, I'm not looking for excuses anymore and I give everything. There were moments in my career when things didn't go well and I was using it as an excuse not to practise well, now it doesn't matter.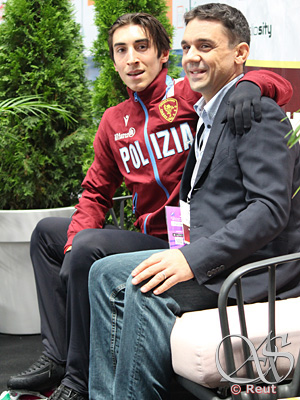 This summer I decided: nothing matters - pain, fatigue, being alone, nothing matters, I will be there and I'll practise, practise and practise. My goal this season is to really reach the point everyone knows I can reach but I never did till now. Today was just a start.
And how did you ultimately decide on your current coaching situation?
First I made a list with cons and pros. One of the options was to continue training with Benoît and Cédric Tour in Nice, but in the end it didn't work out. So it was either going to the IceLab (Palaghiaccio rink in Bergamo) or the Forum (Mediolanum Forum rink in Assago, near Milan, where the single skaters from the Goose Academy moved -ed) or Accademia del Ghiaccio in San Donato. The only problem with the last option was that the ice was pretty small, but Benoît assured me that it would not be a big problem for me, he came there with me and said I could definitely practise there. Of course, there were also concerns about the new coach, new staff, but I already knew Fabio Mascarello, because when I was little he accompanied me for a few competitions and I felt comfortable with him, and now the bond between us is getting stronger. And he is not alone, there are more coaches: Marilù Guarnieri, Elisabetta Leccardi's coach when she competed at Worlds 2018 in Milan, and Giulia Cotugno who only started her coaching career but she is really good, too. She is pushing me and strict with me when I need it. And we have a dance coach who teaches skating skills, and a really good gym coach. I have all the ice I want, I can skate from morning till night.
What I felt is that if I have to do this change, it has to be a complete change, not just changing the ice rink and the club. I don't know why but it didn't feel right to move with Angelina and I was honest with her about that.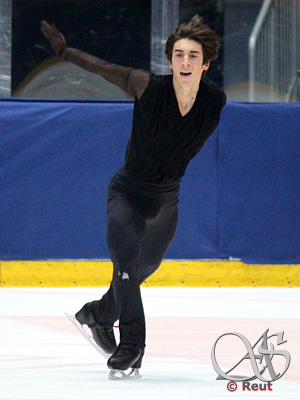 At that point I was saying to everyone: "I still don't know what I will do, what I want, this choice is hard, just leave me alone and let me do this by myself". We're still friends with Angelina, it's not like we had a fight, these three years together she gave me a lot. The point was that I wanted to change everything.
You kept your free skate to "Io Ci Saro" by Andrea Bocelli but you have a new short program to "Keeping Me Alive" by Jonathan Roy. Can you tell me a few words about it?
First, when we created this program it didn't have some deep meaning but while working on it I brought my personal meaning to it. This program was choreographed during this hard period - back then I even had some fights with my family because of my choices, so it was hard not only in my skating life but also in my private life, everything was a mess. And through this program I want to show the power I have inside me, all those emotions that I want to take out, the explosiveness of the jumps, the step sequence. I pour all my heart into this step sequence, because as much as I gave this summer I never did before in my life. And this is what I want to show, in this program and during this season.
*In the end, contrary to her initial plan, Gerli did not compete in Budapest. We hope that the reason for her withdrawal was not due to injury and wish her a successful continuation of the season.