Robin Szolkowy about students, returning back to roots and the next big step in pairs
January 5, 2023
By Reut Golinsky
Photo © Reut Golinsky
The 2010 and 2014 Olympic bronze medalist and five-time World champion Robin Szolkowy retired at the end of season 2013/14. He teamed up with Swiss skater Myriam Leuenberger and performed with her in a few ice shows, also, following Nina Mozer's invitation, worked for a few years with her teams. Absolute Skating caught up with him at the very beginning of his coaching career, during Grand Prix series 2015/2016, and a few years later, in 2018.
For a few years after that he stayed under the radar, and so this season we were happy to see him back at the boards, with his new students Letizia Roscher and Luis Schuster, a promising young pair team from Germany.
Robin, so glad to see you back. What have you been doing since we last met?
Seven years ago, I moved with my family from Germany to Switzerland, then, in 2019, we moved to the United States and after that, because of COVID and everything else, we decided to move back to Europe. We stayed in Switzerland for two more years and now since August 1st we are back in Germany. Back in Chemnitz, the place where I skated, back to my roots...
Ingo Steuer is also listed as a coach in your team's profile, so now you're working together?
Letizia and Luis started to work, I think 3-5 years ago, with Monika Scheibe, my first pairs coach and Ingo's coach. Then around a year ago Ingo got involved, too. And now Ms. Scheibe wanted to retire, which is absolutely great as she spent so many years and put in so much work, she should have a rest. That was the time when I was starting to have more conversations with Germany, and Chemnitz specifically, to move back and see if there was an opportunity, if they could use me. I just had to ensure there was any interest in the federation or any skating club to work with me. One thing I learned in the last few years is that you cannot force anything, if it happens, it happens.
Just because I'm a World champion and I'm coming back to a city where they have a rink, it doesn't mean they want me there. But they were really happy, they liked the idea and then Ms. Scheibe said: "You know what? Actually, now it's time for me to retire. Robin is coming back, I know him, I know how he works, his mindset." And so, she handed everything over to me and now we're working together with Ingo.
It's quite interesting, because I know every single stone in that city, every corner, I was living there for 21 years! Now I'm coming back, married with two kids, having all this past in my head. It's the same city, it feels like coming back home. Sometimes it's challenging but it's interesting in a positive way.
A lot of stories to tell to your children now, about this stone and that stone, and "here your dad did this or that".
From time to time, I can see [impression in] their eyes from the back of the car: "Oh... Not again!" (laughs)
Do they skate?
I have two boys. My older one, Henry, is seven and the younger one, George, is turning three next week.
They are not skaters, not yet. Henry tried when we were in the US, we could take part in this "Learn to Skate" program and he finished the first course. Then we were asking him whether he had fun and wanted to do the next course and he said: "No, I'm fine, I'm already a skater." Because he already knows how to skate forward and pick up some toys. Now he's at soccer and he knows all the big names, all the major clubs. He started school. Whatever he wants to do, we'll support him.
The younger one is going to the kindergarten next to the ice rink, it's really close, a walking distance.
So maybe I'll try to put him into skating, but, like I said, he's just turning three.
Are Letizia and Luis the only pair you're working with right now?
At our rink they are the only pair. It was like this for quite some time. When I came to Chemnitz, in '95, there were, maybe, eight teams, from the top level down to me, novice. But with time the system changed, things were not easy. It was harder and harder to find and pair up a boy and a girl together, we don't have a real boarding school so it would mean that the parents would have to move to the city. And then the ice time... it's not that easy and it could be better.
But we're trying our best, now Ingo and I, we're working on a plan to build up a new school to develop pairs. My and Ingo's reputation is pretty good, I think. We get along, we have the same view so I think this could be good. We're just starting, I just came back to Chemnitz in August.
You've never worked with Ingo during these years since you retired, right?
Yes, this is the first time. Many people were asking me when they learned that I was moving to Chemnitz, their first reaction was: "Oh, Ingo is there. How do you feel about it?"
From my standpoint I wanted to start fresh. I told everyone that I'd go there, we try, if it works, it works and I'm happy. If it doesn't work, then it doesn't work, you can't force it. So I came open-minded and I think that he reacted to that. He himself changed a lot during the last few years, got a bit softer, but in a good way, not a laid-back soft. We still don't talk about private stuff, not discussing his life or mine, we talk about skating. I think it works, it feels like a very good and healthy work relationship.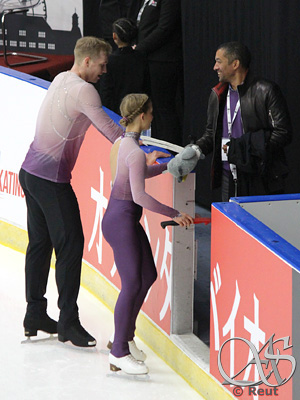 Of course, he coached Aljona and me for over a decade, and it was always according to a specific system. When I started coaching, I was coaching my students the same way, the basis was the same. So, it is easier, when he says something, for example, we need to push them a certain way, I understand exactly what he means. That makes it work easier, you don't need to go over all the little details. It's more like we're here, we need to get there. I do see a lot of things that we did in the past and it feels like coming back home, yes.
What do you think about how pairs evolved - or maybe didn't - for the past few years?
I'd say during the first two seasons after I retired, in 2015-2016, the level of difficulty peaked, everyone was trying quads (quadruple throws and/or quadruple twists). But then the rules changed and made it less worth it to go for it, to take a risk. Also, [it helped] to protect the girls more, I think. Now they had to re-think it and go more into the variety of lifts and spins. I'm still waiting for the next big step. We're at a maximum right now, if you look at [pairs competition at] Worlds, the top ten teams do exactly the same lifts, same spins. Because it's the only way to maximise the points in the best, the shortest way, it makes sense. So, like I said, I'm waiting for the next big step, wherever it might be, maybe in jumps, triple-triple combinations, some teams are already doing them.
How would you summarise this event, 2022 MK John Wilson Trophy, for your pair? Of course, congratulations on their bronze medal.
I'm very happy. In the short program I was very glad that they repeated their good skating [like at SkAm] and got a new personal best. The free skating was better than at the previous Grand Prix but, of course, there were some shaky moments here and there, in lifts, throws were [landed] on two feet, little mistakes... But overall, it was a really good performance for them. It's their first senior season, so I'm very happy. It's a good direction.
In the mixed zone they mentioned that after Skate America (they finished fourth there) they thought about the possibility of a medal and it added pressure, especially after the short program. Did you think about this possibility or did you prefer not to focus on medals?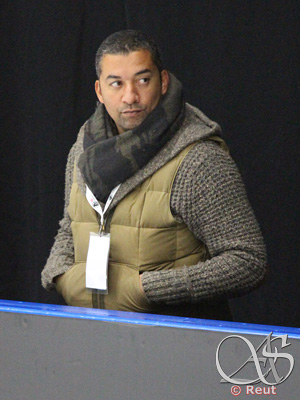 Before their very first competition I was asking them: "Do you have an exhibition program?" In my mind I was already calculating this chance of them finishing on the podium, because I saw them in competitions, and I know not all but a lot of other teams. When I asked them, maybe that was the first time somebody was really saying it out loud: "I believe in you, there's a realistic chance, you just have to take it if you want it."
At Skate America they placed third after the short program and this could have meant podium...
They said it got into their head...
Of course, there's no way you can skip that part. Maybe it was a bit too much pressure what they had there. Here I just told them right before the free skate: "Please, use your chance. It's not my chance, it's yours! You only have two Grand Prix events, the first one is over, you had the same chance... Now just use it, go for it!" They were really fighting and at the end the result was good.
As there are three top pairs in Germany and only two spots for Euros, they defined as their main goal to fight at Nationals and to grab one of those two spots?
Not this season. It's out of their hands. In my opinion they should work on being a very, very good substitute team. In case something happens, everybody should think not "Oh, who could be next?" but immediately think about them. But I wouldn't go that far - yet! - that they are fighting for that second spot.
The German Federation never splits participants, like someone goes to Euros and someone else goes to Worlds?
Sometimes they do. So that could be another chance, we'll see. But the other two teams are older and more experienced. Maybe with different results at Skate America it could have been different... But it's okay. It's always challenging to make the right decision on who to send, because it's also about the spots for next season. So you might give someone a chance and then lose spots.
Yes, they will gain from the other two experienced teams going and getting the third spot.
That's what we hope and if there's a chance, they should be ready.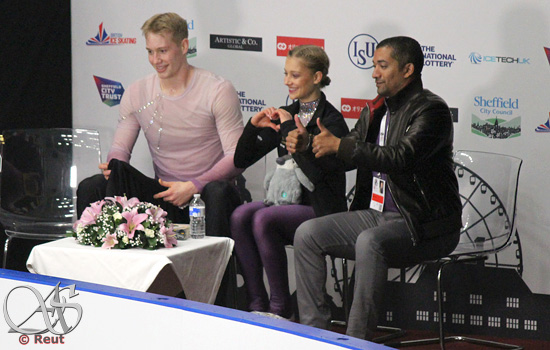 The German Nationals start today in Oberstdorf, but the European team has already been announced. Like Robin expected, his students were named as substitutes. We hope Letizia and Luis were not disappointed or demotivated, will have a good showing at the Nationals and we're looking forward to seeing more of them in the coming seasons.