Catching up with Team USA
November 3, 2012
By Reut Golinsky
Photo © Reut Golinsky
Team USA had excellent representation at the Nebelhorn Trophy 2023 at the beginning of the season, winning the Fritz Geiger Memorial Trophy presented to the team with the highest placements across all disciplines, ahead of Canada and Germany. We caught up with some of them in the mixed zone to ask about their new programs, impressions from the event, and more.
And we wish best of luck to them this weekend in Angers and next week in Chongqing!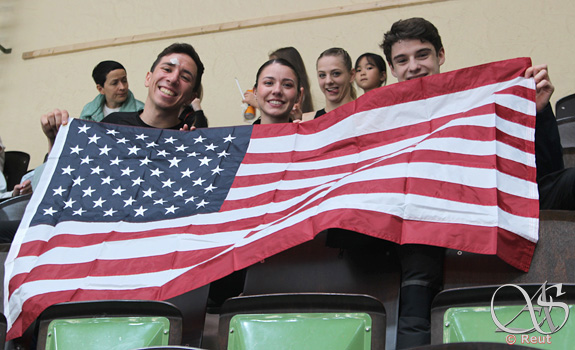 Lucas Broussard
It's your second senior competition, but this one is much bigger than the Cranberry Cup. So, we can say it was your first major senior international event. How did it feel to compete here?
After my short program, I felt disappointed. During my practices here I landed all my quad toes and then fell on the one in the program. My goal for this competition was for my components to be as good as I can do them. And while I've accomplished that I'm still really disappointed that I didn't land a quad, again. I've also grown a lot [during the off season] so it added to the challenge.
You mean in height? How much?
I'm not exactly sure how much I've grown, but when I was back at school, everyone asked, 'Oh, did you grow? You look like you did.' My jumps were a bit wacky, and everyone around was asking whether I had grown more. So I guess I did.
Your free skate went better and you finished fourth overall which is a very good result.
Yes, after my free skate, I was quite proud that I was able to achieve a good score even without landing the triple Axel. In terms of how I skated, my goal was to keep the choreography alive no matter what happened with the jumps, and I think I've accomplished that. Corrie (Martin) had created two very lovely programs for me, and I really tried to honour that. I think, especially in the free skate, I did a good job with that.
How did you succeed in switching from yesterday's disappointment?
Yes, that's always challenging for me. A lot of times I get it into my head, and it gets scary very quickly, but I knew I landed every quad toe yesterday. So I was very determined to land it today, and even if I had a step out in the end, it was better [than yesterday]. But also, there was very little pressure for me to do well here just because three guys who medaled here are so good.
So I'm using this event as an opportunity to showcase the programs.
You made quite an impression during your previous season. Did you have high expectations for yourself after such a season?
Last season, I had almost no expectations, and it went quite well. This season is tough because, to some extent, I feel like I'm almost worse than last season. I've had a lot of rough days, and the jumps were all over the place. So it's hard to know that I'm still improving. In terms of expectations, I set them relatively low, but it's still not easy after the last season that went so well.
You decided not to go for junior Grand Prix events this season.
Yes, as we begin preparation for the Olympics, we thought it would be best to have an extra year as a senior, to get used to it. But it's quite the adjustment, especially the extra 30 seconds, it's a lot. Working on stamina is quite challenging, some days are really hard, but I'm working really hard to do full run-throughs every day, sometimes one and a half run-throughs. And today I felt quite good with stamina, that was not the issue.
I noticed you trying on your free skate costume during practice. Did you receive it shortly before the event?
Yes, we had some issues with the costume. Initially, the shirt looked more like a dress, almost reaching my knees, so we tucked it in. However, it would come out and wasn't consistent, so we ended up cutting off a lot of the fabric. But she cut off too much, so at the last minute, we made more changes. But it's very comfortable.
It also shows all the seasons connected to your free skate music...
Yes, it goes with each season, the spring with the flowers, then summer and it has the darker tones for the storm and for winter there is some white.
And why this music? This is this continuous discussion: why would skaters keep taking the same well known music again and again.
Yes, but most people don't choose 'Spring'. The first time we had an idea to take 'The Four Seasons' was last year in Poland (during the ISU JGP Solidarity Cup 2022 in Gdansk) and there were two skaters there who had 'Summer.' And so we talked with Corrie that we both loved that music. And then I saw ice dancers using 'Spring' and I love 'Spring', but at first Corrie didn't like it and said that part was 'too childish', but we ended up using all three!
Did you have a chance to explore Oberstdorf a bit?
Yes, it's beautiful. During the train ride it was incredible to look at the landscape, the hills, and the town is really pretty, too.
Valentina Plazas and Maximiliano Fernandez
First of all, Maximiliano, what happened? (he had his forehead patched)
Valentina: We had a little mistiming on a twist, but it's all good; he just got nine stitches.
Max: It was during our first practice here. We did a full program and then wanted to do a section with the twist and the toe jump. We went for the twist, and it went off, and she got me on rotation. So, I got off the ice, went to see the medical staff. They cleaned me up and patched me up; they did a really good job with that. Then we finished our session, did some throws, did a couple of jumps, and got off. I got the stitches afterward, and then we did the second pair practice on the same day.
Wow, pair skaters are really tough people...
Valentina: But this usually doesn't happen, it was a minor incident.
Max: And it comes with the territory of pair skating, you know. Everyone is at risk; most people think it's only the girl at risk, which really is true, but sometimes the guy gets hit, too. So, we went back out there and did the program during the next session, and everything's fine. It's healing well, and I have no pain.
Let's talk about your short program, the side by side toe was not good, unfortunately...
Valentina: It's a bit disappointing regarding the jumps because we've been working very hard on them. But overall, we've been getting much better at, for example, warming up, doing everything in the warmup. So right now we need to keep moving forward and take the next step by executing it in the program. On the throw, I had a two-foot landing because my arm was too far back, so keeping the left arm in front is our toughest battle, well, mine.
You went with the classical direction in your short this season, "Rhapsody on a Theme of Paganini" by Rachmaninoff, is that something new for you?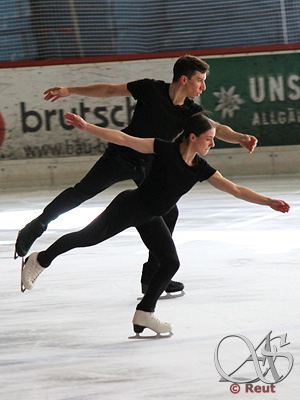 Max: We did a classical program two years ago, and we had SP to "The Sleeping Beauty." We really enjoy classical music, so I asked for it. This is a program that is very close to us, you can feel it when you skate to it. I can truly connect with it. My mom was a ballerina, a prima ballerina. She's from Peru, trained in Cuba, then went to England, and later to Miami.
Does she participate in your off ice work now?
Max: No, not at all. But when I was younger she worked with me on the posture and how to hold myself when I started skating.
So, classical music is something you grew up on?
Max: Yes, it runs in my family, and when we were younger, we loved watching the Miami ballet. Our coach, Mr. Peterson, has opened our eyes to ballet as well. Whenever we were in Sarasota, we used to go to the Sarasota ballet, and now in Detroit, and whenever we get a chance in New York, we try to see Broadway shows. He is our teacher both on and off the ice, showing us everything to help us grow.
Tell me more about your new free skate.
Valentina: Yes, our free skate is set to the "Top Gun: Maverick" [soundtrack]. We use the theme song and Lady Gaga's song "Hold My Hand." And it's completely different from the short.
Max: The new movie inspired us, but honestly, the song "Hold My Hand" is really close to us and has a lot of meaning. In the movie, the character lost his best friend, and it's about him revisiting and coming back into it. It feels the same for me as I'm coming back into skating, holding Val's hand, who is trying to keep me moving forward and helping me through it, who is always there for me, so this music really means a lot to us.

Our music choices for both our programs truly reflect our personalities and where we're headed, on and off the ice.
What's next for you?
Valentina: Skate America, and then we have France, so we're excited. We're happy with this season, last season we had all the competitions so close [in time], this season we have a month to prepare for Skate America.
Did you have any competitions in Europe last season?
Valentina: Yes, we did the Finlandia Trophy challenger.
Max: We loved it, it was a very good competition.
Valentina: And we're so excited to be here, the atmosphere is just beautiful. Whenever we mentioned our trip to Nebelhorn, everyone's reaction was how beautiful this place is - everyone loves it here. Everything's been so beautiful, we missed seeing the cows, but hopefully, we'll catch a glimpse soon.