Fanfocus: A report about Trophée Eric Bompard 2004
Text © Zsuzsanna Farkas, complimented by Helga Dobor
Photos © Zsuzsanna Farkas, Helga Dobor
Two friends and I decided to go to TEB in November. All the preparations had been done in the summer to make sure we could go. For two of us it was the first time to go to Paris so from every aspect this journey was special.
We arrived on 18th November, one day earlier than the competition started as we also wanted to see some places in Paris. Despite we'd decided to discover the city, our first route led us to the Bercy (the arena)because we wanted to see what the stadium looked like. From the outside it was nothing special, and later it turned out there is nothing special inside it either, it's just an old building.

On this first day we knew there was compulsory dance for ice dancers but we were not allowed to watch. But we still decided to stay around the building and went to the backdoor. Our first experience was to spot Brian Joubert and probably Samuel Contesti, they were together coming out of the building, Brian was phoning, of course. Later we saw other skaters, for e.g. Johnny Weir, who came with a lot of people around him to take some pictures in the air. I think there must have been an opening ceremony because lot of skaters went into the building and came out together later. We didn't want to disturb them on their first day, we just observed them silently. (Zsuzsi)
| | |
| --- | --- |
| | Second day...the competition started. In the morning we waited at the back doorway, we wanted to collect as many autographs as possible and take some pictures. We did the same every day. Waiting for the skaters and asking for them for autographs and pictures with us. The kindest person was Albena Denkova. She was smiling all the time and she was very accommodating to everyone, she's a very pleasant person. |
Massimo was also kind. It was funny because we had to ask somebody for a pen to be able to ask for his autograph. We finally got the autograph but totally forgot about the pen, so he had to give it back to the person from whom we originally borrowed it. But he smiled kindly. (Zsuzsi)
And after this meeting he always greeted us with a big smile. (Helga)
Roman Kostomarov and Maxim Staviski were hanging out together all the time. It was funny since these two are rivals. Stannick Jeanette was also very kind and accommodating and he also smiled and greeted us later. But I think we were all disappointed in Tatiana Navka. Not that she didn't give autographs, of course she did and we also had our pictures taken with her, but because through it all she looked so bored.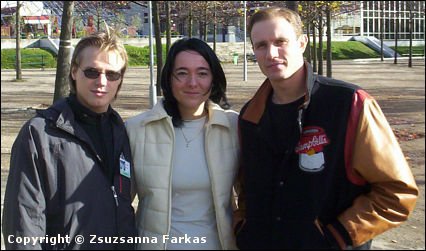 On the first day of the competition all the short programs were performed. On this day only, people could sit whenever they wanted. Surprisingly there were few people present during the short programs, I was really shocked at that.
Of course Brian was the favourite but he didn't have his best day and only placed 4th after the short. (Zsuzsi)

Johnny was fantastic! There was no doubt about his first place after the short. He really blew the audience away with his "Rondo Capriccioso". But on the second competition day I remember Brian having his best performance of this season, taking 2nd place after winning the freeskate.
Still, Johnny couldn't be defeated and it was wonderful to me that after his performance he got a standing ovation, his talent and magical performance was really acknowledged by the audience. After his 3rd place after the short program, Daisuke Takahashi had a very bad freeskate. He fell several times and he seemed to stop skating during the program. But the audience started to applaud very hard as if asking him not to stop. It was wonderful to see.(Zsuzsi)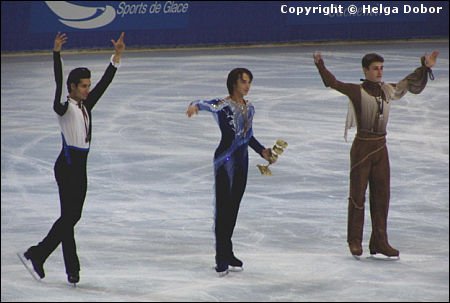 We very much enjoyed the performance of Silvio Smalun, however, he didn't skate his best. The music of his new short program is "Nothing Else Matters" by Apocalyptica, and it's an interesting choice. We supported Emanuel Sandhu too, but unfortunately he didn't get the appreciation he deserved. His performances are always entertaining and he was second after the short program. Ivan Dinev wasn't as good as he can be, but showed us that he is still a cutting edge skater and Samuel Contesti soon won our hearts.

| | |
| --- | --- |
| The ladies events: We have to admit that the ladies programs are usually a bit boring to us, but this time we were really excited. We loudly supported Julia, of course, and she skated well. And there was Carolina, too, whose style is so fascinating. We waved an American and a German flag, cheered and used a clapper, so perhaps later the people seated next to us needed hearing aids... (Helga) | |
It was interesting to me that the audience didn't warm up to Navka/Kostomarov so much, they rather supported Denkova/Staviski. But it wasn't up to the audience and in the end the Russians won. (Zsuzsi)

Nóra Hoffmann and Attila Elek, the Hungarian dance team, skated clean, and I think the most beautiful costume of the competition was the one she wore for their original dance, and later her freedance costume. It was breathtaking to see them dance on the ice.
I also liked the costumes of Kristin Frazer and Igor Lukanin, although these skaters aren't my favourites. I could say the same about almost all the dance teams, their costumes were fantastic. We especially liked the white one Massimo Scali wore, but then I don't think we could find a costume that doesn't look good on him...
We recorded all of our favourites with the digital camera, and cheered even louder hoping to catch them looking at us after the program. And we were very lucky, Maxim said thank you for our support, and we captured it on video! We saw the programs of Anna Zadorozniuk/Sergei Verbillo in September in Bratislava already. Their performances were better here but they still only placed 10th.
A few words about the pairs. Maria Petrova/Alexei Tikhonov were there so there was no question of whom we would support.
It was the first time I saw them skate live and they were amazing. They were so nice off ice too, and they sure deserved the support from the audience. Their "Tango" short program and "The Circus Princess" free were fascinating, but unfortunately they only placed 3rd.
The other favourite of the audience were Xue Shen/Hongbo Zhao.
A nice surprise to me was to see Viktoria Borzenkova/Andrei Chuvilaev. Andrei wasn't just very tall, he also seemed to be the king of the ice and we became instant fans.
It was disappointing to learn that the Canadian pair, Anabelle Langloi/Patrice Archetto had withdrawn due to illness; we only got to see their short program.
After all was said and done I think I like the pairs the most, we had so many of our favourites there. Kathryn Orscher/Garrett Lucash skated to Samson and Delilah. They made some mistakes but were really enjoyable. (Helga)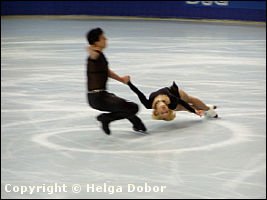 I was very excited about the gala. I always liked galas. Before it started there was a fashion show since Eric Bompard Cashmeres is the main sponsor of the competition. I will never forget the atmosphere of the gala, it was just fantastic! All the skater were so cool and they skated magically. To me the best performances were by Isabelle Delobel/Olivier Schoenfelder, the dance bronze medallists. They skated to the "Gladiator" music and used a rope in their performance and I was very touched by it, they were wonderful! Another impressive performance was by Sandhu. He skated to music by Justin Timberlake and he was really cool. When Brian started his exhibition, he could not be recognized as a black cape covered his body and head. He was called to the ice and he slowly started to skate to the music "Lord of the dance". The music and his move were so gently while taking off the black cape. He was wearing his usual gala clothes, black trousers and glittering shirt. Then the program picked up and became faster and more intense and the audience was clapping. After his performance he did an encore of his brilliant footwork and he was requested to say a few words to the audience. He promised to fight for his final aim: to become the next Olympic champion to satisfy himself, the federation and of course his fans.(Zsuzsi)
Johnny skated to "Imagine", and this performance moved me to tears, it was so beautiful to watch. I wish I'd had more hands for clapping since my only two were holding the camera. The announcer didn't let him go but asked for a repeat, and Johnny enchanted us once again for a short while. (Helga)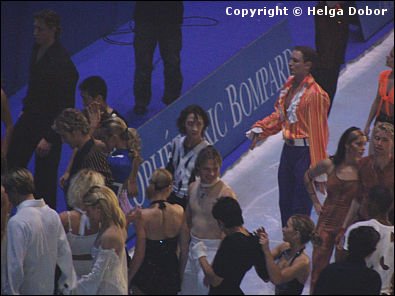 At the very end, all the skaters, one by one came on the ice to give a last performance. It was a wonderful ending and there were snowflakes made out of paper falling from the top.
This whole experience was truly unforgettable and I'm still longing to go back to TEB. Hopefully next year I can go again. (Zsuzsi)