Adventure in St. Petersburg:
Alexei and Friends show 2005
Part II
Text © EMJO and Susanna
Photos © EMJO
Susanna: The cutest little girl, Varya Timofeeva, opened the show with a Biellmann spin. And a nice one it was, until the end where she fell.
| | |
| --- | --- |
| | EMJO: She returned later to skate a whole program, and it was well choreographed and elegantly performed, and she got a new chance to show us she could do the Biellmann right, both ways even! We could see how Anton was giving her a prep talk and then stayed around to watch and support her. So cute! And considering the size of the audience, this was a brave little girl! |
| | |
| --- | --- |
| After Varya all the skaters were introduced to the same music Irina Slutskaya used in her free program last year. Alexei was wearing the iron mask costume and that was the first of 5 impressive solo spots! He didn't skate the whole program, but we were grateful for the parts we got to see. The costume is beautiful, as was what was in it... The Olympic feeling was strong, the audience was overjoyed, and so were we. Great show so far! | |
Susanna: Josef Sabovich is good on TV, but it just doesn't do him justice, he's so much better live! He skated to Bruce Springsteen which made my day. Nice basic skating, some cool jumps including the back flip and split jumps.
EMJO: And his long hair was such a contrast to all the short haired Russians. We noted that even the Russian guys in the audience had short hair. Josef was very enjoyable and the crowd loved him!
Leonova/Khvalko, 2 time winners of the professional Worlds, have great basic skating skills, flow and speed, like all other Russians, and their technique is superb. They included many dangerous moves in their routines. Their "Mission impossible" number was great, we enjoyed it a lot.
An ice acrobat couple showed some near impossible lifts and positions, truly amazing! The audience clapped a lot for them and so did we!
Teamskating is something we don't get to see very much of, even in Sweden where the world champions are! But during this show, a Russian team skated one of their programs and it was really fun to watch! Seeing so many skaters on the ice is very powerful. And while the team skated some acrobats were juggling with fire on the stage.
Then there were fire juggling and gymnastic girls performing at the same time. There was always so much going on and never a dull moment during the show!
It was a delight to see the junior pair Natalia Shestakova and Pavel Lebedev. We first saw then at the JGPF in 2003 and I must say they have grown a lot since then. Back then they skated to "The Matrix" and now it was Tchaikovsky. There skating has matured and they were very pleasant to watch.
Susanna: Another young impressive skater was Artur Gachinski. He skated to an Elvis medley with both fast and slow music. If he keeps up developing like this, watch out future!
EMJO: This little boy was as good as Varya Timofeeva, the Russians sure have a knack for finding talents!
Oksana Kazakova came out briefly on the ice to show off her baby girl, she was very cute!
| | |
| --- | --- |
| | Susanna: Like Josef, Maria Butyrskaya is a skater to watch live since TV doesn't do her deserved justice. This time I got to see her in real life and is was very different from watching her on a TV screen. She has a very smooth and elegant style, and she has charisma like few others. I like her ABBA program the best; she really came through in that one. |
EMJO: Indeed, and what better way to warm up a couple of Swedes than to play ABBA? Great music to skate to!
I saw Maria in the Antwerp SOI shows last year and really enjoyed her skating. She's not a girl, she's all woman and her mature and graceful moves make up for any jumping flaws. The fact that she doesn't look anorectic makes her even better.
Anton and Elena performed their "The kid" program, which they used at the gala in Salt Lake City. Of course this was popular! They skated and it was lovely and suddenly the ice was swarming with little hockey tykes, it was their practice time and they wanted Anton and Elena off the ice! The coach tried to lift Elena, but didn't do so well, so Anton showed him how. The kids still persisted it was their ice time and Anton gave up and took his skates off and then dragged Elena off the ice. Hilarious!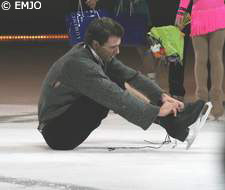 They later skated "If I could" but to Russian music, very interesting. They are so beautiful together, is there a more gorgeous couple anywhere? Not that I know of.
Susanna: They always offer good performances and the audience loved them. It was great to see how loved they are in their homeland.
Surya Bonaly is a very colorful lady loaded with energy. She is a true show woman and I enjoy her skating more today than when she was eligible.
EMJO: She was a pleasant surprise, delivering a lot more than the famous back flip. The music was from Moulin Rouge, "One day I'll fly away". Suraya connected well with the audience and they loved her. In the second act she wore a pink dress and skated to "I will survive".
Susanna: I was so happy when Oksana Baiul won the Olympics (back in 1994) and now I was glad to finally see her skate live.
EMJO: She has charm and she had the audience in her hand. The funniest part was at the end of her second number when she kept taking bows and the crowd kept clapping and clapping, it went on forever!
Naomi Lang and Peter Tchernyshev skated elegantly to dramatic music, and he is definitely an eye pleaser... But I don't think Naomi and Peter are very well known in Russia, it was sad the audience didn't realize what a treat they were given. Not even during the signature hydroblade move, where Naomi is resting on Peter supported by his extended leg, did the crowd wake up. Too bad.
Any telemarketing company would probably hire Alexei without hesitation, he's always chatting on the phone! But if that plan would fail, he could always work as an acrobat once he quit skating. Many have said that watching "Passion" is an experience never to be forgotten, and I agree. It's beautiful, and although he's in full control over all the moves, it's such a relief when he's back down on the ground! This man is so full of ideas and he knows just how to realize them too. After "Passion", Alexei talked to the announcer and to the audience. He's a very popular guy!
Susanna: The aerial part of "Passion" was longer and better when I saw it in the SOI tour. But the skating part was great, smooth as always, not to mention the speed!
The "Latin Rhythms" was a fantastic number where Alexei danced with the gymnast girls. There was no feather boa, but a hat! The number started with the girls entering the stage at the short end. They were in a tight group and Alexei stayed hidden inside. When the music started the circle opened, and Alexei came out and danced with the girls. Then he threw his hat away, and got on the ice. The audience loved the dancey moves from Alexei and clapped, some even screamed. Not that he wasn't great, but I'm more of the quiet type so I stuck to clapping.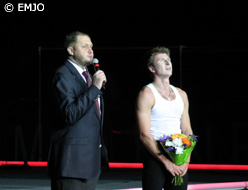 EMJO: He later returned to the girls and they tore his shirt off and started fighting over it. The Latin program had to be the high point of the event. It was soooo good and the entertainment value was a 10! I'd love for him to do it again, SOI? Alexei has mentioned in several interviews that he likes rhythmic gymnastics (or at least the girls in the sport) so this must have been a dream come true for him as well. Come to think of it, we have girls like that in Malmö even! Susanna and I didn't quite cut it at the audition, nor did Magdalena for that matter, but now we feel like working on it again. This number gave everyone something to enjoy. All the men in the audience could feast their eyes on the girls, and the female part of the crowd could enjoy sexy Alexei. Wonderful number!
Susanna: The beginning of "Winter" was so beautiful with snow falling down from the ceiling and the team skating girls appearing all dressed in white. I was so happy to finally see this program live!
EMJO: The transition from the team skaters to Alexei was wonderful and very well choreographed. We all knew the music when it started and it kept snowing while he skated parts of this very famous program, very creative! He tossed up some snow and I was once more brought back to the Olympics and the response from the audience was deafening. The Olympic rings appeared on the ice as fire, fantastic! But the show wasn't over!
Anton and Elena started their "Dance mix" program, and it was great, but suddenly Alexei appeared in his "Shout" shirt, clenching a flower with his teeth. He gave it to Elena and danced with her, and then sat on the boards and watched as she and Anton danced some more. The music changed and Alexei did parts of "Shout". It went back to the "Dance mix" and the three of them were playing, dancing together, flipping each other over and just being silly. Anton and Alexei skating as a pair was something to behold! They had so much fun, and so did we, why can't they do something like that in the US? SOI should really use this wonderful playfulness.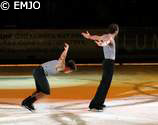 Susanna: I used to appreciate Anton and Elena's serious programs more, but after this show I'm not sure anymore. They can do so much more and they have a marvelous sense of humor! I believe that should be explored more. Not that they should abandon the more serious and elegant programs, of course not, they should only be allowed to do more fun stuff as well. Anton, Elena and Alexei are such a great team. Their number together was hysterically funny and I LOVED it! I want more of these three great skaters doing things together! Alexei himself showed many different styles of his skating during the show, just the way I think it should be.
EMJO: All the skaters came back on the ice and did one more element before taking their final bows. Of course Josef and Suraya did back flips and Peter and Naomi repeated their hydroblade move. Everyone did Alexei's "Winter" steps and the audience clapped along. Fire works scared the wits out of Susanna while I was busy taking pictures. It was really over, sniff!
Susanna: After the show we went to the back entrance and there were already about 100 girls (well, mostly girls) waiting. A security guard was doing his own little show, talking to the girls and wanting them to scream for Lyosha, which they did. Later someone took a pic of this guard and Alexei.
This was the type of show that made us happy and the 2,5 hours just flew by. Alexei has said he wants to have his own European tour. If this is the beginning, he's sure set a high standard!
The only thing bothering me during the show was the sound. The base overpowered the melody and turned into a blurry noise, which was quite hard on the ears.
EMJO: It was a great and very varied show, unlike any skating show I'd ever seen before. I hope the cast was as happy with the outcome as I was. I'd love to see it again and I really feel I got my money's worth! And as a photographer I can't say a big enough THANK YOU for the show lighting, it was perfect! The whole event was a perfect ending to my wonderful 4-day stay in St. Petersburg. I'll be back!
Go to Photo Gallery