The Hungarian Nationals 2005
Text © Helga Dobor
Photos © Helga Dobor
The Hungarian Nationals started on January 8th, and were held in the Budapest practice rink. There are only about 300 seats but it was plenty since most people didn't come until the seniors skated their free programs. There were two events, Ladies and Men in four categories: Cubs/Springs, Debs/Springs, Novices and Seniors. The Icedance Championship was held in
December, and the Junior Nationals are scheduled for February. There were 40 competitors in the 4 categories and the old 6.0 scoring system was applied.

| | |
| --- | --- |
| | On Saturday morning at 9.30 o'clock the Debs/Springs started with 10 young competitors. I liked Erika Fekete very much; she is coached by Zsófia Kulcsár and Zoltán Tóth. Erika is very elegant on the ice; she loves to skate and enjoys every moment on the ice which shines through in her performance. She has a lot of talent and is one I look forward to seeing more of in the future. She is also a very sweet girl off-ice. |

There was only one boy in this category, Attila Hesz, so needless to say he won and the Debs/Springs' short programs were over by noon.

| | |
| --- | --- |
| | Next up was the novice category with two boys and three girls. Both boys are very talented skaters with beautiful performances. The audience liked them very much, and especially Krisztián Andráska became an audience favorite. This boy is very funny and friendly both on and off the ice and he always very loudly supports the other skaters. He usually takes on the role of cheerleader at competitions and makes it his responsibility to make the audience cheer, and he does it well! |
Annamária Bitter, the other student of Zsófia and Zoltán, is also in the novice category. She is a young skater with some possible potential for the future, but this was not her best performance.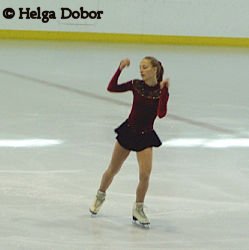 After the novices, the senior skaters took the ice. The men were first and the two skaters were György Beck and Zoltán Tóth. Bertalan Zákány had surgery last year and is still, unfortunately, unable to compete, but he was seated in the audience. György Beck is actually a junior skater, a 16 year old born in Romania. His skating still needs improving and until he consistently starts landing triples he should not be a senior. His short program is "Kardtánc" from the ballet "Gajan" by Aram Khachaturian. This classic piece fits György's personality and he skated rather well. The audience liked his performance anyway.

And then came the highly anticipated Zoltán and the highlight for me. I was already sure that he would win the National Champion title once again. His short program, "Malaguena" by Raul di Blasio, was almost perfectly executed, there were no big mistakes. He was the audience favourite for sure and in a class of his own, and it was only fair that he was in the lead after the short program.
(photo from his LP)
There were three senior ladies to skate the short program; the reigning European Champion Júlia Sebestyén, Diana Póth and Bianca Pádár. Unfortunately Viktória Pavuk hadn't recovered from her injury yet and couldn't compete, but she was also spotted in the audience. Tamara Dorofjev was also missing from the competition a she had chosen to devote her time to studies. The ladies were loudly welcomed by the crowd. Bianca Pádár was first out. She is a young skater, only 16 years old, and her program was choreographed by Nóra Hoffmann. She skated to music from "Moulin Rouge", but didn't do well at all. Her highest technical mark was 4.4 but she got up to 5.3 for presentation. This very temperamental skater has a long way to go yet and is in my opinion not ready to skate in international competitions.
| | |
| --- | --- |
| Diana Póth skated next. She has very good programs this year and has started the season well. She won silver at the Karl Schäfer Memorial and placed third at the Golden Spin in Zagreb last November. She opened strongly with a 3 toeloop/3 toeloop combination but then unfortunately fell and made some mistakes. The audience still lifted the roof with their cheers and support. Júlia has a new costume and I liked it very much, it suited her better than the old one. With her short program, "Fire on Ice", she immediately skated up some fire and took the hearts of the spectators by storm, just like she did earlier in the season at her Grand prix events. With marks up to 5.8 Júlia naturally took the lead and the senior ladies concluded the first day of the competition. | (photo from her LP) |
The second day started with the cubs/springs girls and boys. There was only one boy and 18 girls. These little ones already have their fans (especially their families) and they were loudly cheered on and got little gifts after their programs. In this category only one program was performed and it was a cute and interesting event.
Next the debs/springs skated their free program. The judges had to determine who the three best young skaters were. The pupil of Zoltan Tóth; Erika Fekete placed in 2nd. Personally I felt she should have been first.

| | |
| --- | --- |
| Debs/springs medals podium | Novice medals podium |

As the competition drew closer to the long program of the seniors, the size of the audience increased dramatically and the stands were just about full.
Annamária Bitter finished second in the Novice category while Krisztián Andráska won the men's.
| | |
| --- | --- |
| | Again György Beck was first out for the senior men. His long program with music from "the Rock" was again enjoyable, he's quite a performer! He was rewarded with a big and warm hand from the audience. |
| | |
| --- | --- |
| | Zoltán skated his Beethoven free program in his new and very nice costume. I had hoped to see a perfect long program, and I got it! He included three triple jumps and two more in combinations. He got marks ranging from 5.0-5.2 for technical elements and 5.2-5.6 for presentation. With this fantastic performance he once again became the National Champion. |
The senior women started in the afternoon. Unfortunately Bianca Pádár didn't skate well this time either. She fell two times and was as disappointed as the audience.

Diana Póth showed us a very impressive performance, much better than her short. She successfully landed 4 triples and got a big ovation and marks from 5.1 - 5.5 for technique and 5.4 - 5.6 for presentation from the judges. I hope with this program she will dazzle skating fans at the European Championship, too.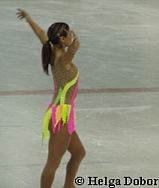 Júlia didn't skate her best in the "Carmen" free program". She took a fall on the triple toeloop and doubled some planned triples. Her technical marks ranged between 4.9 - 5.5 but for presentation she still got between 5.3 and all the way up to 5.8. She placed first with Diana second and Bianca third. Since Júlia won the Europeans in Budapest, Hungary has three spots for the ladies this year. Until now it had been uncertain who would get the third spot, but later it was announced that Bianca can represent Hungary. Let's hope she does better then.
The Hungarian Championships 2005 were not a spectacular, but interesting competition and I will probably be there next year too.