Xtreme Skating Championship
Review and photos by: Vera Alexandrova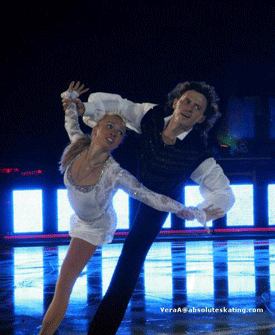 St. Petersburg skating fans are spoiled with world class skating. The city hosts ISU competitions and numerous shows starring Olympic and World Champions, but this time an absolutely unique competition took place – the first ever Extreme Ice Skating World Championships 2006.
The organizers knew perfectly well how to attract public attention – just mentioning Irina Slutskaya, Evgeni Plushenko, Tatiana Totmianina and Maxim Marinin as guest stars was more than enough to ensure a full audience, but even those who went to the show just to see the gala were thrilled with the competition.
Skates were basically the only things that all the participants had in common. Like in 'real' figure skating, there were 4 categories, but instead of Ladies, Men, Pairs and Ice Dance there were Acrobats, Hula Hoops and Jugglers, Ice Comedy and a special everything-goes Freestyle category for everything not fitting in the previous three. The competition was a triumph of gender equality on sports – ladies and men competed together with mixed and same-sex pairs. For some strange reason the least extreme Ice Comedy category featured only male competitors.
Yet another incredible innovation was the audience (including TV viewers as there was a live broadcast) voting for their favorites via SMS. Judges gave scores from 1 to 10 and the winner of the audience's voting got 1 point that was added to average judges' score. So instead of whistling and booing at the judges to show their discontent at the scores, fans could influence the results. And that's what they did!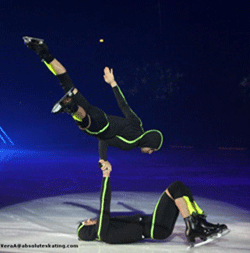 So, 4 categories, 19 participants, 7 judges (including Tamara Moskvina, Alexei Mishin and Philip Candeloro) and 4 hours of absolutely incredible tricks.
The first on ice were ice acrobats. Even though they have never participated at Olympics or Worlds they're not any less popular than the Champions. Fantastic Vladimir Besedin and Aleksei Polischuk get thunderous applause any time they step on ice. The judges and the audience were unanimous in their choice so Vladimir and Aleksei won fair and square. Other competitors in this category, Valeria Tishler – Viktor Mytnik, Oliver Pekar and Gaspar Karoly were also very impressive and wowed the audience with spectacular and dangerous tricks.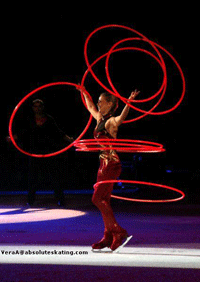 Then it was the turn of jugglers and hula hoops. The props ranged from hula hoops, clubs and balls to fire torches and fire circles on ice. It was a close competition but the judges and the audience were again unanimous. Violetta Afanasieva & Peter Duck's routine had it all – juggling, hoops, tricks and even skating itself.
Ice Comedy was the least extreme and arguably the most popular category. Victor Baryshevtsev impressed everyone doing complicated jumps and spins on hockey skates. Laurent Tobel played a little girl just learning to skate. Gary Beacom showed his signature move – standing on the head on ice. Stanick Jeanette was absolutely charming in his lighthearted yet complicated act. Judges gave the highest scores to Laurent Tobel. He got almost all 10s, but the audience disagreed with this decision, and after counting their votes, another athlete was named the Champion – Jason Gratz. Jason's performance was, well I really don't know how to describe it. It was funny and complicated with so many tricks on balance (like cantilevers). I guess the audience loved it because he made it all look sooo easy and relaxed as if anyone could repeat it.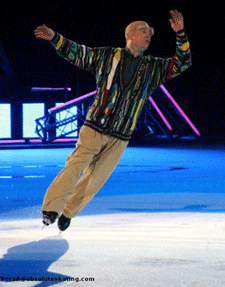 The competition was closed with the Freestyle category. All participants gave unique performances but the final choice was between air acrobats, the Denissov twins, and Steve Taylor with his unbelievable jumping over a car. To the delight of the audience the Denissovs won.
The show was concluded with the promised gala. Young talent Artur Gatchinsky, newly crowned Champions Vladimir Besedin – Aleksei Polischuk and lovely Irina Slurskaya were a real joy to watch and stars of Torino 2006, Tatiana Totmianina & Maxim Marinin and Evgeni Plushenko brought back Olympic memories skating their Olympic programs to the live accompaniment by Edwin Marton.