The Skating Champions show in Tallinn, Estonia


Text by EMJO and Susanna
Photos © EMJO
ItÂ's Wednesday night and The Saku Arena is sold out. Even the smaller, upper section is full. The arena is prepared for the ice show, the boards are gone and the ice surface is surrounded by lights. Nice music playing in the background to set the atmosphere before the show starts. The lights and sound are excellent. (Good lighting makes the photographer happy!) A small stage has been set up on the short side.
| | |
| --- | --- |
| | The show begins with Laurent Tobel entering; he tests the ice, slides on it with his shoes, then lies down and falls asleep. All the skaters enter dressed in white (which looks very innocent and romantic). The girls have pretty dresses and one holds an umbrella. The guys are either in elegant suits, like Povilas, or wear a sailor like outfit, like Alexei, or wear ruffles and lace. The phantom (the MC) enters in a cloud of smoke. HeÂ's wearing a black cape and tells the skaters that they are puppets under his control, and demonstrates it by making them do what he says. He speaks in English for this part, but for the rest of the show he speaks Russian. The pretty singer Valerie enters and opposes the phantom. |
Irina Slutskaya and Valerie:
Irina is charming as always and Valerie has a beautiful voice. Irina skates an elegant number containing her characteristic spirals in Biellmann positions and some fast spins.
Stanick Jeannette, Zorba:
This music is so well known the whole audience immediately starts clapping their hands. ItÂ's a very nice program with a lot of fast spins in different positions. Stanick is a very good spinner and entertainer.

Rory Burghart, Last dance:
This disco number suits Rory very well and brings up the tempo. She is so flexible and her split jumps are just unbelievable. Her back flips are very popular with the audience.

Radka Kovarikova & Rene Novotny:
This is a romantic number. They still have very nice lifts and connections well synchronized to the music. TheyÂ've skated together for quite a while now and it shows in their mature and unison skating.
Laurent Tobel, Bolero:
This Bolero is unlike anything youÂ've ever seen performed before. Laurent is dressed as a snake charmer and he even brings a cute, not so small, snake on the ice. ItÂ's a funny number but suddenly he does a triple jump, great! At the end he fights with the snake and kills it.




Marie-Pierre Leray, French skating acrobat:
She is dressed in a white bodysuit and moves elegantly. For most of the program she uses a swing hanging from the ceiling. She is way up in the air performing acrobatic moves and the crowd is really impressed.
Armen Saakian and Akop Manoukian, ice comedians:
They skate their racing number where two race drivers compete with each other and crash in the end. The music is up beat and captivating. Of course this number includes simultaneous back flips and also some fire works.

Margarita Drobiazko and Povilas Vanagas, Pink Floyd:
Margarita and Povilas are dressed in black leather and the first thing that strikes you is how powerful they look. Their programs are always very interesting and you keep wondering whatÂ'll come next. Their skating is fast and dramatic and they get loud reactions from the crowd, which leads to the first encore of the night.
Alexei Yagudin, Flamenco:
This is a program with a lot of footwork, something he always does so well. WeÂ've seen this number before and today there was less playing with the hat. Alexei got the loudest crowd reaction so far and is called out for an encore. He gets lots of toys and flowers. A herd of kids want his autograph as he leaves the ice. Ok...




Laurent Tobel and the phantom enter the ice and then itÂ's intermission time.
Act II starts with the Estonian skater Elena Glebova, she skates to "One day I fly away".
SheÂ's dressed in white and wears a blue scarf. This number is soft, elegant and very emotional.




Next Valerie is dressed up like a flamenco dancer and sings a tango while the phantom (now without his cape) joins her on the small stage on the short side. They "try out "some signature Tango moves which are safer on the stage than on the ice .
Stanick Jeannette, Chaplin medley:
During this number he plays with a cane, juggles three balls and suddenly holds some flowers in his hands. He gives them to Rory in the end, or tries to. A very entertaining number, Stanick has all the mimic to be a true Chaplin.




Rory Burghart, "Crazy":
Rory wears a very eye-catching costume. She does her backflip 3 times and really gets the audience going. She is very much in tune with the music.
| | |
| --- | --- |
| | The phantom walks around the ice and then comes up to us and asks something we don't get. It was to scream "oh" but if your entire Russian vocabulary is reduced to the word "Nastrovje", it doesn't help. So he asks the people sitting behind us, and the audience screams "oh" and "ah". Radka Kovarikova & Rene Novotny return and skate to the song "oh ah", well, you know the one. The encore is a true headbanger as Radka keeps her arms on her back. Wow. |
Marie-Pierre Leray, Memory:
Marie is dressed in a sheer, white dress, and she skates softly to Memory. ThereÂ's much more skating in this program. But at the end she uses the wire and hooks a "collar" to it, places it around her neck and as she spins she is lifted up in the air. The audience loves this. She does the spin one more time as an encore.



Laurent Tobel, Carmen:
This Carmen is not exactly elegant and feminine, but fun! He is greatly appreciated by all, young or old. Stanick Jeannette enters as Chaplin and gives Carmen flowers. But he's not prepared for CarmenÂ's reaction, so he runs out chased by Carmen.
Irina Slutskaya:
After Carmen the fun continues. Irina is dressed in big, black pants with suspenders and a white shirt, and she skates a fun and playful number this time. Irina has many nice programs on her repertoire, and every time we see her she skates a new or different program. ItÂ's especially nice for us when she skates to Russian music, but she seems to take on whatever music is relevant to where she is in the world. Very versatile!
Armen Saakian and Akop Manoukian:
These two funny guysÂ' portrait two boxers fighting. One of them cheats quite a lot, for example by wearing huge boxing gloves or using a fry pan as protection again the others hits. This number is lot of fun!
Margarita Drobiazko and Povilas Vanagas, Pirates of the Caribbeans:
This program is a mini-play containing good choreography, artistry, sword fights and great skating. Of course they must do an encore, this time with the swords on fire!
Alexei Yagudin, Winter:
He appears together with violinist Katerina Bykova, and escorts her onto the ice. Her dress has the same pattern as AlexeiÂ's famous winter costume, very nice! She plays the violin with passion and Alexei skates Winter softly and emotionally, the white part of the costume glittering in the lights like snow in the sun. This is the way Winter should be performed. For the encore he repeats both step sequences. And like a real gentleman he escorts Katerina off the ice again.
Valerie sings "The show must go on" and all skates come on the ice for the finale. They make some characteristic moves and formations, and then line up for final bows. They skate around the ice and wave at the audience and the show is over.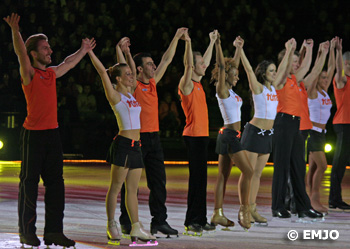 The atmosphere in this Tallinn arena is wonderful, itÂ's so relaxed. You can throw flowers or toys to the skater and kids can ask for autographs. The latter is nice as long as the kids stay seated when the skaters are on the ice (which wasnÂ't always the case and the kids blocked the view). But still, the friendly family atmosphere should remain.
The Skating Champions European Tour is now over and itÂ's been successful. All the shows in Lithuania were sold out, and some of the others too. We can easily understand why; the shows are a wonderful mix of acrobatics, fun numbers, beautiful singing and daring numbers in the air, and of course excellent skating by the very best. Throughout the tour, different guest stars have joined making each show unique, as well as given the audience the opportunity to see more of your favourite stars.
Thanks for the great entertainment, Povilas and Rita! We hope you will return next year with a new show and hopefully visit more cities.
Check back soon to see the photo album!