The 2007 Swedish Nationals


Text by Magdalena Osborne
Photos © EMJO
| | |
| --- | --- |
| | December means Nationals time, and Emjo and I packed our bags (again, this was the third time in a month…) and went to BorĂ"s, a city located southeast of Gothenburg. The arena is nice and modern and there was enough room for some businesses to set up tables and display boots, fabric and apparel of various kinds. Even non skaters could easily have spent a fortune there. Snow flocked Christmas trees and a cute stuffed Bambi became a perfect first target for Emjo's lens. |
The junior men started the event. Not that anyone had any doubts about who'd win. Young Alexander "Sasha" Majorov (whom we reported on a while back) was just as amazing as last year, no, more so! After the short program he was ahead by more than 20 points and after the freeskate his lead had increased to a whopping 62.32 points. Sasha has all the triples now except for the Axel, and he pulls off level 3 footwork and level 4 spins. His speed and energy left the audience cheering and clapping for more. (video 1, video 2) We noted with a smile that his loudest fan section included a great number of young girls…
When asked to comment on his performance Sasha was very modest and said he was "pretty happy with the short program", but felt he'd lost a lot of energy at the end of the freeskate. But both programs were new personal bests and coach Alexander Majorov senior seemed pleased. He told us Sasha was working on a triple Axel, but lost his double Axel in the process, and that bad boots were part of the problem. But new ones have been ordered and things should get better. Sasha will compete at the Nordics in Finland in February, but most likely not at Junior Worlds. Baby brother Nikolai, age 6, will compete this week for the first time. He loves skating and maybe in a few years we'll see him competing at Nationals as well.

There were only five junior men, but 30 ladies. The winner, Joshi Helgesson, wore a red and black dress in the freeskate and demonstrated some real "Gipsy Passion". She opened both her programs with a beautiful double Axel and got very loud applause. Unlike many others she finished her program right on the dot. The free skate earned her 80.67 points, which was a personal best. Joshi was the winner of her Novice group last year, but has since moved up to juniors.

The younger Novice men were the smallest group, only four. Partial to our local club (Malmö), Emjo and I cheered a little extra for Aylwin Iantchenko and after the short program he was in second place, but after the freeskate Ondrej Spiegl from the Eskilstuna club was still the big winner and Aylwin finished off the podium. Awe.
The 21 young Novice girls included Malmö's little ice princess PÄlina Boukov, whom we've watched progress for a couple of years now. She looked like a fairy on the ice as she skated her long program to "Scottish Fantasy". She was the 9th skater out, and she took the lead. PÄlina's jumps need some help, but she's very smooth and elegant on the ice and her spirals are beautiful. She finished in 13th place. The winner was 11-year old Josefin TaljegÄrd from Gothenburg. Skating to the "Dirty Dancing" soundtrack she took the audience by storm. It's incredible that so much energy and talent can fit in her tiny body!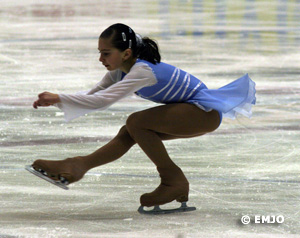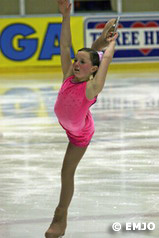 | | |
| --- | --- |
| | The success of Angelika Pylkina/Niklas Hogner has sparked the interest for pair skating, and the Cuteness Award of the year goes to the five young pairs, all from the Stockholm area. At this point they are mainly just cute, but learning fast and we were delighted to see them, and who knows what the future will bring? Maybe by next year the Swedish Nationals will include all four disciplines since Sweden has some young ice dancers as well. Niklas and Angelika are seniors now but didn't compete due to illness. |
The older Novice boys can do double jumps, but the winner, Richard Lundberg of the Tyringe Club, pulled off a triple Salchow and almost a triple toe in his free program. But this part of the competition was marred by the malfunctioning sound system. For one skater it became devastating as he had to skate most of his program without music. We still can't figure out why he wasn't allowed to start over, especially as other skaters affected by interrupted music throughout the week were. The older Novice girls had 21 participants. Jenny Erixon from Landvetter (coached by Kristoffer's coach Andrea Dohany) won this part of the competition. The runner up, Angelica Olsson, missed the jumps in the short program and was in 15th place. But she made the come back of the competition and won the freeskate, which gave her enough points for a silver medal. Well done!
The senior events drew the biggest crowd. The thirteen ladies competing for the crown skated to a variety of music; opera, jazz, classical, movie soundtracks etc. Lina Johansson's "Lord of the dance" with a beautiful spiral sequence and spins, placed her in a narrow first. Coming back from the injury plagued last season she did very well. We watched her in practice before the free skate and she did all the jumps beautifully and anticipations were high. She started the "Turandot" free program with a nice triple flip. The double Axel was slightly wobbly and after that we don't know what happened. Spins and spirals were still beautiful, but the jumps didn't work and she was devastated afterwards. It was very sad, especially since we know she can do all the elements of that program, we've seen it!
The low technical score opened the door for Victoria Helgesson, who also nursed injuries during last season. In spite of lacking a triple Lutz and flip, she won the ladies event, Lina got silver. Last year's champion Malin HĂ"llberg-Leuf placed third.
There were six Swedes and Norway's Michael Chrolenko on the roster for the senior men. Michael (read more about him here) wasn't really competing, only with himself to prove he was worthy of a spot at Europeans. He has refined his programs from last year. His jumps are incredibly high and his free program to "Pirates of the Caribbean" earned him a new personal best score. The two brothers Justus and Kalle Strid from Gothenburg finished third and fourth, just four points apart.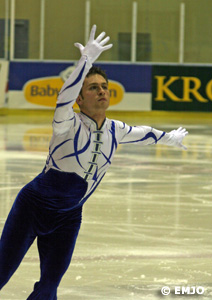 | | |
| --- | --- |
| Considering last year's champion, Adrian Schultheiss, is still suffering from an injury he sustained during the summer, he did all right. He missed some jumps and took some falls, but completed the competition and earned enough points to get silver. After the free skate he commented: "This wasn't my best competition, but I got through it! I'm injured and I've also had back problems for a while. I'm going to see a specialist now to get to the bottom of what I should and shouldn't do to get better." | |




Kristoffer Berntsson sure made up for not being able to really prove himself last season. The rerun performance of last year's short program was a definition of perfection. High jumps and level 4 spins paid 73.09 points, a new personal best. The freeskate, a cleverly choreographed skating version of John Travolta in "Saturday night fever" wasn't as clean, but the crowd never stopped screaming or cheering him on. (video) He managed three combinations and level 4 spins, which added lots of technical points and even more for the components. With 127.93 points it was another personal best and a total of 201.02! The roaring from the stands was deafening and King Berntsson smiled from ear to ear. Afterwards he happily took time for all the fans lining up to get autographs and a TV crew and local reporters wanted comments. "It was so good to win and be the Swedish champion again. And the audience… it was wonderful! I was very tired towards the end, but I kept going and their support really helped", Kristoffer said, still somewhat out of breath. This was his day for sure and he was well worth it.

All the medal ceremonies took place on Sunday before the gala. The hour long show offered many fun and memorable moments with group numbers and individual performances from the winners and Lina. Adrian was also offered a spot but declined. He needs to take care of himself so we can watch him in later competitions, and we wish him all the best. Lina skated to "Memoirs of a Geisha" and it was absolutely flawless and beautiful. She included an Ina Bauer and did it very well. Sasha Majorov as a Cossack was a big hit (video) and Kristoffer made everyone laugh when he chased a mosquito. It was a hilarious program and I hope we'll get to see it again. Team Surprise entertained to various Christmas songs and they are simply the best. The gala ended much too soon and all the skaters waved goodbye.
To sum things up, the competition was great and we had a wonderful time. (video) As always, the organization was first class. We did miss Filip Stiller and know he missed being there. But he's a professional now and off on an exciting skating adventure on a cruise ship. He won't be back for several months yet, but that's its own story so stay tune.
This year's poster advertising Nationals showed Kristoffer Berntsson in a pose from his short program. It was a very nice poster and several people tried to take one home after the event. The problem was that the small pieces of double stick pads on the back were so efficient the walls would have come down before the posters did.
The local media coverage was pretty good, there were articles every day. But the national newspapers barely posted the results and very little was said on TV. Hopefully that will change. By now it's a well known fact that Sweden will host Worlds in 2008 and that should attract media people from all over the place. Nationals next year will be held in Gothenburg, possibly even in the same arena as Worlds. Many of the same volunteers will be called in to make sure things will run smoothly. We'll be there too and we can't wait!