Benvenuti in Giappone!
Text and pictures © Céline and Aya

1, 2, 2, 5, 7: random numbers? No, these are the rankings of the Japanese skaters at the last World Championships in Tokyo. Miki Ando, Mao Asada, Daisuke Takahashi, Yukari Nakano and Nobunari Oda put their country on top of the figure skating world, but they are only the tip of a wonderful national team. A team that traveled all the way to northern Italy for a summer camp and an exhibition: a unique opportunity for fans in the area to see some of the World's best skaters.
| | |
| --- | --- |
| | On this past July 22, the sun was shining to welcome us in Courmayeur, a beautiful resort in the Italian Alps. But as soon as we stepped into the ice rink, we felt as if we had just entered a whole new world. Not only were all skaters, coaches and officials from Japan, as expected, but also the few journalists and most of the audience around us. |
Some information signs were in Japanese, as were the labels of the bottles of water that stood on a table nearby. A Japanese flag was hanging in the arena alongside the Italian "bandiera", and Japanese music was playing in the background. The atmosphere was set, we were ready for the show to begin!
| | |
| --- | --- |
| Eight ladies and eight men, elite and junior, had taken the trip to Courmayeur to prepare for the coming season. Unfortunately, World Champion Miki Ando and Yukari Nakano weren't among them, but younger, less famous ladies grabbed their chance to show how talented they are. While Satsuki Muramoto (17) and Aki Sawada (19) skated to slow music that put forth their emotions, Rumi Suizu (17) and Nana Takeda (18), junior National Champion, performed very energetic and entertaining programs to Gwen Stefani and Christina Aguilera. | |
| | |
| --- | --- |
| Akiko Suzuki (22), who won the gold medal at the 2007 Winter Universiade in Torino this past January, skated beautifully to the Titanic soundtrack and was clearly one of the crowd's favorites of the evening. Mai Asada (19) became a lovely Juliet for the time of her exhibition to Tchaikovsky's ballet and her sister Mao (17), World silver medalist but unfortunately not in a good jumping day, showed how much her artistry has improved lately with a beautiful program to a sung version of Chopin's Tristesse. Fumie Suguri, who, at 26, still enjoys skating so much that she feels up to fighting for a spot on the Japanese World team this coming winter, performed to the Cell Block Tango from the Chicago soundtrack. | |
| | |
| --- | --- |
| | Things were just as interesting and diverse on the men's side. After Takahito Mura's (16) energetic program to the Black Eyed Peas, Ryo Shibata (20) showed off his flexibility and gracious skating to a ballade by Céline Dion and Andrea Bocelli. Takahiko Kozuka (18), the 2006 World Junior Champion, and Yasuharu Nanri (22), 3rd at the last National Championships, performed what seemed to be their new short programs – the former to a modern version of Caravan and the latter to Beethoven's Moonlight Sonata. |
| | |
| --- | --- |
| | Tatsuki Machida (17), very promising junior National Champion, had a nice program to a boogie-woogie, while Kensuke Nakaniwa (26) got the crowd to laugh and clap along with a fantastic performance to the mambo Cerezo Rosa. Nobunari Oda (20) performed one of his old short programs to Ennio Morricone's Nuovo Cinema Paradiso that included a beautiful 3Lz-3T-2L combination and Daisuke Takahashi (21), World silver medalist, closed the evening with an amazing program to Björk's Bachelorette. |
After the exhibition, when most of the audience had already left the rink, all skaters came back onto the ice to take pictures with their coaches and local skaters. They all clearly had a lot of fun, laughing and playing tricks on other skaters. Here are a few extra pictures of these wonderful moments.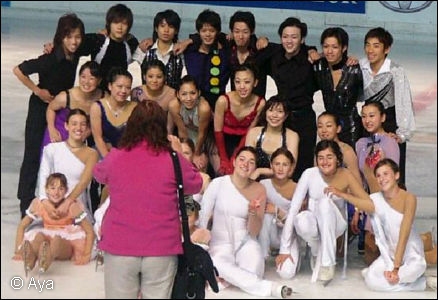 Team Japan and skaters from Courmayeur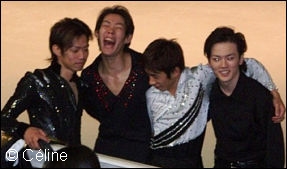 Daisuke Takahashi, Kensuke Nakaniwa, Nobunari Oda and Yasuharu Nanri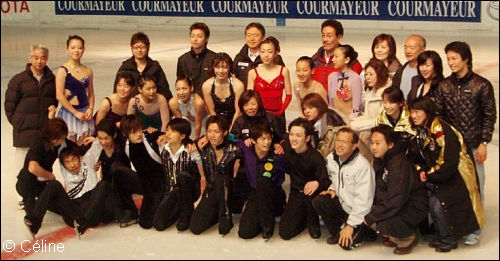 A big thank you to all the Japanese skaters, and good luck for the coming season!