Carnival on Ice 2009
By Atsuko Kuryu
Photos © M. Hashimoto*
Carnival on ice was held just a few hours after the Japan Open was over and more skaters were added to those who competed in the Japan Open. The additional skaters were Alexei Yagudin, Daisuke Takahashi, Nobunari Oda, and Miki Ando.
All the skaters who competed in the Japan Open except Yukari Nakano skated their exhibition program, while Japan's Takahashi, Oda, Ando and Nakano debuted their short program for this season.
The highlight of that night was Stephane Lambiel. The last of all the skaters, he performed "Ne Me Quitte Pas" and put his heart into the program. While I saw this program twice at Dream on Ice in June and at Jewelry on Ice in July, in my opinion, this one was the best. He skated as if he was the instrument and had played the music upon it. However, the real climax came later. Called back for an encore, he skated the last part of his short program, "William Tell," from the straight line steps to the combination spin as the grand finale. Along with the well-known and exciting music, he showed outstanding footwork and awesome spins. This performance evoked huge excitement like a storm among the crowd. He received a standing ovation from the entire crowd.
Another highlight was Daisuke Takahashi. He is back! He looked so healthy and amazing. I never saw even a hint that he had just recovered from a serious injury. Skating his short program of this season, "Eye," Takahashi showed an almost perfect performance excluding the combination jump. He was completely ready for the season. He was so powerful and energetic, yet still soft and graceful. He seemed even to have improved. Can you imagine a skater who had struggled with landing a double toe only five months ago could complete such a steady jump? His triple Lutz looked light as a feather; his triple Axel was solid and high; his footwork was just as gorgeous as before. He said his spins had improved a lot. I am pretty sure that he will be one of the men who will dominate the men's field this season. Of course, the audience was again excited and gave him a standing ovation from the entire crowd.
I love Laura Lepisto's, "The Clan: Tale of the Flog." This program was amazing with a color effect. She wore an almost solid black dress with a few red patterns on it. When she waved a red ribbon in the middle of her program, the type of ribbion usually used in rhythmic gymnastics, she and the ribbon matched perfectly and became very aesthetically pleasing.
Of course, her skating was also very graceful and the crowds were very impressed with her overall performance. I love this idea—to use a ribbon on the ice. It added an unusual touch to the performance.
Japan's Yukari Nakano, Miki Ando, and Nobunari Oda debuted their short programs for this season. Nakano's, "Phantom of the Opera," was nice and solid, but lacked the wow factor. Maybe she was still suffering from the dislocation of her shoulder which she suffered during her performance at the Japan Open. If she can complete such a decisive performance as what she showed in some shows earlier this season, she is sure to be a serious medal contender for coming season. Nobunari Oda's performance was lacking excitement as well. He said he wanted to show a strong performance with "Dance Macabre" by Liszt so that he could bring the audience into the feeling—as if they were brought into the hell he was portraying. I suppose it needed sharper movements or more power if he really intended to bring that feeling. I know he improved his programs during the season and made them exquisite last season, so we can expect far more impressive performances as time continues. Both Nakano and Oda competed at Trophee Eric Bompard, so let's if they brought something more into their performances.

Miki Ando's new short program had pros and cons. She had once said that the short program this season would be very "different." Yes, it was—especially the costume. It looked a little weird with a huge spider – a tarantula? -on her breast. Her performance was more powerful and stronger rather than beautiful or feminine, which people think more appropriate for ladies' skating. Actually, I liked her program and the way she performed it, but I hated the music. The entire program was strong without a change of pace. One might think it's monotonous or boring. I'm really curious what the judges think about this program.
Other skaters performed well when they took to the ice. Joannie Rochette's tango, "Objection," was awesome; Jeff Buttle's "Personal Jesus" and encore were exciting; Samuel Contesti's Samuel Contesti's program, "The Man with the Harmonica," was very entertaining. Beatrisa Liang bounced back and skated a solid performance to "Ain't No Sunshine." Elena Glebova's "2 Hearts" was a really cute program.
Jeremy Abbott and Takahiko Kozuka moved very well to the fast pop music and hip-hop. The two professional skaters, Alexei Yagudin and Takeshi Honda, showed smart and refined performances. Shizuka Arakawa is so beautiful and solid as always. Even after her retirement, she seemed to improve both technically and artistically. In this program, "El Flamenco," she looked like a proud ice queen rather than a sultry flamenco dancer. However, I appreciated that it was a different type of flamenco since it was so cool.
One skater's program remains, "Caprice," by Mao Asada. It was a splendid performance, which was very welcomed by the audience as they were tired of the serious and somber Mao. This program really suited her character well. She said she wanted to represent the indulgent style of a medieval lady and she actually seemed to transcend hundreds of years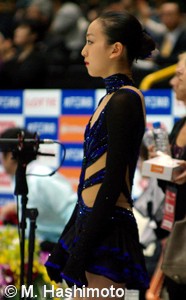 with her vivid and rosy character. Everyone who watches this program may love it. Some said she should replace this as a short program instead of the heavy "Masquerade" and I understood what they meant.
The skaters took the ice and skated together for the grand finale. It was not very impressive, but the whole show was enjoyable and exciting. I'm sure the audience left the arena for their home with a sense of satisfaction.
I hope these events—the Japan Open and Carnival on Ice—will continue as long as it is convenient for the skaters because I like an atmosphere where skaters can skate their competitive program in more relaxed manner and have fun. Adding to that, the invited skaters can earn money which helps their training expenses, which is very nice for them.

I hope all the skaters who attended this event can achieve their goals for this season! Good luck to all of the skaters!

* It wasn't allowed to take pictures at the actual gala, so pictures used here are from the competition part right before "Japan Open" and the ones of the pro-skaters from other events (see pop up at mouse scroll over)