Dreams on Ice 2009
Part I
By Atsuko Kuryu
Photos © M. Hashimoto
For the grand finale of the season, a fabulous show was held in Shinyokohama Skating Center in Japan - the Dreams on Ice show. In addition to the star-studded Japanese skaters, there were gorgeous guest stars such as St├ęphane Lambiel, Tomas Verner, Aliona Savchenko & Robin Szolkowy, Nathalie Pechalat & Fabian Bourzat and Yukina Ota.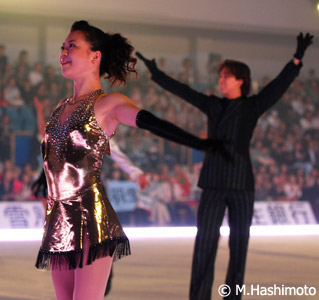 Dreams on Ice is not just a show. It is a very honorable exhibition for Japanese skaters, because the only skaters who can perform there are those recommended by the Japan Skating Federation, according to this season's result, which means only the best Japanese skaters can appear on the ice, in this show. It's held at the end of the season, however, it's also the kick-off event for next season. Most of the skaters perform new exhibition programs, and some of them show their new short programs for up-coming season!
To our regret, Japan's lady's champion, Mao Asada and Grand prix final silver medalist Takahiko Kozuka did not appear because of their schedule of choreography and of course, Daisuke Takahashi and Yasuharu Nanri, who had major surgery during the season and are on the way to recovery, weren't in the show, either.
But still, we have Miki Ando, Fumie Suguri, Yukari Nakano, Nobunari Oda, Takahito Mura and more.
Opening
The show began with a performance by the Tokyo synchronized skating team. Then it was followed by Japanese skaters and guest skaters showing off their specialty skills one by one. When St├ęphane Lambiel showed his famous spin at the end, the Shinyokohama Skating Center was fully pumped up.
On the first day, the group performance appeared to be a bit messy, but as the skaters gradually skated in unison, it became fun to watch. To finish up the awesome opening, all the skaters did a spin simultaneously, which was a truly gorgeous perspective but I'm sure it made the audience fret over who to watch.
ACT I
Yukiko Fujisawa (2008 Junior GPF silver medalist)
Music: Cotton Eye Joe
The first skater Yukiko Fujisawa, a 14-year-old in red cowgirl style costume looked really cute and fresh. She is a great spinner and consistent jumper. She had a pretty good performance with various beautiful spins and 3 consistent jumps including 3-3 combination. I'm sure you will see the great potential she has if you have a chance to see her.
Daisuke Murakami (5th in Senior 2008 National Championships, 2nd in 2008 Junior National Championships)
Music: Everything Dance Now
With casual style T-shirt and paint-smeared jeans, a young skater did an energetic hip-hop program. In the midst of the program, he appealed to the audience and did very attractive circular steps. He also had complicated straight line steps at the end of the program. The audience enjoyed this buzz concept program.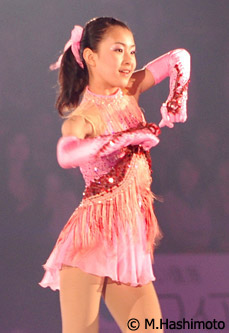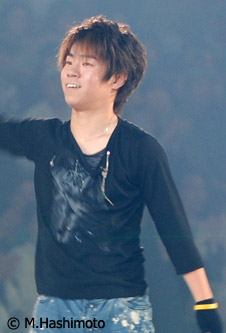 Kanako Murakami (4th in 2008 JGPF, 5th in 2008 Senior National Championships, 3rd in 2008 Junior National Championships)
Music: Miss Baltimore Crabs
We had two 14 year old girl skaters in this show, who are supposed to be favorites of post Mao generation - Yukiko Fujisawa and living-doll-skater, Kanako Murakami. Although her jumps didn't look as good as her usual standard, her performance definitely had "it". Besides, she had notable speed and uplifting feeling.
Tatsuki Machida (5th in Winter Universiade Harbin, 2nd in Junior National Championships, 7th in Senior National Championships)
This danceable program was widely accepted by the audience. He had attempted quadruple jump at the opening in all of his four performances and the crowd praised his challenge, although he couldn't land them cleanly. He also tried high 3As but unfortunately fell. Other than the jumps, he performed very well. He appealed to the audience and had very good contact with them so that they enjoyed it a lot.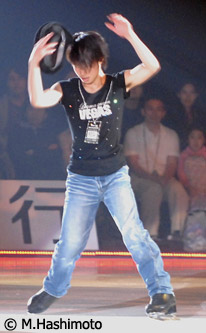 Mari Suzuki (2nd in Junior National Championships, 12th in 2008 Senior National Championships)
Music: The Umbrellas of Cherbourg
She looked mature for her age. This 17 year old high-school student gave an elegant performance with beautiful spins and wonderful skating skills. Especially the transitions of the combination spin, from lay-back to Biellmann were really impressive.
Yuzuru Hanyu (reigning men's Junior National Champion)
Music: The Bait, Bare Island
He has been growing up so quickly both in height and skating. Performing his short program for next season, he looked confident and mature. He skated to the sound track of Mission Impossible, where he showed wonderful harmony with the music which is his prominent feature. During his performance you might see a young skilled spy on the ice.
Haruka Imai (reigning ladies Junior National Champion)
Music: Fiesta Flamenca
The fifteen-year-old performed a flamenco style program. I thought flamenco meant passion but this performance is different. This was really lovely and brisk, which I evaluated much by my own standard. I love her spins. The last combination spin was the highlight of the show.
Nana Takeda (2nd in 2009 Winter Universiade Harbin, 6th in 2009 National Championships)
Music: Single Ladies
With her famous smile, she skated powerfully and comically. She had a little problem with jumps but she was glamorous, vivid, and charming. If you had seen this live program, you would have felt a rush to go onto the ice and dance with her. Of course she did the well-known beautiful Beillmann spin at the end of the program which was fantastic.
Narumi Takahashi/Marvin Tran (reigning pair National Champion)
They performed their new short program for up-coming season. Because it was off-season (Tran just got back from his vacation), you couldn't say they were in top condition. They had several mistakes on side-by-side jumps, lifts, or throw-jumps. However, Narumi showed amazing flexibility in the lift position and their side-by-side steps had very good synchronicity. Let's wait to see their programs develop.
Yukina Ota (a guest skater, 2003 Junior GPF winner, 2003 Junior World Champion)
Music: Ave Maria
She chose to quit competitive skating because of a long-term injury of her right ankle, therefore, she didn't appear in this Japan team exhibition in 2007 and 2008. But she came back as a professional skater. She is so elegant, so beautiful, and so artistic. The audiences are very quiet during her breathtakingly wonderful performance. I would say with confidence that she is a real ballerina on the ice.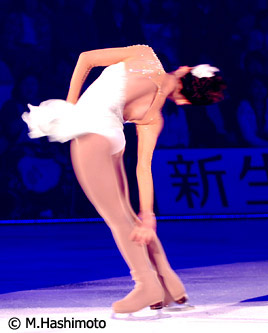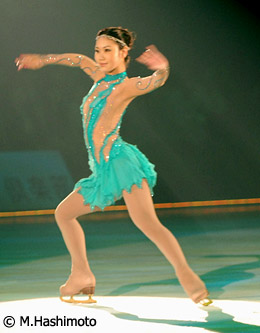 Yukari Nakano (4th in 2008 World Championships, 1st in 2009 Winter Universiade Harbin, 5th in 2008 National Championships)
Music: Harem
If you plan to go to Eric Bompard Trophy and watch the exhibition, cross your fingers for her to be medaled or at least 4th, because this is a fabulous program worth watching by any means. Outstanding spins, consistent jumps, speed, artistic flare, everything you want to see in figure skating were there. Very exotic, very gorgeous performance, I swear.
Tokyo Synchronized Skating Club (reigning National Champion, 12th in the World Synchronized Skating Championships)
Music: Chicago

I don't know much about synchronized skating but 16 members performing together was spectacular to watch. They moved on the ice making wheels, lines, or intersections which were very organized. They also performed beautiful lifts and spins. After they finished their last performance which was almost perfect, they were moved to tears of happiness. It was a moving moment. Synchronized skating is not popular in Japan yet, but hopefully more people might take an interest in it after seeing this performance.
Go to Act II