Finlandia Trophy - Day 1
By Celine Oreiller
Photos © Vera Alexandrova
If you're lucky enough to live in a place that's been enjoying a warm and lovely fall, like me, taking the trip to Vantaa for the Finlandia Trophy turns out to be a great way to get into the proper mood for the new season. With temperatures just above freezing point and a chilly wind, winter is right around the corner here in Finland.
With just one week to go before the first Grand Prix event, the Finlandia Trophy is giving the opportunity to skaters to perform their programs in front of international judges before "the real stuff" begins. In a season as important as this one, with many skaters dreaming of shining at the Olympics in February, every detail counts and professional feedback is greatly appreciated.
Today, the competition opened with the compulsory dance. After their win here last year and their bronze medal at Europeans in neighboring Helsinki in January, Sinead and John Kerr were the clear favorites and they didn't disappoint. They performed a lovely Golden Waltz that put them in the lead with 34.11 points. Second and third are Alla Beknazarova / Vladimir Zuyev (Ukraine) with 30.84 points and Anastasia Platonova / Alexander Grachev (Russia) with 30.63 points.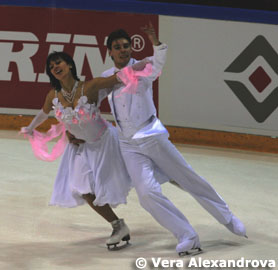 The second event of the day was the men's short program, with the much anticipated return to the competition of Daisuke Takahashi. After being sidelined for a whole season by a serious knee injury, the Japanese proved that he will be a serious contender this year. His energetic tango program to Eye by Coba saw him land a triple flip-triple toeloop combination, a beautiful triple axel and a triple lutz. His steps got the crowd clapping and cheering, and everybody was ready to give him a standing ovation when he… fell on the final position! He was the first to laugh about it and everybody joined in. With 83.23 points, he leads ahead of Stephen Carriere (USA) and Sergei Voronov (Russia).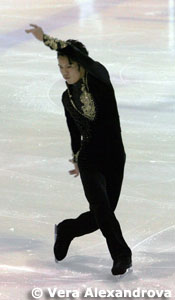 The American skated a very well constructed program that included a triple axel, a triple lutz-triple toeloop combination and a triple flip. He received 70.22 points and hopes to build on this performance for the rest of the season, with the dream of making the US team for the coming Olympics.
The Russian landed a quadruple toeloop-single toeloop combination, a triple axel and a triple flip, and was rewarded with 68.50 points. He admitted that he still can't really express on the ice all the emotions he feels because the program, choreographed by Tatiana Tarasova, still needs to be polished.
Kristoffer Berntsson (Sweden) placed 4th thanks to an entertaining program portraying a knight fighting for his life. Daisuke Murakami (Japan) was another good surprise as he skated a clean program to a modern version of West Side Story. Absolute Skating's Kevin van der Perren (Belgium) had unfortunately some big problems with his jumps and could only place 16th. We wish him better luck for the free program and hope he can move up some spots.
Tomorrow, the original dance will be followed by the ladies' short program and the men's free program. Stay tuned for more results and pictures!