Finlandia Trophy - Day 3
By Celine Oreiller
Photos © Vera Alexandrova
On the third and last day of the Finlandia Trophy, the Valtti Areena was full in honor of the Finnish ladies, but first to take the ice were the dancers.
Sinead and John Kerr delivered a much stronger performance than on Saturday and their inspired free dance to Linkin Park was highly enjoyed by the crowd. With 86.31 points for the free dance, they finished the competition with a total of 173.14 points. Platonova/Grachev skated a very light and beautiful classical program to Mozart and moved up to the second place (78.83 points for the free dance, 158.20 overall). Berznakarova/Zuyev only got the fifth score of the day (71.70 points) for a very dramatic program and finished 3rd overall (151.90). The Beiers had the third best score of the afternoon (75.34 points) and remained in 4th position (147.38). The Germans were enjoyable to watch, but they still have a lot of work to do to regain the form they had before injuries kept them off the ice for a while.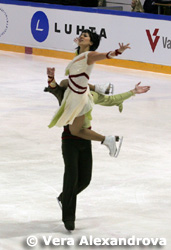 In the ladies' free program, Alena Leonova delivered a very powerful and energetic performance to the soundtrack of Chicago and, despite a fall on her opening triple toeloop-triple toeloop combination and some shaky landings, she won the free program (105.93 points) and thus increased her overall lead (162.17 points in total). Laura Lepisto singled and doubled too many jumps in her fiery tango to overtake the Russian, but her score of 100.88 points moved her up to 2nd place (154.33). Last to skate, Kiira Korpi started off very well, but after her hair tie fell off during a spin, she was distracted and made mistakes that prevented her from finishing higher than 3rd (98.13 points for the free program, 152.84 overall). An unexpected and refreshing Myriane Samson confirmed her good performance of the previous day and finished in 4th place both in the free program (92.88) and overall (146.55). Susanna Poykio, 3rd after the short program, had a disastrous free skate that saw her fall to the 10th place (128.55), while Fumie Suguri, 4th on Saturday, ended up in 7th position after doing many mistakes in her program (136.91).
All in all, this was a well-organized and quite enjoyable competition, even though some performances should be forgotten as soon as possible. The skaters can now use the feedback of the judges to twist their programs and, without a doubt, they will all work very hard to keep improving as the season goes.
Good luck to all who have Grand Prix events coming up!