Grand Prix Final 2009/2010
Day 2
By Atsuko Kuryu

Photos © M. Hashimoto, JSF
We had a busy day here in Japan on Friday, December 4th. There were three free programs producing three sets of medalists, and two short programs.
Junior Pair's Free skating
China's Wenjing Sui/Cong Han won the title by a large margin over Narumi Takahashi/Mervin Tran from Japan. Their program to Charlie Chaplin's "City Lights" was enjoyable and delightful. Their technical skills were higher than the other competitors in this field. Their overall score was 160.45 which was about 15 point higher than Takahashi/Tran.
"We are deeply moved. It is our first time in the Final and we wouldn't have dreamed about achieving such good results," said the happy winners.
Takahashi/Tran also gave a good performance which earned them 91.36 points for the free skate and 145.80 overall. Narumi had trouble in the landing of some jumps but other elements like lifts and spins were amazing. Bronze medalists Yue Zhang and Lei Wang's "Rhapsody on a theme of Paganini" had good flow and elegance. This pair is also from China.
Junior Men's Free skating
Yuzuru Hanyu of Japan edged out Nan Song by 1.78 point for the junior men's title.
Hanyu attempted two triple Axels in his free program to yet another Rachmaninov's "Rhapsody on a theme of Paganini" but fell after landing the second Axel and couldn't save the combination, thus losing about 6.5 point in technical points. The protocol showed that this was his only one negative GOE, but I felt this performance was not at his usual level. He scored 136.92 points for his free program and a total of 206.77.
"I didn't expect that I could win," Hanyu said. "My jumps were not good going into the competition so I only thought about completing each element as I went along."
Song's performance started pretty well with a huge triple Axel followed by an outstandingly high triple Axel-triple toe combination. But Song seemed a little tired after the strong straight line step sequence and the attempted triple loop turned into a double. Despite this mistake his technical score was slightly higher than Hanyu's. Song received 133.29 points for his free program and a total of 204.99.
Song said, "I was a little nervous today. I felt pressure because I skated last. But it was an honor for me to compete in this Junior Grand Prix Final".
Ross Miner of the USA was fourth in the free program with 125.24 points, but still won the bronze thanks to his large lead in the short program over countryman Richard Dornbush, who placed third in the free skate with a near perfect performance, but dropped to fourth overall. The impression of Miner's performance was not bad. His two spread eagles and straight line step sequence were amazing.
Grant Hockstein, also from the USA, placed fifth.
Senior Men's SP
The men's short program was the highlight among tonight's events. Four out of six skaters showed an almost perfect performance and scored over 80 points.
Daisuke Takahashi of Japan leads this field with a score of 89.95 points, which is the second highest score in history. America's Evan Lysacek earned 89.56 points. Nobunari Oda followed with 87.65 points while Johnny Weir earned 84.60 points.
Takahashi skated to "Eye" by Coba and gave a very strong performance. He got only level 2 for his flying sit spin but his other spins were awarded level 4 and both steps got level 3. His PCS 41.65 tied Lysacek's. Daisuke completely proved that he is in perfect shape after the one year sit-out because of injury. He wxas very humble in spite of the high score, and said, "I made some minor mistakes like getting behind the music in the step sequence and spins. I couldn't control my movement in the step sequence. I won't think about the Olympics tomorrow and just focus on skating well in the Free program, the same as I did today."
Evan Lysacek's "Firebird" program was also very impressive, and he didn't get even one negative GOE from any of the judges.
"Technically I'm the best I've ever been", said Lysacek. "I haven't pulled out all my tricks yet. It's like a diamond. You don't want to put it on a house of cards; you rather put it on a house of brick. I'm trying to build up those bricks right now."
Oda was only slightly behind them. His three jumps, including the triple Lutz-triple toe combination, were awarded +2 GOEs.
Johnny Weir's only flaw was an edge attention on the triple flip. He showed us the most beautiful performance so far this season. Unfortunately fellow American Jeremy Abbot fell on his triple Lutz and stepped out of the triple Axel. And Tomas Verner of the Czech Republic had a bad day. After a perfect quad toe-triple toe combination he popped both the Axel and the Lutz. Jeremy and Tomas received 76.65 and 70.17 points respectively and are currently in fifth and sixth place.
Ladies Short Program
Miki Ando of Japan is in a slight lead of only 0.56 points over Korea's Yu-Na Kim. Alena Leonova of Russia was third with Canada's Joannie Rochette about 5 points behind Miki Ando. Ando said she intended to try a triple toe-triple loop combination but changed to a triple toe-double loop which helped her get to the top. She received only level 1 for her layback spin but still racked up 66.20 points for her "Requiem" program with two level 4 spins and level 3 step sequence.
Kim opened her performance with an outstanding triple Lutz-triple toe combination and everything seemed to go well. But popping the triple flip cost her valuable points and she is currently in second place. Her total segment score was 65.64.
Alena Leonova's performance, which completely fit her character, was powerful and strong. Her only mistake was an edge attention on the triple flip. Rochette stepped out of her opening triple Lutz-double toe combination and stumbled on one of her spins.
Akiko Suzuki and Ashley Wagner both performed well, but the scores didn't seem to reflect it. There were some edge calls and downgrades the audience didn't know about, which caused some booing in the arena as the scores were announced.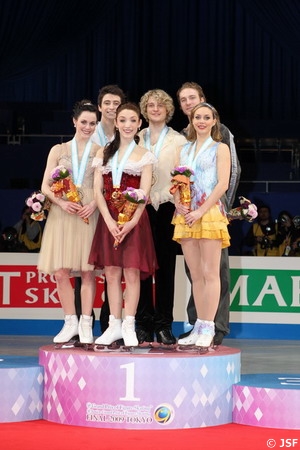 Ice Dance, Free Dance
The senior Ice Dance was another highlight of the evening. All six teams gave remarkable performances and there were many standing ovations during the event.
Tessa Virtue/Scott Moir won the free dance with their polished and graceful performance to "Symphony No. 5" by Gustav Mahler. Their routine was almost like ballet. They were so artistic that the audience was in awe after the performance. Virtue/Moir earned 104.21 points and ranked first in the free program but their overall score was 168.22, which fell 1.22 points short of winners Meryl Davis/Charlie White. Their free program was so dramatic it truly moved the crowd, and the following standing ovation was the biggest of all. Davis/White picked up level 4 for most of their technical elements with just one exception; the circular step sequence which "only" got level 3. They earned 104.21 points for their free program and 169.44 overall and a spot at the top of the podium.
"We are very happy to perform at this wonderful venue and the Japanese audience is the best in the world. I think we could involve the audience, which was a very good thing", Moir said.
France's Nathalie Pechalat/Fabian Bourzat showed a very entertaining performance while sister-brother team Sinead and John Kerr skated both strongly and powerfully. The teams received 147.62 and 145.33 points.
Although they finished 5th and 6th, the programs skated by Anna Cappellini/Luca Lanotte and Vanessa Crone/Paul Poirier were impressive too.
Some big names in ice dancing didn't qualify for this event but I feel like the teams competing here could have been the last warm-up group in the free dace at the Vancouver games. Time will tell!