Grand Prix Final 2009/2010
Day 4
By Atsuko Kuryu

Photos © M. Hashimoto, JSF
It was a very beautiful winter day on the last day of the event in Tokyo as if the weather was congratulating the 32 medallists in ISU Grand Prix and Junior Grand Prix of Figure Skating.
Twenty-four medallists from senior events and four winners from junior events would perform in the exhibition in the evening but before that we had two more competitions left: Junior Free Dance and Junior Ladies' Free Program.
Junior Free Dance
The overnight leader Ksenia Monko skated to win the gold medal in the Free Dance. Their performance looked the most mature of all 6 couples and received the biggest applause from the audience. They earned 85.51 for the blues program and the overall score 141.21 edged their team-mates Elena Ilinykh & Nikita Katsalapov by 1.85.
"This is an unforgettable feeling," Khaliavin said about their win. He continued about Japanese fans, "The audience here is so dedicated to figure skating. It's like a figure skating cult. I've never experienced that before".
Ilinykh & Katsalapov's free dance, to Schindler's list and Fiddler on the Roof, was very dramatic and loved by the audience. "Nikita is Schindler and he tries to help me out of the jail", she explained about the story. "But I lost my friends and family, I can't believe him. In the last part, I chose to die rather than live in the jail." Oh, what a heavy story it was and they did express its grief very well.
Maia Shibutani & Alex Shibutani, the Japanese fans' favourites, unfortunately lost some sparkle and finished third, although their gracefulness was very impressive. Kharis Ralph & Asher Hill's delightful performance entertained the crowd and put them in fourth place.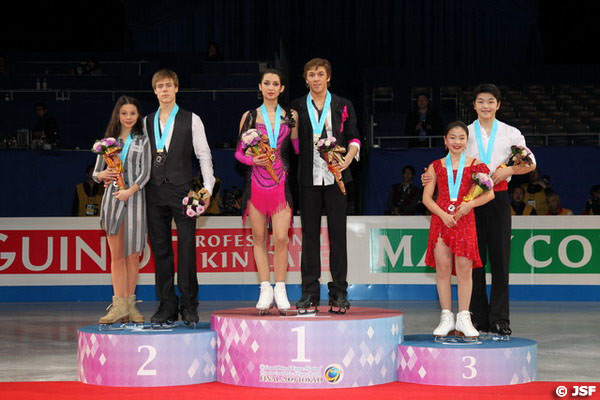 Junior Ladies' Free
Kanako Murakami, 15 years old, won the title at her second Junior GPF appearance. She had several mistakes in her performance, such as wrong edge on the take of the triple lutz, a wobble in the spin, and a fall during her straight line step sequence, but overall the impression was very good. She skated to Swan Lake where she portrayed quite a powerful swan, earned 101.01 for her free skate and overall score was 160.53.
"I' m very happy that I could win here in Japan. I was so nervous that I felt like my heart would pop out of my mouth. But the audience called out my name and cheered me on, so I was able to relax", Murakami said.
The winner of the short program, Polina Shelephen from Russia, also had some mistakes in her performance skated to Polovetsian Dances, however, she was defeated by Murakami because of the components score. She might need to polish her moves, then she will be much stronger.
Christine Gao of the USA reached the podium with her clean skate to place third. Her delightful performance along with the ballet music, La Fille Mal Gard was graceful and pretty.
Ksenia Makarowa, the oldest among the junior ladies came fourth with a grown-up performance in both her short program and free program.
In the final result of junior ladies free program, it is funny to see the nations… RUS, USA, RUS, USA, RUS, USA like a checker board design. Does it show that future ladies figure skating will be dominated by Russia and USA? Yes or no. Nobody knows.
Gala Exhibition
At the end of the 4 day event, the gorgeous exhibition waited for us.
All the medallists from the senior events and the gold medallists from the junior events, plus Japanese skaters who competed in this event perform the entertaining programs for the audience.
The show consists of two parts.
As a first performer, Kent Nakamura appeared on the ice, but he fell on the opening triple axel, he dislocated his shoulder and had end his performance. Fortunately he had medical treatment and it was reported he was all right.
Despite this unfortunate start, the show went on very enjoyably.
The junior pair champions performed a very lyrical routine different from their playful programs in the competition. The Junior Ladies winner Kanako Murakami's "Miss Baltimore Crabs" charmed the crowd with her loveliness. Ksnia Monko & Kirill Khallavin who won Junior Ice dance, skated a famous love story and they played their role very well. Lastly, Japan's national junior champion Yuzuru Hanyu performed a powerful program to the music of "Change" played by Japanese traditional instrument, Tsugaru samisen.
The senior's bronze medallists followed the junior champions. It started with pairs, Aliona Savchenko & Robin Szolkowy skating to "Fascination", an enjoyable piece of music with a beat. Akiko Suzuki tried to express a care-free young working woman enjoying the bar after 5pm! Nathalie Pechalat & Fabian Bourzat's routine was their popular program from last season's free program. "La Vita & Bella" was always fun to watch. At the end of part 1, Johnny Weir appeared with another popular program, "Poker Face". It was welcomed enthusiastically by the fans.
After a 20 minute break, the junior pairs silver medallists Narumi Takahashi & Mervin Tran started part 2 with their fresh and youthful performance, then Daisuke Takahashi skated a very impressive program to "Luv Letter".
The silver medallists performance was Quing Pang & Jian Tong's "Crane's Crying" which was a story-telling program, somewhat resembling ice dance. Ando's "Queen of the Night" was very strong and powerful. Ando said this program was made for this year's short program and she designed the costume by herself. Tessa Virtue & Scott Moir's program "Jack & Diane" is a very casual act, performed in white T-shirts and jeans. They looked young and jazzy. Nobunari Oda's "Austin Powers" is very comical and playful which seemed to fit his character.
The pairs gold medallists Xue Shen & Honbho Zhao performed "Lo Ci Saro" gracefully. It was a very beautiful and moving program which the crowd applauded with a standing ovation. Yu-Na Kim's modern program "Don't Stop the Music" was very danceable and entertaining. Meril Davis & Charlie White's Billy Jean provided many highlights for audience.
Evan Lysacek gave an explosive performance. His exhibition program Rhapsody in Blue was really energetic with a certain aura.
When all the skatesr finished their parts, there was a finale and farewell run. Like other shows in Japan, this exhibition started and finished very accurately.
Now one of the biggest annual events of figure skating was over for all the skaters attending here in the Grand Prix Final.. And they have other things to do on the way the Vancouver Olympic Games. Some will get there, and others won't. Either way, I hope every skater has a satisfactory season during the rest of the competitive year.