Japan Open 2009
By Atsuko Kuryu
Photos © M. Hashimoto
The Japan Open was held on October 3rd at the Saitama Arena in Japan. I always love to see this event because the skaters look more comfortable and it is easier to enjoy their skating even when it's a kind of competition. "A kind of" represents its essence very well. This is of course a competition, which is recognized by the ISU. Nine judges attend to judge the skaters' performances according to IJS rules, but it still has its own festive mood.
Twelve skaters from Europe, North America and Japan joined this event. Although Japan looked for its fourth straight title, Team Europe prevented Japan from winning the event for the first time. Team Europe won an award of $80,000. Team North America and Team Japan won $60,000 and $40,000 respectively.
The total scores are as follows;
1st: Team Europe 464.03
2nd: Team North America 463.90
3rd: Team Japan 434.17

The international senior season started with Nebelhorn Trophy last week followed by this Japan Open 2009 in Japan. The Japan Open began in 2006 as a team event where four skaters from each of the three regions of the world are invited to compete against each other in teams.
Since in the past it was held just after the World championships, this event was what we would call a "Cheesefest." . But now that the time of year has changed to the beginning of October, it has become much more interesting because many skaters debut their free programs at this competition.
The three teams consisted of Team Europe, Team North America, and Team Japan. The teams are requested to include one professional skater, but I guess this rule is titular. In 2007, Team Japan joined with 4 eligible skaters and last year, Team Europe followed Japan's example. This year, Team Europe excluded a professional skater again. The skaters who competed at this event are as follows;
Team Europe: Samuel Contesti, Stephane Lambiel, Laura Lepisto, Elena Glebova
Team North America; Jeffrey Buttle, Jeremy Abbott, Joannie Rochette, Beatrisa Liang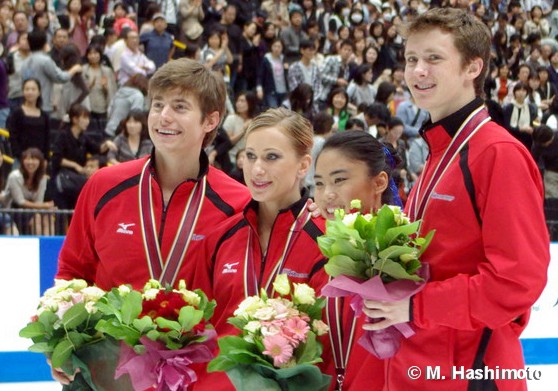 Team Japan; Takeshi Honda, Takahito Kozuka, Yukari Nakano, Mao Asada
Men's Free

Samuel Contesti 117.49 (50.69 66.80)
Sikuriadas/Cacharpaya performed by Panpipes of the Andes
Samuel Contesti made his leap at the 2009 World Championships but he couldn't recreate the power in this event. His costume clearly indicated native South America, yet the performance didn't seem to express the atmosphere enough. He looked so nervous that he couldn't focus well on his jumps. He only completed three triple jumps and two triple axels, neither in combination, which means one of them was regarded as sequence. Therefore, I must say that he didn't make much of a contribution to Team Europe's win. However, just before straight line steps started, the tempo of the music changed and he gradually involved the audience. With the clapping from the crowds, he showed attractive footwork to their delight. When he gets used to this program, I'm sure it will be very delightful program for fans to watch.
By the way, at the press conference after the competition, he was asked why he made such great progress last season and answered that his wife, a trainer, helped him a lot. His wife and Peter Grutter, his technical consultant, made very good team to support him.
Takeshi Honda 109.58 (45.30 64.28)
Aranjuez
This music always reminds me of some of the best performances from his career as an eligible skater, such as the 2002 Olympics, the 2002 World Championships, and the 2005 Japan National Championships. This year, he seemed to take back some power which he lost after retirement and he even attempted a triple axel-double toe combination which unfortunately turned into a double axel. With solid jumps, good spins with beautiful flying positions, wonderful edge work and an awesome spread eagle, he performed well. Although he couldn't earn many points for team Japan, he did what he could do very well. Maybe he could add more speed next time. Nevertheless, he declared that he will focus on coaching and leading Daisuke Takashi to an Olympic medal and won't spend too much time on his own skating.
When asked what he would like if God sent him a gift, he answered that he wants Takahashi to medal at the Vancouver Olympics, which indicated he is no longer a skater but a coach, eager for Takahashi to win.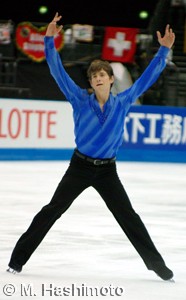 Jeffrey Buttle 142.26 (63.62 78.64)
Eclogue for Piano and Strings by Gerard Finzi
Jeff, Jeff, Jeff! Why did you retire? Welcomed with even bigger cheers from the audiences than Japan's Takeshi Honda, he performed impressively. From the very beginning, he made his own world on the ice. His jumps were almost perfect except for the last triple salchow. A beautiful spread eagle, perfect spins, an outstanding Ina Bauer; everything is too beautiful. Some may think the score is rather low for my high appreciation for his performance. There are two reasons. One is that his last change foot combination spin wasn't counted. The other was that he didn't try a triple axel even once. Still, I think he could come back to the competitive stage tomorrow if he wanted to. This elegant performance went along with the music thoroughly and enhanced the crowd's experience. They cheered and roared, and then gave him a standing ovation when his program was over.
Stephane Lambiel 150.52 (71.02 80.50)
Otoño Porteño by Astor Piazzola, arranged by Nuevo Tango Ensemble
Having watched this program several times as a show performance, I came to love it very much. Thus, watching this as a competitive program made me little uncomfortable. I think he cut some parts to put jumps in and also seemed to save some energy for the end of the program. His spins are as beautiful as usual, but needed some more speed. His jumps were not bad, but they still need more improvement too. He received three negative GOEs from his three jumps including a fall on the quad Toe. However, his straight line steps are so gorgeous. Adding to his TES score 71.02, which was the best of this competition, he also received the highest program components score 80.50. I cannot say this was the best performance I ever saw, but it was really good for this early period of the season. I cannot help asking myself one question. Why did he choose this costume? It looked just too casual to me for such a hot performance. He received another standing ovation.
At the press conference, he said this performance was not perfect but satisfactory for this early in the season. Asked what was one gift in particular from God that he wanted, he answered he needs to stay healthy and enjoy skating throughout the season.
Takahiko Kozuka 130.13 (61.87 68.26)
Guitar Concerto performed by Tomoyasu Hotei & Michael Kamen
His coach, Nobuo Sato, patted his back softly as usual. He went on the ice with black shirt and black pants studded with spangles, which meant he improved a lot for the costume part, didn't he? Actually, he also improved on the usage of his upper body. I love his skating itself and thought if only he could use his upper body along with his skating, it would be better. So this performance made me very happy. As for jumps, it was not his day. He popped the opening triple Toe and the triple Salchow in the middle. He stepped out of the landing of his first triple Axel and couldn't make it a combination. Because of these failures, the score was not very high, but I guess this program can expect a great score when it is performed cleanly.
Yuka Sato, who choreographed his program, said on TV that he had some trouble on his skates so probably this was the reason why he messed up so many jumps. Kozuka said he would keep challenging the quad Toe which he has not yet landed in competition. Asked the same question, "What kind of gift do you want from the God?" he powerfully declared that he doesn't want to be gifted but to get the Olympic berth by his own bootstraps.

Jeremy Abott 132.87 (59.65 75.22)
Symphony #3 in C Minor with Organ by Saint-Saëns
He fell on the opening quad Toe and the triple Lutz in the middle, but landed his other jumps cleanly. When I see his performance, I sometimes feel like reading Gothic novels. Magnificent, gorgeous, and a little somber. This performance met my expectations again. He moved like a patrician with elegant footwork and graceful movements even if he didn't have time to prepare well. He changed his program from Jupiter to this Organ just 3 weeks before this event. He was not able to get level 4 with his spins, which was quite unusual. I'm sure he needed more time to get ready.
"Because I love Yuka's amazing flow, steadiness and jump technique," explained Abbott about his coaching change. "I'm generally happy with her both physically and mentally." He also said that he is trying to delay the peak on purpose because last season he thought he set the peak too early. Thus he was satisfied with his performance.

Lady's free
Beatrisa Liang 62.38 (20.95 43.43 -2)
New World Symphony, movement 1 & 3 with excerpts from Symphonic Dances by Antonin Dvorak (N.W.S) and Sergei Rachmaninoff (S.D.)
This was not her day at all. She failed at almost all of the attempted jumps. She doubled the opening triple jump, popped two jumps and landed others poorly. She clearly seemed not to be prepared well because her invitation came to her just several days before the event after Mirai Nagasu decided to withdraw. I think she tried to do her best under this situation. She looked very disappointed. I felt very sorry for her and hope this bad beginning doesn't affect the coming season.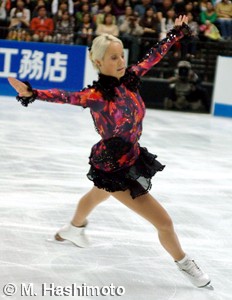 Elena Glebova 85.16 (41.16 44.00)
Capriccio Espagnol by Nikolai Rimski-Korsakov
Just as Beatrisa Liang, she received her invitation very recently after Sarah Meier's withdrawal. However, this lady seemed to be better prepared than Liang because she just competed at Nebelhorn Trophy last week. She received several negative GOEs for her jumps and the last combination was not counted because of a jump violation. Her jumps still looked OK including beautiful opening double axel-triple toe combination. She stumbled little bit in her spiral sequence and in her straight line step sequence as well. Despite these errors, her performance gave a good impression to the crowd.
She said she was happy because she did much better here than at the Nebelhorn Trophy the week before. She also said, "This season will be very important because the European Championships are going to be held in my home country so I will do more to improve myself".
Yukari Nakano 91.52(41.38 51.14 -1)
Phoenix by Igor Stravinsky, performed by Royal Concertgebouw Orchestra
With a powerful beginning of the music, the program gave a feeling of a great performance. Nevertheless, it changed when she fell on the opening triple axel. She hit her left shoulder heavily and stopped for a moment and the crowds worried if she would give up, but she didn't. She continued the performance and did most of the planned program content. Though she showed amazing donut spins, a graceful spiral and beautiful Ina Bauer, it seemed something was missing after the fall.
By the way, Yukari's costume has already caused controversy among the fans. She wore a red-gold unitard with a gorgeous Japanese damask of gold brocade on the top and black pants with a pattern featuring the tail of the phoenix on it, which showed phoenix image very well. Some anxious fans said it has too much a Japanese taste; others explained that the judges might hate ladies pants.
At the press conference after the event, she told that she went black after the fall."I was supposed to be prepared more than anybody else in Team Japan, because I finished season earlier. And actually I was. But I couldn't contribute to the team because I hurt my shoulder at the fall of opening triple axel. I want to apologize to my team mates" Oh, Yukari, don't apologize. I think she did her best even after she suffered from the injury.
Joannie Rochette 126.39 (63.13 63.26)PB
amson & Delilah by Camille Saint-Saëns
Her Cobalt blue costume was so beautiful, but her performance that day was much more beautiful. She has really matured and is a hot young lady. Perfectly harmonized with music, she landed all the jumps cleanly except the opening triple Lutz where she intended to do a triple Lutz-double Toe-double Loop combination. Her attractive circular step sequence at the end of the program involved the crowds and they gave her a standing ovation. She seemed ready to start the season already. She said since she recently changed the first part of her program, she had a little anxiety before she performed, so she was very happy with her performance.
"Every Olympic is special to all the athletes," said Joannie, "But Vancouver Olympics is the special of the specials because my family and my friends can come and see me." She also said she especially enjoyed this event because she "gets together with Takeshi Honda, who used to train in Canada and Jeff who retired last year."

Laura Lepisto 110,86 (52.31 57,56) PB
Libertango by Astor Piazzolla arranged by Nuevo Tango Ensemble
She covered the ice with very good speed. She didn't succeed in the opening triple Toe-Triple toe combination jump attempt, but the next two jumping passes, the triple Lutz and the triple Loop-double Toe combination were gorgeous and beautiful. Her spins are fast and have good position. The circular step sequence was sharp and brisk. She might need some more flexibility on her spiral sequence. Libertango is always fun to watch and her performance today was one of the best to see.
"I'm pretty happy because this was a great start as a first competition," said Lepisto. "I have a lot to do from now on. I want to make personal best at competition by competition."
Mao Asada 102.94(43.83 60.11 -1)
Prelude in C# Minor by Sergei Rachmaninov
Even if it is the first competition of the season, this score could be a kind of shock to Mao Asada. She attempted two triple Axels, but fell on the first one and popped the other. Her other jumps were not so good either. She landed only two jumps without negative GOEs. She showed her outstanding flexibility on the spiral sequence, but it seemed to be a little shorter than it was supposed to be. Her straight line step sequence was so long and gorgeous—just like Tarasova's kind. Mao tried to express the essential concept of the music which was so heavy and magnificent. Even her face was expressive. I was kind of moved that she was not just a little girl who can jump with ease anymore. She is already a woman who has a steady will to win. I know lots of people think this music is a challenge for her and she'd better choose more comfortable music. But now I'm expecting to see some inspiring performances from her with this music this season as I heard what she said at the press conference.
She said "Since this program doesn't feature any story, only when I land all the jumps clean, it will be a great piece of art." I have feeling that she is trying to sharpen her technique to her limit and then wants to make technique itself an art. It is a quite interesting challenge, isn't it?

After the competition was over, Shizuka Arakawa skated to Sarah Brightman's "It's a Beautiful Day." She skated holding a white banner on her head which flew behind as she skated and was quite eye-pleasing.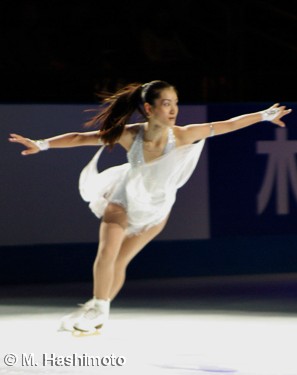 The exhibition called Carnival On Ice was held just after this event. More skaters joined this show.The report of the show will be followed but to our regret, the organizer didn't allow pictures being taken.