USO Patinage Artistique Orleans
End of season gala with special guest Stephane Lambiel
By Nadin Vernon
Photos © Nadin Vernon, Magda Tertil, Mayumi
I had especially flown in from London with some precious hand luggage consisting of the King Arthur banner made by swissmiss from the AS forum, to show my support for the special guest of the evening - Stephane Lambiel, who had been welcomed by officials of Orleans and the skating club at the town hall the previous day.
The ice rink was beautifully decorated with banners showing images from films like Peter Pan, Charlie & The Chocolate Factory, Harry Potter and Ghostbusters which formed the theme of group performances shown by the skaters of the club, many led by Vanessa. It was evident that a lot of preparation and hard work had gone into creating this gala, not only by coaches Emilie and Ludmila but the whole team. Brilliantly thought-out storylines and choreography were supported by beautifully made costumes and great props ranging from a huge blow-up crocodile and broomsticks to giant chocolate bars and swords. Skaters from all ages and levels participated.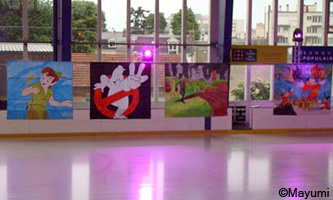 Stephane first stepped into the character of a teasing American dandy: Tainted Love. The second his music started, he completely owned the stage and involved the audience in this flirtatious number. The intimate setting of around 500 people was perfect for this dynamic interaction. Stephane's speed and flow over the ice was just magical, as was every single detail of his choreography. This was a skate full of positive energy and freedom. Stephane showed a triple flip, toeloop and salchow, all executed with ease and immense height as well as gorgeous step sequences.
After his performance, he said a few words about his excitement to have accepted Claude Deschamps' invitation to be a part of this event. He also thanked the club and the town of Orleans for the warm reception they organized for him on the Friday night.
We saw more group performances in the second part of the gala, as well as some solo numbers by Aurore and Megan and especially young Theo impressed with his fluorescent blades. How about that for originality? The synchro team put on a modern programme to music from Madonna and Evanescence featuring a great spinning wheel, after having performed to the Amelie score and Placebo in the first half. Some skaters were awarded trophies for their achievements during the season and I think Emilie was particularly happy to receive hers by the evening's special guest. She had to earn this treat first though, and so she did - by showing a solidly landed double flip.
Stephane's second performance of the night was Romeo and Juliet and again he captured the whole crowd with this beautiful story. Breathtaking spins, flawless jumps and graceful moves were rightfully received with standing ovations.
As Andre from the club said a few words about the evening, Stephane was warming up again instead of getting his breath back, and when I saw him go through some of his Tango choreography rinkside, I knew we were in for a treat. And indeed, he was announced for an encore: Otoño Porteño. And what an encore it was! Watching this programme live was a privilege. Its intricate choreography and capturing music coupled with the passion, emotion and authenticity with which it was performed, truly made this a masterpiece. Stephane showed a gorgeous triple toeloop, so high, that for a split second I thought we were going to see another rotation. Again, standing ovations followed and Stephane concluded with a final trademark combination spin after being cheered on by the audience.
A finale to Michael Jackson's Thriller ended the gala and at one point Stephane was dancing along off ice doing Thriller moves - priceless!
The finale turned into a bit of a party on ice with many skaters having their pictures taken with Stephane and waving Swiss flags. Everyone was clearly enjoying themselves.
A champagne reception followed the show where Stephane happily signed several autographs for fans, chatted away and had pictures taken, while Magda, Mayumi (from the AS forums) and I were inviting everyone to sign the banner. And many fans did, including one particular lady called Majda Scharl (his physical coach).
During a quick chat with Stephane he showed his happiness to have come to this show and explained that it was important to him to share something with the local skaters. He also expressed his gratitude and appreciation for the beautiful banner.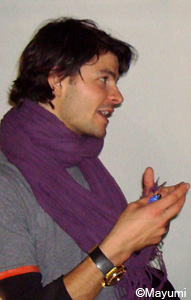 As Stephane was getting ready to leave, people thought of last minute requests, such as getting their skates signed and nobody was turned down. The lady who borrowed my pen for this occasion will unfortunately find out too soon that it wasn't a permanent marker. Ooops!
By about 1:30am the evening drew to a close and clearly had been a great success in everybody's eyes. The club had done a fantastic job at putting on a show that a lot of thought and effort had gone into. There were some difficult choreographies to remember and all the skaters did really well. Stephane's performances were inspirational and the audience was very appreciative of his outstanding talent. I'm sure he made many new fans here and as to his aim of sharing his love for the sport, I'd say mission accomplished! I can't think of any better motivation for young skaters than watch Stephane skate live. After all, it's not always glamorous training on a freezing ice rink day in day out after school and an opportunity like this will have reminded everyone why it's worth working hard for and following your dreams…
I'd like to express a special Thank you to Claude Deschamps who welcomed us so kindly and really looked after us during the whole evening: Merci!
Note: you can find more photos of the gala and reception on the club's website: http://usopa.chez-alice.fr/ and will be able to buy a DVD of the evening from 27th June for €17 if you contact La Clavithèque on 0033-(0)2-3856-0550