Skate Canada 2009: Day 1
By Suzanne Herrmann
Photos ┬ę Suzanne Herrmann
Practice went well today. Everyone looked pretty strong. The song of the day was "If I ruled the world." Pretty sure they played it EVERY TIME the ice was cut. I also noticed I must be careful when referring to "Jeremy." Do I mean Jeremy Ten, Jeremy Abbott or Jeremy Barrett!?
I arrived in time to watch the second warm-up group for the CD and OD which included Tessa Virtue & Scott Moir, Carolina Hermann & Daniel Hermann, Andrea Chong & Guillaume Gfeller, and Kaitlyn Weaver & Andrew Poje. It was kind of funny to see Carolina & Daniel doing their tango in their OD outfits. Tessa & Scott look really good and only had one noticeable misstep all practice. Their twizzles are smooth as silk and perfectly matched! Carolina & Daniel's OD looks like it's going to be a lot of fun to watch and they seem to really enjoy performing it.



The pairs also looked great. There were groups of students from local schools viewing practice today. Can you imagine how great a field trip that would be!? The lifts were a big hit with the kids. Caydee Denney has a nice presence on the ice. It was really tight on the ice with the first group. They were all utilizing the ice and coming really close to one another but no close calls. I noticed Cody Hay grew a bit since I saw him last!! I am excited for the pairs competition this time. I feel like there are a lot of great pairs teams but they have not excited me in quite the same level as during the last Olympic cycle. Here, I think there will be a good contest. Though it is possible for the first competition warm-up group to give the second a run for its money, Jessica Dube & Bryce Davison and Aliona Savchenko & Robin Solkowy are going to be hard to beat!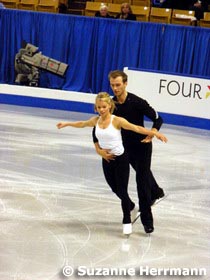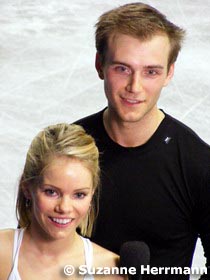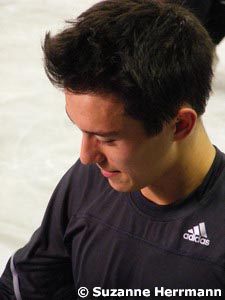 The men look to be skating in a very strong field. Jeremy Abbott looked really strong but his right side sometimes dips on his landing. Kevin had a few difficult moments. He started off well and finished off ok but in the middle he was getting a little frustrated. Dennis Ten is a little firecracker! Looking forward to seeing how he competes. What I like about Stephen Carriere is that he is always level. He checks his landings and even when they are not as strong as they could be, he can still pull them off quite well. It will be interesting to see Michal Brezina skate this weekend. He has flown under the radar until the first Grand Prix event and here. Those who are still unfamiliar with him only need to look at his shirt—he has his name written on the front and Czech Republic on the back! Jeremy Ten looks very strong as does teammate Patrick Chan. Both are very lyrical skaters. Actually, so is Jeremy A. I look forward to seeing how the field competes. It appears very well-rounded.
Fun Stuff
Many of the skaters came to watch one another or walked around the concourse before or after their practices. Laura Lepisto and her coach stopped in to watch the men, Jeremy Abbott and Yuka Sato stood and watched the pairs before men's practice, and Robin Solkowy watched the first pairs group while he stretched at the boards to name a few.

Kurt Browning and Tracy Wilson were in the commentators' booth for a good portion of the day. At one point, Kurt hopped the railing to sit and chat with Alissa Czisny. David Pelletier was also watching the pairs and men practice.

It is fun to see the personalities come out in the skaters while they practice. While most of the time they are quite serious and focused, every once and a while something funny happens and they crack a smile.

Running into Evan Bates's mom in the Roots store and at The Bay while we all were shopping for Olympic apparel!