Skate Canada 2009: Day 2
By Suzanne Herrmann
Photos ┬ę Suzanne Herrmann
Friday's practice went well but it was noticeable that it was the day of competition. There was just a bit of added focus. Mirai Nagasu and Caroline Zhang are very gracious on the ice and at one point during practice, Mirai was doing a spiral by the boards and Sarah Hecken. Sarah moved for her and Mirai called out a thank you. Don't usually see that at competition! Later on during the warm-up for the ladies competition, Caroline was noticeably a little bit embarrassed when she almost crossed Alissa Czisny's jumping path and mouthed, "Sorry!" Another great moment was when Kieffer Hubbell applauded Tessa Virtue and Scott Moir's program during practice (he and partner Madison Hubbell were also on that practice). I appreciated the good sportsmanship. Canada's audience is also fantastic. The people really rally behind every skater and are excited when they don't well and cheer them on when they have a tough time. The only thing that keeps bothering me is Tessa's hair looks a little too dark for her. Kurt Browning was being a ham at one point pretending to warm up for his practice. Later on he spent some time talking to Alissa. Mostly he has been hanging out in the commentator's booth.
This is my first experience using the Skate Bug. Basically, commentary is transmitted to a device with a headphone (the Skate Bug) to anywhere in the arena. At first I suspected that it would annoy me and I would eventually turn it off, but I was surprised to find that I was learning a lot more than I thought I would, already knowing quite a bit about skating as I am a skater myself. Debbi Wilkes, David Kirby and for a short bit, Kurt Browning. Debbi and David are technical specialists and David actually was one of the originators of the Code of Points. It was quite enlightening and I will include tidbits that they mentioned when pertinent.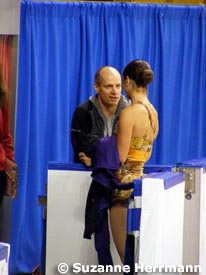 One last mention of the evening is the presence of Speedy (Ottavio Cinquanta). He spoke at the opening ceremony and declared the competition officially open. I think the crowd has a love-hate relationship with him. Some wish he was not there while others are glad he is. Even if people are not fans of Ottavio Cinquanta, his presence at any figure skating event is great for figure skating.
The pairs have looked strong this entire weekend. A standout moment for me from the lower end of the finishers was Caydee Denny and Jeremy Barrett's throw landed perfectly to a big boom in the music. Their split triple twist was fantastic as well. There are great competitors which make for a great competition.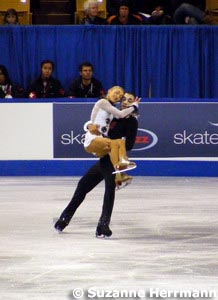 Finishing in first place with a whopping 74.16 points were Aliona Savchenko and Robin Solkowy. They are very striking to see live and effectively cast a spell on the audience. I love the nuances in their movements. They earned a rousing standing ovation after nailing all of their elements. They bring a lot of passion to their skating and really define what pairs should be all about. I enjoy their makeup—in fact there was a poll via Skate Bug whether people liked or disliked it. The curious thing is that when skaters such as Sinead Kerr receive deductions for eye shadow, why do Aliona and Robin not get docked? I do not think they should—just curious why the rule is carried out in extremity sometimes and thankfully not in others.
In second place, with 65.80 points, are Maria Mukhortova and Maxim Trankov. While the same passion was not as evident as in Aliona and Robin's program, they skated a really nice program and nailed their side by side triples. Maria put a hand down on her throw triple. They probably will not touch Aliona and Robin but still remain approximately eight points ahead of third.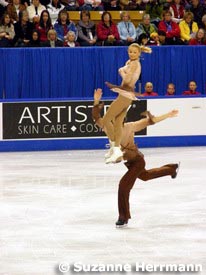 Jessica Dube and Bryce Davison are sitting in third place with 57.90 points. Jessica popped her side by side triple to a single which in essence counts as side by side singles and cost them a lot of points. They relate so well to each other and have a lot of strength on the ice. Being Canadian, they received a huge ovation from the crowd.
The ladies short programs set up an exciting lineup for the free program. For the most part, the programs were pretty good with slight errors here and there from the beginning of the field. The event began with a strong skate from Amelie Lacoste.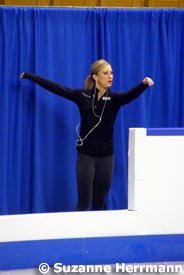 In first place stands Joannie Rochette quite a bit ahead of second place with 70.00 points, a season's best. She completed a triple-double, double axel and solo triple. She had good speed and the audience was clapping along to her program which I am sure helped her feel the music even more—she is very passionate, something that has come out more recently in her skating. I will be curious to see the ISU scoring sheets to see where exactly she scored higher than Alissa Czisny who is usually even stronger in her spins and spirals than the rest of the field.
Alissa Czisny skated a great program to finish in second with 63.57 points, a season's best. She completed a triple-double, double axel and solo triple as well. She is such a smooth skater and relates so well to the music. It is amazing how much speed she has in the last position—the Y position—on her final combination spin. She is a delight to watch and charms the crowd.
Mirai Nagasu had an excellent skate and finished in third place with 56.34 points. The crowd booed the score! Skate Bug mentioned she was not always right with the music and the PCS components would be affected. However, I would like to see the ISU score sheets as she skated very well but is quite close to the other girls who made mistakes.
The compulsory dance event is always a bit redundant, but luckily they mix up the versions of the music. Skate Canada's compulsory was the Tango Romantica. Skate Bug did a poll asking the audience whether they thought the compulsory dance should be eliminated or preserved. General consensus was to keep it! (Thank goodness, I like them!). Favorite part of this dance is the helicopter which includes rare two-foot skating that is actually part of the steps!
Leading the pack with 40.69 points (a season's best) are Tessa Virtue and Scott Moir, which probably comes as no surprise to anyone. They have amazing edges. Skate Bug's commentary said they "skate on the edge of disaster" because that is what a champion needs to do. Their skating quality is matched only by other top teams in the world and their expression and character draws
the audience in. I do not think they're untouchable, but it would be hard to catch them after they already established more than a five point lead.
In second is Nathalie Pechalat and Fabian Bourzat with 35.55 points, a season's best. I really like their genuine quality on the ice but I couldn't necessarily disagree with the commentary coming from Skate Bug—times like this make it difficult for me to form my own opinions! They were right, though, that they do not get down in their knees enough and are a little bit "marchy" for this type of dance. They are definitely strong, but those pointers are good to keep in mind during an Olympic season.
Kaitlyn Weaver and Andrew Poje are sitting in third with 32.18 points, less than a point above Emily Samuelson and Evan Bates.
They had a great performance and are well received by the audience as this is Andrew's hometown. Kaitlyn on the other hand, was born in Texas but is now a Canadian citizen.
Last but not least of the evening was the men's event which had all sorts of twists and turns.. and I'm not talking about the kind you do on the ice! For starters, Patrick Chan, probably the favorite in this event had a pretty tough skate and is currently in sixth place.
Leading the way is Jeremy Abbott with 79.00 points. He has looked superb in all his practices, easily completing his jumps. The free program did not disappoint as he successfully completed his jumps—hanging onto a very curvy landing—and spins though Skate Bug commentary mentioned that he may not have held some of his spin positions to receive the levels he was seeking. Hopefully he will maintain excellence in the free program. He has amazing skating quality and floats across the ice and his abilities are greatly appreciated by the crowd. Loved the facial expressions in the footwork. He is a skater's skater and it's only right that Yuka Sato is his coach!
In second place with 76.30 points is Daisuke Takahashi. He looked pretty good and seems to be doing well in his move back to contention since his time out due to injury. He is not perfect, but his skating is gorgeous. He does not look like he is a skater trying to skate; he is skating. The same goes for the music. He is not skating to music; he is the music. The spectators have not been throwing a lot of items to the ice so far, but Daisuke had enough to warrant five sweepers to come pick up items! (The normal is two).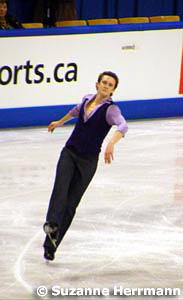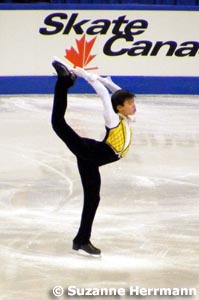 Young Dennis Ten is sitting in third place with 75.45 points, a season's best. His program was amazing and the crowd was head over heels for it—appropriate since the music was Sing, Sing, Sing. The crowd clapped along to his passionate expression as he nailed the entire program. He is a great jumper and has great quality and being so young, he has great potential ahead of him. His facial expressions were a lot of fun to watch and his reaction to the standing ovation was cute. He smiled just a little bit bigger when he took a look across the arena.
The next couple of days are shaping up to be full of suspense!