Skate Canada 2009: Day 4
Part 1
By Suzanne Herrmann
Photos ┬ę Suzanne Herrmann
The final day of competition was a bit of a break for all the spectators. Practice did not begin until 9:00 in the morning and included two groups of Free Dance practice and an exhibition practice to be covered in part two of Sunday. It is interesting to see who comes to practice in their costumes and who chooses to save them for competition. This time only Andrea Chong and Guillaume Gfeller were the only ones to don practice outfits. I enjoy the element of surprise, though my camera sometimes prefers to know how many rhinestones it has to contend with. Most of the skaters took it easy on the run-throughs which was not surprising considering the time period between the practice and dance was not all that lengthy.
Winner of the gold medal with 204.38 points and a much stronger free skate were Tessa Virtue and Scott Moir. Unlike Saturday night's Original Dance, this performance was more fluid, unbroken and very pleasing to watch. The speed in their lifts is incredible, not to mention the crazy difficulty especially on the entrances and exits to the elements. The crowd was on its feet before they completed their program. They will definitely be the crowd favorites in Vancouver.
Capturing the silver medal with 185.07 points were Nathalie Pechalat and Fabian Bourzat. The audience appreciates their unique and innovative qualities and knows to expect the unexpected. Fabian portrayed a clock and his arms included points at the end to further accentuate their purpose. I could not help but think that they could be quite annoying to skate with but never seemed to pose any problems. One of the favorite moves of the evening was a reverse lift by Nathalie. There were three or four teams that switched roles, much to the audience's delight.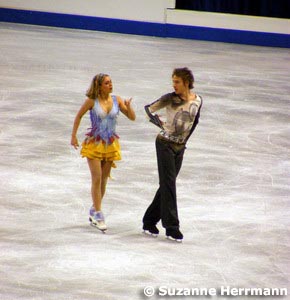 Kaitlyn Weaver and Andrew Poje won the bronze medal and widened the gap between the rest of the field with a score of 165.64. The first lift, which is truly amazing when caught at the right angle, received a collective "Ohhh!" from the crowd. All of their lifts are marvelous and fit the music well. They relate wonderfully to the music and really made a name for themselves throughout the event. The audience also gave them a standing ovation.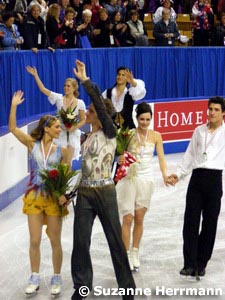 The exhibition practice earlier in the day was a treat to watch. The skaters are relaxed and in a fun environment. It was an organized chaos of sorts… Pairs, dance, ladies, men, Benot Lavoie and a Battle of the Blades guest pair practiced simultaneously. More to come on that and the exhibition itself in Part 2 of Sunday's report.