Ice festival in Moscow
By Reut Golinsky
Photo © Natasha Ponarina, Reut Golinsky
In the middle of October, just before the "serious" figure skating season begins with the Grand Prix series, Moscovites received an "ice" present from Ilia Averbukh and his team. The grand ice festival started on October 14th with an ice show, or I'd even call it an ice musical,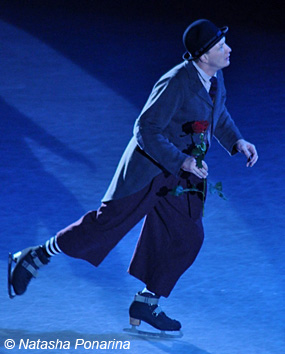 "City Lights", performed throughout the weekend, and finished with "Crystal Ice Awards" on October 18th.
"City Lights"
Stories of people living in the big city, stories of love and hate, meetings and farewells, loneliness and fortune, they are sad and funny, loud or quiet, but always interesting to watch. However, the title might be a bit misleading as ÔÇťCity LightsÔÇŁ is a movie by Charlie Chaplin, but the play doesn't follow this story. It was mostly variations of a theme of different people living in a big city and the interweaving of their destinies. Though one of the main characters, the narrator of the story (played by Marat Basharov, a famous Russian actor who also took part in Ilia Averbukh's TV skating project), is also a Tramp like that character in Chaplin's films.
He is the soul, the guarding angel of this city, who helps two young people (Petrova/Tikhonov) to meet and fall in love, fools the policemen (Besedin/Polishchuk), comforts the little girl whose parents (Drobiazko/Vanagas) had a fight and either by chance or on purpose breaks two newborn robots called Adam and Eva (Totmianina/Marinin), created by a famous scientist (Vanagas).
The number with Adam and Eva was one of the highlights for me. I always felt that Tatiana and Maxim had a "cold but pure" skating style and this perfectly suited with their roles of cyborgs. I really respect them for working hard to keep their skating on high level. Alexei Yagudin was the main antagonist of the Tramp, playing the "bad guyÔÇŁ, which was an unusual role for him. I loved the jazzy "Casino" number he did in Act I. When I watched it I thought to myself that I would love to see a new program by him in this style.
One of the most touching moments for me personally was the number performed by Elena Berezhnaya and Anton Sikharulidze, their famous "Kid" exhibition to Chaplin's music.
I never had a chance to see them skating live before and I never thought I would really get this chance either. It was very special to see Elena and Anton skating together again, these same costumes, these moves... The feeling was bitter-sweet as quite some years have passed and they can't perform it the same way, on the same level, but I feel very honoured and lucky that I had the chance see this program live.
The cast of the extravaganza was made up not only of very decorated skaters (Olympic and World champions and medalists) but also included great dancers, ice acrobats and even aerial acrobats. The music written by Roman Ignatiev was performed live by singers from leading Russian musicals. The lights, the decorations, everything was very complicated but thoughtfully designed. Sometimes you didn't know where to look first: to the ice with skaters, to the stage with dancers or to the upper level of the stage with singers. I was also very impressed by group numbers, especially "Sing Sing Sing" and "Mechanical morning" ("This is exactly how the regular morning in Moscow looks like," was written by someone in their feedback afterwards). The choreography of so many people together was mesmerizing and the blending of different performing arts was spectacular.
"Crystal Ice Awards"
Four years ago Figure Skating Federation of Moscow and the "Ice Symphony" company established a new annual award show called "Crystal Ice" to support figure skating in Russia, which is known for its very rich tradition in this sport. The main goal was to acknowledge the professionalism and the achievements of sportsmen as well as coaches, journalists and companies who have helped to develop and popularize figure skating in Russia and around the world. The list of people who have received awards in previous years include Ekaterina Gordeeva, Johnny Weir, Elena Berezhnaya, Irina Slutskaya, Elena Vodorezova, Irina Rodnina, Jayne Torvill and Christopher Dean and many others.
The winners of Crystal Ice 2010:
Breakthrough of the Year - Artur Dmitriev Jr.; Vera Bazarova and Yuri Larionov
Best coach - Tamara Moskvina
Special Channel 1 Prize - Tatiana Tarasova

Discovery of the Year - Elena Ilyina and Nikita Katsalapov
Overcome - Evgeni Plushenko; Maxim Shabalin
Special Prize "Fair Play" from the newspaper "Russian paper" - Tatiana Totmianina
Revival - School of CSKA Moscow, Elena Vodorezova
Best Children's Coach - Natalia Golubeva
High Standard - The Federation of Figure Skating, Republic of Mordovia
Special Prize from the Figure Skating Federation of Russia "Outdo Yourself" - Maxim Kiselev
Recognition - Ludmila Kubaschewski
Inspiration (prize for the media) - Nikolai Dolgopolov
Audience Choice Award (for a foreign skater) - St├ęphane Lambiel
Legend of the Sport - Alexander Gorshkov
Special Prize from the Ice Symphony "For the Support and Promotion of Skating" - Ferrero Russia
Between traditional Oscar-style speeches, where happy awardees thanked their teams, families, friends and fans, the public could enjoy exhibition programs from young promising Russian skaters, famous champions, group numbers from the "City Lights" show and more. I would like to discuss some of the performances in detail.
Adelina Sotnikova, a young raising star who recently won two Junior Grand Prix events (and won her first senior(!) national title when she was 12), showed her short program of this season. Her light and graceful performance to the waltzes of Johann Strauss included almost a competitive set of elements with a double Axel, a triple loop and a 2A-3T combination.
Lubov Iliushechkina and Nodari Maisuradze showed a very funny and lively exhibition program, which they have kept from last season. Inwardly I gave it a nickname "The Young Lady and the Hooligan". No, they didn't skate to the Shostakovich's famous music, but Lubov was such an attractive young lady and Nodari was definitely a hooligan trying to steal her purse. But at the end of their program you could understand that he didn't really need this purse, he just needed a little bit of attention and a little bit of love.
Ekaterina Riazanova and Ilia Tkachenko skated their last season's free dance to the "Master and Margarita" soundtrack and this brought back memories from Nebelhorn Trophy 2009 where I saw it for the first time. Then it was Saturday, early in the morning, ice dance practice. I was in a very calm and light mood after a beautiful walk in the woods I had had just before. I still remember the shivers I got from Katia and Ilia's skating to this powerful music as their passionate dance broke my serenity into pieces. I think this program is perfect for shows because it looks even better and more expressive in show lights.
We can call it a premier of the newly created pair Tatiana Volosozhar/Maxim Trankov. This was the first time this pair skated for a wider audience and TV-spectators (but hopefully with many more times to come!). Like others, I had high expectations of this pair, but forgot that the process of adjusting to each other is still going on. They have beautiful lines, but the program they showed was rather unexciting and it was exactly in the style Maxim recently stated he doesn't like. They probably would have been better off skating one of their competitive programs instead.
On the other hand, I really loved the slow and lyrical program performed by their team mates and rivals Yuko Kavaguti/Alexander Smirnov. I should admit that it was the first time I really saw and sensed these two as a pair and not as two people who by chance happened to be on the ice together.
Maybe a part of this feeling was created by their flawless costumes, which were elegant and simple, yet beautiful (you wouldn't believe, but Alexander looks great in a shirt without a low-cut neckline). I loved the choreography of their romantic dance, it had many beautiful details and their positions in lifts were very intricate but also aesthetic.
St├ęphane Lambiel skated his "Wilhelm Tell" short program from last season. I had secretly hoped for his jazzy "Let The Good Times Roll", but I agree with his saying that "Tell", while being created as a competitive program, is a great choice for the show as well. It starts with a smooth and quiet part, building up the excitement of the crowd, and then gradually makes the transition to the energetic straight line step sequence at which point the audience can't help but clap to the famous trumpet theme.
He got a huge applause from the Russian public, which proved that he completely deserved the award presented to him at this ceremony. It was really cute that he started his speech in Russian with "Spasibo, Rossia" (Thank you, Russia) and he mentioned that it was especially moving for him to get the award at the very same ice arena where he won his first World's title five years ago.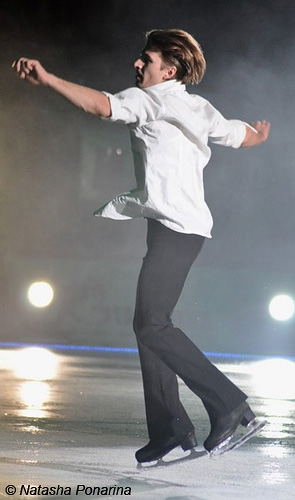 The show finished on high note with Alexei Yagudin's "Sway", one of the sexiest of his old programs, which starts with him flirting with some (very lucky) lady from the audience as he almost sits on her lap, and then continues with push-ups on the ice and other very "macho" moves (I do remember that there should have be some stripping in the middle as well, but unfortunately not this time). Although only one of his four jumps was a triple, the footwork was to die for, as always, and his charisma and energy won public's admiration and loud ovations.
All in all, I had two wonderful evenings full of beautiful skating. And I definitely enjoyed watching Russian stars performing with their real skating partners more than them skating with celebrities in the shows Ilia Averbukh has brought to Israel for the last few years. I have a feeling they enjoyed it more this way as well.