The ISU Grand Prix Final 2010 - Day 1
November 9, 2010
By Yukiko Sawaguchi
Photos © Yukiko Sawaguchi
Hi, I am Yukiko from Japan! I am here in Beijing, China, to cover the Grand Prix Final for seniors and juniors. The competition goes from December 9th until the 12th at the Capital Indoor Gymnasium. You will find more information here:
Senior Ladies Official Practice
Today the first official practice was held and it was open for an audience. In China the official practices are included in the ticket price. Some of the spectators are so fanatic they text on their cell phones every move the skaters make. This surprised me a bit since I thought figure skating was just a small and not very popular sport here. The audience was small, but their reaction to the skaters was overwhelming!
I was able to catch half of the ladies' and the men's practice, although I intended to watch whole sessions. But lots of unexpected things came up and delayed my schedule, but never mind, I'm in China now! And I will live this competition for as long as I'm here. (I will stay four more nights).
Miki Ando, a favorite contender for gold, didn't show up and neither did Akiko Suzuki. No explanation was given. Ando had just announced that she changed the music for her short program, Gabriel's Oboe from "The Mission" soundtrack by Ennio Morricone, performed by Yo-Yo Ma. Miki injured her back at the Cup of Russia, but in interviews in sports papers she mentioned it was getting better. Hopefully she is well again and can skate her best at this competition. In the absence of both Yuna Kim and Mao Asada; Miki will be the front-runner to win her first Grand Prix Final title. Even in a not great condition she still has the most stability.
PS: When I dropped by the official hotel to pick up some press information, I happened to run into team Morozov including Miki, Florent Amodio and Nikolai himself. They were just leaving and neither Miki nor Florent seemed bothered by any physical problems, so she most likely won't withdraw. I'm so relieved!
Among the four ladies practicing, Rachel Flatt of the USA looked to be in the best shape. She landed one triple jump after another, including a clean triple flip – double toeloop combination in her run-through. After that she landed a triple - triple combination too, but it looked under-rotated. But overall, she grew on me, rapidly! To have a stable triple Lutz and a triple flip is still a strong advantage in this sport.
Alissa Czisny, also of the US team, showed us strong skating. Not only her breathtaking spirals and spins which showed off her usual flexibility, but her jumps were beautifully fluent and stable. She might be the dark horse for the podium, even for gold!
Although Kanako Muarakami struggled to make her jumps stable in the first half (she actually fell on or singled/doubled half of the jumps she attempted), but was definitely getting better in her run-though.
Carolina Kostner, the reining European Champion, showed the brilliance of her skating skills and splendid spirals and footwork, but she also struggled to land triple jumps.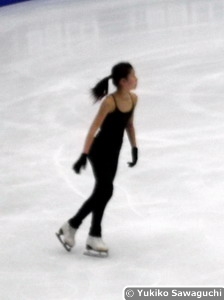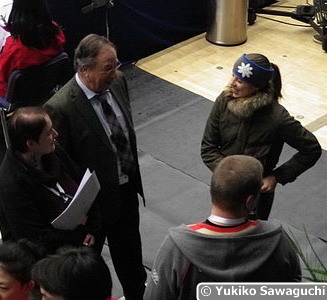 Senior Men's Official Practice
Only three male skaters showed up: Takahiko Kozuka, Nobunari Oda and Patrick Chan. Many fans and the press people, who expected to catch Daisuke do a run-through, were a bit disappointed. Among the men present Patrick showed the greatest improvement in his jumps. He landed a quad toe – triple toe combination cleanly, twice! His triple Axel was also very smooth and with a beautiful flow. It was the kind of 'wow' performance that got the audience excited. And Patrick's odds of winning his first Grand Prix Final title reached the top.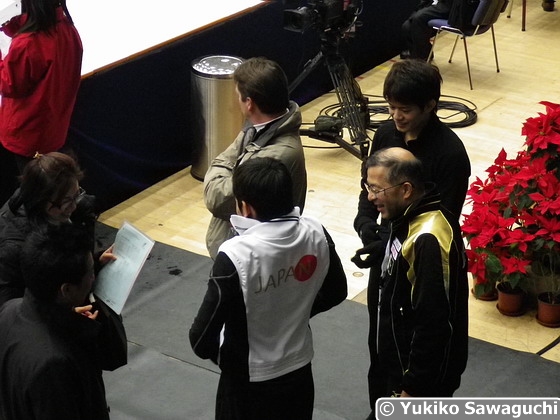 Takahiko Kozuka, who looked comfortable sitting in the bronze chair at Nationals having qualified for the World team, is definitely a different skater from last season. He seems much more confident and has improved his flexibility, especially in the upper body and the back.
Although I missed seeing his quad toe, he did nail it and landed most of the triples and combination as he intended. Needless to say, his skating is fluent as usual. He hasn't been known to shine this early in the season, but has already won two Grand Prix events.
Kozuka and Chan have built up a good rivalry since they were juniors, until Chan reached the top ranks in terms of PCS. What results are waiting for them now?
Nobunari Oda, known as a great jumper with an extremely soft-knee landing, couldn't show his full capacity today. He fell or stumbled on almost all the jumps he tried in his run-through, which is very uncommon for him. However, in the free practice he showed beautiful jumps and combinations, one after another, including a quad toe – triple toe combination. This season his take offs and landings are by far more elaborate with back to back turns and steps. It might affect his jump stability, but who knows what will happen in the real competition? We have seen his best performance after a bad official practice in the past. And above all, Oda is a skater full of the unexpected!