The ISU Grand Prix Final 2010 - Day 3
November 11, 2010
By Yukiko Sawaguchi
Photos © Nana Suzuki
Preview for the senior Ladies Short:
All of the girls looked so good; none of them fell on the jumps. Alissa Cziny maintains a wonderful technique with her jumps, which could be her Achilles heel in terms of winning the title. This GPF may be her time.
The finallists' skating skills are so high and amazingly beautiful.
The youngest Japanese skater Kanako Murakami from Nagoya, as well as Miki Ando, Akiko Suzuki (even Mao Asada and Midori Ito), also showed us her powerful skating.
Preview for the senior Men's Short:
According to the planned element sheet submitted to the organiser, only Nobunari Oda and Patrick Chan will include 4T-3T in their short programs. Patrick has landed his 4T-3T with a high ratio in the official program while Nobunari also executed his big 4T+3T+3T combination once in yesterday's practice.
Another four skaters plan to do 3-3 combinations but their programs are well-balanced and elaborate with difficult turns and steps, and so far they them seem to be favoured by the judges.
A front-runner for gold is nowhere in sight.
Junior Ice Dance Free Program
Highlights:
Stepanova/Bukin had an overall score of 129.94 points and came 3rd.
Sinitsina/Zhiganshin had a total score of 134.62 points and placed 2nd.
Monko/Khalianvin earned 136.22 points and won the gold.
All three couples are from Russia, where the next Olympics will be held.
A sweep in junior ice dance probably cheered up the junior ladies too!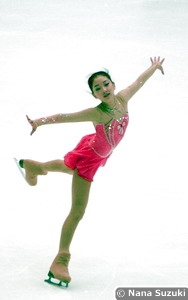 Junior Ladies Free Program
Hightlights:
Local skater, Zijun Li executed a very clean program including 3 lutz, 2 axel-3 toe, 3flip-2toe-2toe combination, solo 3 loop, although it was an intended 3loop-2toe combination, and a 3loop-2toe, 3flip and 3 sal.
As a junior skater, this performance with 7 different kinds of triple jumps and 3 combinations has never been better!
She earned 100.20 points in her long program with a total score of 149.82 points, and came 3rd.
Risa Shouji skated to the Lake House & Cider House Rule, which included a leaning and shaky 3lutz and an excellent 2axel-3toe, a FSSp, an elegant straight line sequence, 3f, 3loop, 3lz-2toe and finished with Biellmann spin. She performed an elegant entrance from an Ina Bauer to a 3sal, a 3t-2t-2t combination, and CCosp. She earned 97.26 points in the long program, earning a total score of 149.82 points.
Some of her jumps were under-rotated. As Li earned a higher score than Shouji in the long program, Li came 3 rd, although their scores were equal.
Elizaveta Tukutamisheva skated to Asturias.
Although she fell on 3lutz in the combination with 3t, she earned 107.011 for her free skating with a total score of 160.78 which included a solo 3lz, 3f, a clean 3sal-2t-2loop combination, a 3loop and 3sal. She had a beautiful landing flow in her, 2a-2a (seq). She received huge applause from the audience!
Elizaveta took the silver medal.
Adelina Sotonikova skated to Rondo Capriccioso. She executed a big 3lutz-3loop combination with a shaky landing, a 3f, a 2a-3t combination, from an eagle position to a 3lutz, 3loop, 2a, and a beautifully positioned CCoSp. She earned a total score of 169.81 points. She clinched the first JGPF title.
Press Conference:
Comment by Li:
'I was very happy with my result. I didn't know I qualified to the final until just before the final, because I am substitute for the injured skater ( U.S. novice champion Kiri Bagaso). I didn't prepare much.'
Comment by Tukutamisheva:
'I decided to do 3lz3t combination, not 3lz2t, but unfortunately I missed it. Overall I am happy with my performance.(this is her 1st junior final). I didn't care about the placement here - for me, this is just a competition like the others. I am practicing 3a. If I can improve the consistency of my 3a, I will include it in my program soon.'
Comment by Sotnikova:
'I am pleased with my result and having won the event. I did everything as I planned. My next goal is to skate even better and cleaner.'
Men's Short Program
Florent Amodio skated to Once upon a time in Mexico.
He singled the 3a, but later executed a solid 3lz-3t combination, 3f, CiST, and a nicely done CCoSp. However, his performance in the official practice was far better and more vigorous. He looked like he lost his physical shape today suddenly. But that's the competition!
His score for the short program is 61.64 points in he is in 6 th place.
Nobunari Oda skated to Storm.
He included a beautiful 4t-3t combination for the first time in his SP, a clean and solid 3a as usual, 3lz with super flow. He earned TES 48.06 PCS 38.49 TSS 86.59. Maybe he got a little bit tired in the StSq and CCoSp . He earned 16.69 for his 4t-3t and 10.79 for 3a. Two of his spins gained level 4, and one spin gained level 3. He took the lead in the SP by 1.00 point and is currently in 1st place.
Congratulations on his big day!
Tomas Verner skated to Singing in the rain.
His 3lz-3t combination was beautifully done, but he singled the planned 3a, the 3f was judged as under-rotated. With unlikely and unsophisticated performance, he earned 65.37 points and is in 5th.
Patrick Chan skated to Take Five.
Although he landed a shaky solo 4t, he added a 3t to the 3f and executed a strong program including 3a, and he earned 85.59 points, placing 2nd. He proved that the consistency of his 4t and 3a in the official practice was not just a product of chance.
Daisuke Takahashi skated to Latin Selection.
Performing a funky Latin program, he included a nice 3f-3t combination and a very clean 3a, and a 3lz with a shaky landing. He earned 82.57 points. Unlike his usual fluent turns and steps he stumbled half way through the Slst. Thanks to the constant high PCS, he is in 3rd.
Takahiko Kozuka skated to Soul Medley.
Was he too nervous? His 3lz in the combination was shaky, followed by over-rotated 3t and again shaky on the 3a and 3f. He seemed to hit the boards at the end of the Slst.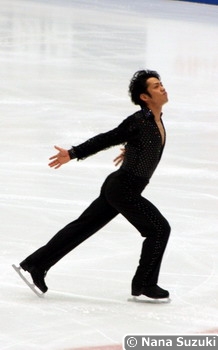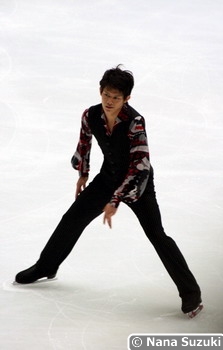 Press Conference
Comments by Oda:
'I'm so happy that I could make 4t-3t combination in my SP for the first time. I decided to include the 4t in my SP after I competed at Skate America. My coach Lee Barkell also agreed it was good plan, it should work. I kept practicing 4t about 50 times every day. Before, I used to do about half of that, but due to this, I messed up my transition a bit, it's so tough to execute big jumps and elaborate foot work together at the same time.'
Ladies Short Program
Akiko Suzuki skated to Jealousy.
The eldest Japanese skater landed 3f-2t combination, cheated 3lz and 2a. Her performance looked perfect but just a little bit cautious. She earned a score of 58.26 points.
Kanako Murakami skated to Jumping Jack.
The jumping bean (Midori Ito, Kanako's predecessor, with the same coach Machiko Yamada, was once given this nickname) from Japan had a high and solid 3t-3t combination, a nice 3f and a beautiful 2a. It looked like her freshness and cuteness grabbed not only judges' hearts but the whole audience. This score of 61.47 points is her new season's best. She slipped to 3 rd, but gained higher placements than the other two Japanese Olympians.
Carolina Kostner skated to Galicia Flamenco.
She came 2nd with a fluent performance with Kaleidoscope foot work, including a 3t-3t combination, a shaky 3loop originally planned as 3f, and 2a. She earned 62.13 points. With her knee problem taken into consideration, today's performance was by far better than expected.
Alissa Czisny skated to Romance.
She took the lead by 1.63 with a graceful, clean short program. She executed a 3lz-2t beautiful combination, 3f, and 2a, a beautiful spiral as usual, high speed spins and skilful edgework. Elegant and beautiful are terms to express her skating!
Miki Ando skated to The Mission by Morricone.
The two time Olympian and former World Champion unveiled her new short program in Beijing. Her 3loop in the combination of 3lz was judged under-rotated, and 3f was downgraded. She also made a mistake entering the FSSp to lose speed, resulting in less rotations. With a score of 50.45, she is in 5th.
Senior Ice Dance
Highlights:
Davis/White continue to stand out with their skill - and results - so far this season.
Having skated to opera pieces by Puccini's La Boehme and Verdi's, La Traviata, the couple earned level 4 for all of their elements except the midline step sequence.
Pechalat/Bourzat of France are second with 65.66
The top two couples appear to have secured their spots on the podium.
The German couple, Hoffmann/Zavozin
surprisingly slipped into 3rd by a narrow margin.
Press Conference:
Davis & White
'It wasn't what we were aiming for, but it wasn't necessarily a bad skate," Davis said. 'It's on the way to where we want to take it. Our performance today wasn't where we plan on capping off our program - it's still a work in progress.'
'We got the levels we were looking for; we could definitely improve on the side-by-side footwork,' White said. 'The twizzles weren't perfect, but we got the level, so that's good. Overall I think the excitement and expression was better, but we know we have a lot of room for improvement.'