The ISU Grand Prix Final 2010 - Finals Day
November 15, 2010
By Yukiko Sawaguchi
Photos © Nana Suzuki

The competition concluded with some surprises and some great skating.

Junior MenÂ's Singles / Free Skating highlights
Han Yan – Zigeunerweisen
The Capital Indoor Stadium was shaking from the roaring of the crowd as they rooted for Yan! His long program was a bit bittersweet; it included a solo Triple flip which was intended to be in combination with a triple toe, a triple Lutz-single toe combination, and a beautiful triple Salchow from a Spread Eagle. Although it was not what he planned and he stepped out on some jumps, he earned 186.05 points overall and grabbed the silver at the first Junior Grand Prix Final in his home country.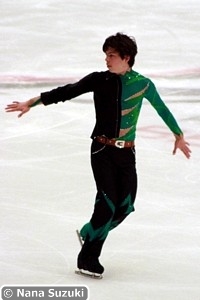 Keegan Messing – The Incredibles
Considering his excellent performance in the short program, his long was disappointing. He singled the Axel in the intended triple Axel-double toe combination, was shaky on the triple Lutz-double toe combination, took a fall before the triple loop and at the end of the straight-line step sequence. He fell to 8th place in the long program and dropped from 2nd to 5th overall with 175.42 points.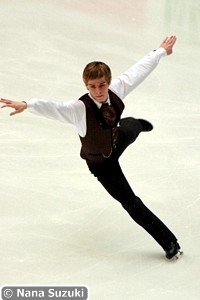 Richard Dornbush – Sherlock Holmes
He landed eight triples including the triple Axel-triple toe combination, a triple Lutz, a solid triple Axel, and a clean triple Lutz-double toe-double loop combination. His superb performance had never been better this season.
Brilliance on the ice is indispensable to a top skater at the senior level. However, I didnÂ't feel that for his short program. Of course he performed a clean program and executed all his planned jumps, but honestly speaking, that was not enough for me to enjoy his skating. Today I felt like I saw his sparkling joy and enthusiasm for skating again, which warmed my heart and I appreciate his performance from the heart. I was glad to be there and congratulate him on winning this event, it was definitely his day!
Richard earned 148.8 points for the free skate and with 219.56 points total he won the gold of the Junior MenÂ's Grand Prix Final with a margin of 33.51, a pretty big win.



Comments
Richard Dornbush
"I was very happy with today's performance. I could do all the planned elements; of course I am supposed to do [that] though. Even if you complete clean programs 75% of the time in practice, being able to do it in competition is something completely different. I was a little bit nervous beforehand, but as soon as I got here to warm up I felt nothing but confidence. It was definitely the best I've ever skated that program, even including practice!"
I was really touched by his comment about how he overcame the injury last season:
"To get over difficulties is a part of the sport, and so are injuries. I guess to never give up hope is the key to overcoming. When I was injured, I always thought only of how I could get better."
ThatÂ's easy to say but difficult to do. Richard actually DID it, which led him to what he is today.

Han Yan
"I couldn't skate well and I'm not satisfied with my skating without triple-triple combinations and mistakes on other jumps. Maybe it is because this competition was held in Beijing, so I was more nervous than in other places. In the near future, I am going to include a triple Axel and even a quadruple toe if the consistency increases."

Junior Pairs/ Free Skating
Narumi Takahashi and Mervin Tran of Japan won the junior pairs event for the first time with 159.52 points. Although it was not a perfect performance—Narumi fell on the triple Salchow and stepped out of the landing of the throw triple loop—the team showed off their ability to compete in the senior circuit as they stretched into difficult positions in lifts and spirals.

Comments by Takahashi/Tran
"I was really happy to listen to the Japanese anthem today because I have never heard the Japanese anthem in competition for us. I have learned a lot from the Japanese pairs skater, Yuko Kawaguchi (competing for Russia), competing in the senior event. Today we have learned that even though we made one mistake (fell on a jump), we are able to complete our other elements as we usually do. One big mistake doesn't always create a landslide fiasco if we really focus on the performance." Narumi said with a 'did-I-make-myself-understood-in-English?' expression on her face and turned off the microphone. That's why everyone loves her!
"My feet really hurt. I am feeling tired, but it is awesome to finish like this. My next goal is to try to do harder elements," Tran said.
They also mentioned that they will compete at both the Junior and Senior Worlds even though Nationals is right before. Pair events are not common in Japan because Japanese male skaters are not tall enough to be pair skaters, and it is very difficult to find a partner. Besides, practice time assigned to the couples is very short. Good opportunities for couples are not yet well developed in Japan. Not many pairs will compete at Nationals and Takahashi/Tran are expected to become Japanese pair champions without any problems qualifying for Worlds. Narumi also showcased her fluent Chinese to communicate with the Chinese media without a translator.

Senior Men/ Free skating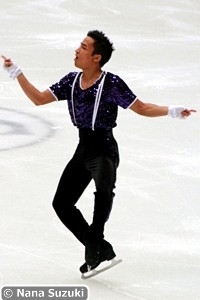 Florent Amodio –Michael Jackson medley
Although he doubled his triple loop, he was able to organize the other planned elements of his program including a clean triple Axel and triple Axel-double toe, triple Salchow-triple toe and triple Lutz-double toe combinations. He collected 140.26 points and finished 5th in the free program 6th overall with 201.90 points.
In the official practice, he showed off his condition by landing solid triple jumps in sequence. It is indeed different to skate in competition compared to practice, like the junior gold medalist said.

Tomas Verner – Michael Jackson Medley
Compared to last season, his performances have been by far better this year. He still seems to struggle to include both the quad toe and a triple Axel. With his skillful edgework, jumping ability, presentation and well-balanced program, he deserves to be called the favorite to win any title, but one thing he has been pursuing for years is jump consistency.

There are always ups and downs in his performance and this time was no different. The quad toe attempt turned out to be a triple toe and he made the triple Lutz-double toe combination a sequence by doing three-turns twice in between, and the triple flip-double toe-double loop combination ended up just a triple flip. He did land most of the triples as planned including a triple Axel-double toe combination, a triple Axel and a triple Lutz. With 148.27 points in the free skating, he earned 213.64 overall and finished in 5th place.

When I looked at his planned elements sheet, I wondered why he was trying to do a triple flip in combination with two other jumps because his triple flip is usually judged as cheated by the technical panel, which means the triple flip is not his best jump. In my opinion, there is room for a review of his strategy.

Takahiko Kozuka – Piano Concerto No. 1 by Liszt
Takahiko also to open his long program with a quad toe, but under-rotated it. He landed most of his triple jumps solidly including a triple Axel, a triple Lutz-triple toe combination, and from a deep-edged Spread Eagle into a triple loop. Only the triple Axel-double toe combination had a shaky landing. With all level 4 spins and a level 3 step sequence, he earned 159.89 points in his long program and won the bronze medal.

Daisuke Takahashi — Inverno Porteno by Piazzolla
Obviously Takahashi looked like he had a physical problem. He two-footed a downgraded quad flip, stepped out of some jumps and fell on his second triple Axel and triple Lutz. His presentation marks remained high at 81 points, earning the same number of points as the skater in third place. But with 219.77, he dropped off the podium finishing without a medal.

As matter of fact, in the official practice on the 2nd day, Kozuka and Takahashi bumped into each other when Takahashi was doing his run-through. Kozuka was repeatedly checking his entry to the triple loop when he crossed into Takahashi's program space. Both skated backward, so neither skater saw the other. Naturally, a collision is high-impact and both Japanese skaters went flying. Some of the people witnessing their collision were shocked and screamed. Kozuka turned pale and apologized to Takahashi immediately—it was his fault. In practice, skaters are supposed to give the right of way to the skater who is doing his run-through. He knew that. Of course Takahashi said it was OK, he was all right, but he didn't seem to be all right. It was believed Takahashi suffered symptoms similar to whiplash and considered withdrawing, but held back for his close teammate.
Japanese skaters have only two weeks to go before Nationals are held in Nagano. All three skaters are expected to compete there. Japan has three spots for menÂ's singles; medalists will qualify for Worlds held in Tokyo in March.

Patrick Chan – Phantom of the Opera
Jump elements: quad toe, triple Axel-triple toe, triple Lutz, triple Axel, triple Lutz-single loop-triple Salchow, triple flip, triple loop-double toe
Canada's Patrick Chan carried out his best performance through his beautiful routine, including a quad toe, a triple Axel-double toe combination, an Ina Bauer into a triple Lutz and won his first Grand Prix Final title. Although the first quad was supposed to be in a combination with a triple toe; he quickly recovered and added a triple toe after the triple flip, making it a combination. With skillful footwork and gorgeous choreography, he earned a record-high PCS of 87.22. Overall, he earned 259.75 points.
Nobunari Oda – Piano Concerto No. 1 by Grieg
According to what he often says, he doesnÂ't like starting last in the free skate because it makes him tense. In two competitions in the Grand Prix series, he won the short and was overthrown in the long. Despite the fall on the quad toe, which was downgraded, he executed a triple Axel-triple toe combination, a triple flip, triple Lutz, triple Axel, and a triple Salchow-double toe-double loop combination, but fell after the last jump, a double Axel and tumbled on the ice. He won the silver medal, the top placement among the three Japanese skaters.

Comments
Kozuka said in Japanese at the press conference after the collision incident: "I feel so sorry for Takahashi and will try not to let this happen again." It was not translated into English, but people surrounding him, including gold medalist Chan, may have assumed what Kozuka kept saying and comforted saying, "Don't worry too much, it happens sometimes in practice. I, myself, hit Adam in competition the other day—we got bruised."

"I am very happy to win here today because my last two Grand Prix Finals were not that good," Chan said. "It has been a phenomenal experience to skate here in China because my parents are Chinese."

"I was disappointed in myself with the mistakes on the quad and the double Axel, but with this performance I could achieve a good result as the silver medalist. I think it's nice." Oda commented.
In a private interview with the Japanese media, he said, "I feel terrible that I did the same thing in the Grand Prix circuit. I was at the top in the short and turned back in the long and ended up 2nd in both events. I will practice much harder and not let it happen again." He continued that he will not change his long program as he likes it. In the beginning of this season, he intended to ask former choreographer, David Wilson, who knows his characteristics, to choreograph his program. His coach, however, recommended Sebastian Britten, who picked the music for the free skate. Although both programs have increased difficulty as they incorporate elaborate turns and steps for the entries/exits of the jumps, he said it didn't affect his consistency through the program (he felt a bit of the physical challenge at Skate Canada though).

Ladies Single/ Free Skating
Rachael Flatt – Slaughter on Tenth Avenue
I am a bit worried about what happened to her. Unlike her usual strong skating and completion of five types of stable jumps, including a triple Lutz-triple flip combination, she fell on her triple Lutz, an intended combination with a double toe, doubled three planned triples and had three triples downgraded. With a total score of 127.57 points, she sunk to the bottom of the field.

Miki Ando – Piano Concerto in A Minor by E. Grieg
Miki was different today! With six triples, including three combinations, she showed us strong skating and a nearly perfect performance. She received the largest applause from a standing audience. Although she ranked 1st in the free skate, due to a poorly performed new short program, her final placement was 5th with a score of 173.15 points.

Akiko Suzuki – Fiddler on the roof
We witnessed two wonderful performances in a row by Japanese skaters!
Akiko landed seven triples, one after another, including a double Axel-triple toe combination, a triple loop-double Axel sequence and a triple flip-double toe combination very cleanly. Using skillful edges, she expressed the joy of figure skating dynamically from head to toe. She finished 4th.

Kanako Murakami – The mask of Zorro
She opened with a flying-high triple toe-triple toe combination and landed six clean triples with powerful skating, but she popped the triple flip and turned it into a single. All of her spins and steps were levels 3 or 4. With 178.59 points, she won the bronze medal in her first trip to the senior Grand Prix Final.

Carolina Kostner – Aprés-midi d'un Faune by Debussy
In the official practice, Kostner tried a triple flip, but she didnÂ't show us the jump in the competition and completed only four triples. Her program consists of two triple Loops, a triple Salchow, and a triple toe, plus two double Axels. Among them she singled her second intended triple loop yet this program makes good use of her fluent edgework, speedy skating and complicated steps to impress people with fine arts on the ice. She remained in 2nd and secured the silver.

Alissa Czisny – Winter and Spring
Although her program doesn't include a triple-triple combination, she landed two combinations, a triple Lutz-double toe and a triple flip-double toe, and 6 triples. For a long time the jumps have been her "Achilles heel" preventing her from reaching the podium. Since the first official practice, she had hardly fallen and showed that she was in her best shape. Her signature movements; amazingly positioned spirals, well-centered high-speed spins and elegant and fluent skating attracted not only the judges but also the audience at the Capital Indoor Stadium. Her program gave me the impression of a movie about a lovely winter fairy. Good chemistry between Alissa and this program may have been another contributing factor to her win. She was 3rd in the long program, but she won her first Grand Prix Final title.

Her performance brought tears to my eyes. She had a really hard time last year, falling to 10th at the US Nationals. Since I saw her skating for the first time at the Grand Prix Final held in Tokyo 5 years ago, I have been looking forward to seeing her on the podium. My dream came true, congratulations, Alissa!

Comments
In the press conference, Kanako was asked what she thinks about being compared to Mao Asada. She replied, "It doesn't matter what Mao achieved at my age. Despite a mistake I had a good result and it is an honor to stand on the podium at the Grand Prix Final, especially because this is my first year for competing in the senior circuit. However, I am disappointed because I could have skated better."

Carolina said, "I feel so comfortable out there, and had so much fun. My jumps were okay with only one mistake. I was happy just to have qualified to be here and happier to medal. After a few years of disappointment, I think today's skate gave me the confidence that I made the right decision to keep skating because I love it. I am very happy."

Alissa: "I've made a lot of changes since last season; I almost feel like this is a new beginning for me. The past is gone – over and done with – and I'm a new skater. I stayed on my feet so I'm happy. I really had to fight my way through that program, but I'm very happy with the outcome. It's good to be back and to be able to perform to my potential. My goal here was to skate my best. I can't control the outcome; I dreamed of winning, and it happened. I was really nervous going in, so just being able to stay on my feet today was an accomplishment in itself. It's pretty amazing to be called the Grand Prix Final champion. It's something I've always wanted."