The ISU Grand Prix Final 2010 - Finals Day part 2
November 19, 2010
By Yukiko Sawaguchi
Photos © Nana Suzuki

Senior Ice Dance
Highlights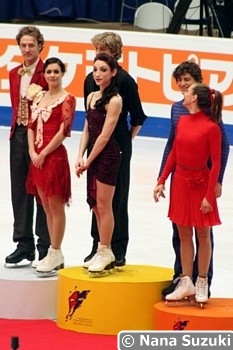 With the absence of the Olympic Gold medalists Tessa Virtue & Scott Moir, training mates and Olympic Silver medalists, Meryl Davis & Charlie White, have dominated the competition so far this season, winning the Grand Prix Final for the second straight year by a large margin of almost nine points and season bests in all segments. The French champions, Nathalie Pechalat & Fabian Bourzat, came in second as expected.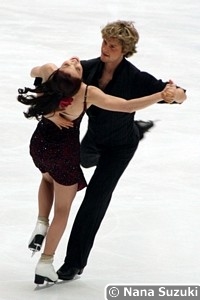 Honestly speaking, as for the Senior Ice Dance competition, I haven't been thrilled at all this season. It seems a bit boring with one couple surpassing the others which results in a lack of excitement for the competition. I am not sure at this moment to how much a degree Tessa's injury is serious and recovering, but I hope from my heart that the reigning World Champions will come to Tokyo this March or I'd better pray that the Shibutanis will grow incredibly rapidly?

Skating the Free Dance to "Tango," Davis & White show their athleticism and artistry with fluent skating and high speed. All of their elements gained a level four with one exception, a diagonal step sequence. The four lifts as well as a twizzle sequence stood out, providing a strong but beautiful impact to this program. With 171.58 points, they grabbed gold again easily.

Comments by Davis & White
"We were feeling really confident about the program that we've built up over the season," Davis said. "It wasn't the strongest performance we know how to [skate], but I think it's definitely on its way to being something special."

"This has been a testament to moving forward, but we have to keep doing more and keep [earning] better scores. We'd like to stand atop the podium at the World Championships this year. We've worked long and hard to get there and we feel like we deserve it and we've got the programs to accomplish it."

Pechalat & Bourzat of France, with 162.10 points, took silver with a clean and charming routine skating to the music of Charlie Chaplin.

Canadians Vanessa Crone & Paul Poirier secured the final spot on the podium skating to "Eleanor Rigby," jumping up to third after placing fifth in the short dance.

Ekaterina Bobrova / Dmitri Soloviev - Kaitlyn Weaver / Andrew Poje
Senior Pairs Free Program
Highlights
Olympic bronze medalists and former world champions Aliona Savchenko & Robin Szolkowy of Germany won gold with an almost flawless performance skating to the Pink Panther soundtrack. The team executed a very clean program, including a throw triple flip and a beautiful side-by-side sequence of two triple toes. Their only mistake was doubling an intended triple Salchow, but most of their elements were awarded a level four and they easily won gold with 210.92 points.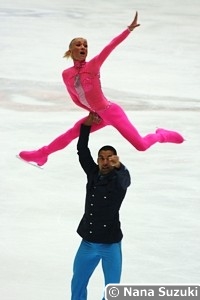 Comments by Savchenko & Solkowy
"It is a very good feeling to skate such a good program and to be back on the highest podium, but some elements were not as good as in practice." Szolkowy explained, "Because of our luggage problem last week [skates were misplaced] we could not train. Therefore we are happy [with] how well the whole [event] went."

Perfoming to "Liebestraum," by Franz Liszt, reigning world champions Qing Pang & Jian Tong of China won silver, but finished nearly 21 points behind the Germans. I have to admit honestly that it was a lackluster performance with three big mistakes including Pang doubling an
intended triple toe, Tong singling an Axel, and a failure on the pair spin that invalidated the element.

Comments by Pang & Tong
"We were very disappointed and dissatisfied because our short program score was low and we were disappointed yesterday, last night we didn't get much sleep. So today we only paid attention to the elements and we lacked speed and choreography. Today was very difficult. There is a lot more pressure skating in China, the audience has very high expectations and we really want to skate our best for our fans", Tong explained.

The young reigning Chinese World Junior Champions, Wenjing Sui & Cong Han, moved up to third place with 197.04 points after placing fourth in the short program. They attempted the throw triple Salchow, but Sui fell on the landing. However, it must be an epoch leap for this young Chinese pairs team not only to qualify, but to also capture a bronze medal in the prestigious senior event after winning gold the previous year at the Junior Grand Prix Final in Tokyo. Though they must have felt less pressure compared to teammates, Pang & Tong, the crowd showed warm support which might have been a contributing factor to finishing well in their home country.
Lubov Iliushechkina/Nodari Maisuradze - Vera Bazarova/Yuri Larionov - Kirsten Moore-Towers/Dylan Moscovitch
Interviews and private discussion
Quick quotes and Comments by Patrick Chan
"It was really important to get that quad at this point in the season. I need to know that I can do it on a consistent basis and keep it together and to land that first triple Axel was a big highlight as well because I was able to quickly regain focus after the quad."
"It feels great to get the victory. I always wanted to do well at this event," said Chan, previously fifth at the Grand Prix final in both 2007 and 2008.
"It was important for me, going into the next part of the season, to put down two solid programs," he said. "I really learned a lot with how I prepared physically and mentally for this competition.
In the press conference, he was asked if he knew about the voices of criticism pointing out that he is consistently over-marked in terms of the program components score despite falling on jumps, so he should not have qualified for the final. He said he'll respond to that kind of criticism by skating a great program to wonderful choreography with difficult jumps. If he can keep skating well, they'll understand.

After the short program, he also mentioned that he included a quad-toe even in the short program, not for the points he could earn by doing that—he said it didn't matter at all. The thrilling feeling, something hard to describe, incites him to the challenge of a quad jump. When he said this, he looked at Nobu and said, '"I think Nobu will understand it." They smiled at each other.

Comments by Takahiko Kozuka
"It was neither a great nor a bad performance; it was okay. Honestly, I am tired after Paris. There were only two weeks between [Trophée Eric Bompard and the Grand Prix Final]. After the competition, I just couldn't recover well enough and I had jetlag. I'm not the only one affected; other skaters are in the same situation, so there is no excuse. I'd like to brush up on my details and train harder and harder."

Comments by Daisuke Takahashi
"I was disappointed with myself because I couldn't show what I have been training. I was well-prepared, but I didn't do my best here. It was a good and challenging experience to try the quad flip instead of the quad toe at the competition. I had a good feeling about it. Even though Nationals are in just two weeks, I'd like to [work on] more consistency for the quad jumps."

Comments by Pang/Tong after short program
(On switching back to the old program) "We didn't really have enough time to practice the new program so we changed it back to the old short program. With this program, we were received well by the judges. Besides, we have never skated this program in front of the Chinese audience. That's [another] one of the reasons."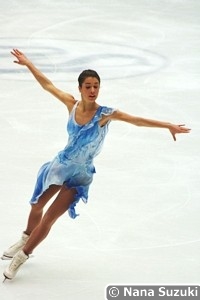 Comments by Alissa Czisny
"After the U.S. Nationals last year (she was tenth and missed the ticket to Vancouver ), I was dreaming of sitting here winning the Grand Prix Final. Now my dream has come true. After changing coaches, I started working with Yuka Sato and Jason Dungjen. I kept practicing very hard to increase the consistency of my jumps. Thanks to their support and hard work, my jumps became stable."

Private Discussion
Nobunari Oda
Although he already told the press about his fall on the double Axel, that he caught his edge on the ice, he added, "It happened because I loosened up [too much] after I finished the last jump in my routine." That's why he was late for the music and lost some part of the choreography in the steps. I was worried it would be invalidated. Keeping the stability throughout his performance, both mentally and physically, might be a key for him to win the big title. He also said that he will modify the long program with his choreographer by cutting out his crossovers. However, he is supposed to practice in Japan until Nationals for 10 days. We will see his newly-altered step sequence at the Four Continents Championships at the earliest if he is chosen to represent Team Japan next year.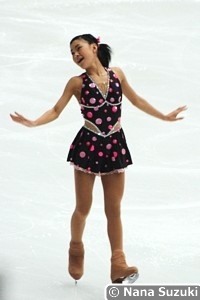 Kanako Murakami
"I was very happy with my overall result. If I marked it out of 100 points, I would give my performance 78 points. My coach, Machiko Yamada, said she would give me 90 points. Aside from winning the bronze medal, she promised to give me a birthday gift so I'm wondering what I should ask for. Maybe there are shops at the airport?" I asked this cute teenager what brand she wanted her coach to buy. "It's a brand purse, pink and black; it's so lovely! To me, it's expensive, and I don't want anyone to know [what brand it is]. Basically speaking, I'm not a material girl," she replied smiling. She was as adorable as she looked! Is a pink and black color combination is the traditional preference of the students training under legendary Japanese coach Machiko Yamada? They are the colors of Mao Asada too.

Pang /Tong
I happened to catch two Chinese World Champions in the hallway and asked a quick question. How do you maintain your tough mentality to compete in the Grand Prix circuit after winning the World title and silver at the Grand Prix Final? What plans do you have for the next season?
Tong told me, "Yes, it is little bit tough. After the Olympics and Worlds, we have been very busy, so we will take a year off and sit out of the Grand Prix circuit in order to take a rest. Then one year before [the next] Olympics (the 2012-13 season), we want to come back to compete again [with our eyes set on the] Sochi Olympics in 2014."
It's a little sad we will miss the chance to see them perform next season, but they say they'll be back a season before Sochi, thus China can earn at least two spots for the Olympics.

Junior Pair photos: