The 2010 Japanese Junior Championships
December 24, 2010
By Atsuko Kuryu
Photo © Munenori Hashimoto
The competition was held on November 26th and 27th at the Kasamatsu Ice Arena in Ibaraki. This year two big names were no longer on the entry lists; Kanako Murakami and Yuzuru Hanyu, since they stepped up to the senior level. However, the competition was still interesting as so many skaters showed inspiring performances.
Kento Nakamura, who was the silver medalist at the
2009 Junior Nationals, edged Ryuichi Kihara only by 0.26 points and won. Kihara skated a flawless free program and finished in second place, while Ryuju Hino, who was second after the short program, got the bronze medal. The former bronze medalist and reigning men's novice champion Shoma Uno placed 4th.
In the ladies field, the Junior Grand Prix finalist Risa Shoji won by a big margin. Kako Tomotaki placed second due to her consistency and Miyabi Oba third thanks to her beautiful free program, Polovetsian Dances. The reigning ladies novice champion Satoko Miyahara finished 4th.
Only one ice dance team competed in this event. Consequently Misato Komatsubara / Kokoro Mizutani became the champions. But let's look at some details from the competition:
Men's single
Kento Nakamura gained the triple Axel two years ago, which led him to the 2009 Junior Grand Prix Final. Unfortunately the consistency of that Axel was lost this year. Kento made three attempts during the competition but popped two of them. The same thing happened to the triple Lutz, and a triple loop was turned into a double in the free program. Not his best moment, but in spite of such inconsistency, the overall impression was pretty good because he had great power of expression. He also seemed to have improved his skating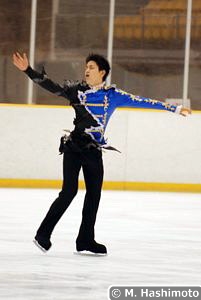 skills a lot. His playful short program was fun to watch, while his gorgeous free program Malaguena really fit his style. The graceful moves earned him 176 points total.
Runner up Ryuichi Kihara skated both programs quite nicely. He missed the double Axel in his short program Tango de los Exilados, but stayed 4th because of the relatively good performance. His free program The Man In The Ironmask was not only flawless, but also strong and very impressive. After he finished his performance, the audience gave him a standing ovation. His total score was 175.74. He used to be a lyrical skater but now he is strong and powerful. He won the bronze medal at the Junior Grand Prix event in Dresden, Germany.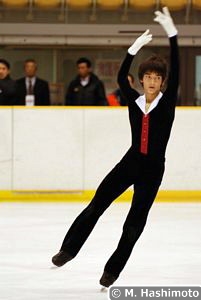 Ryuju Hino became the bronze medalist with a total of 162.97 points. He seemed to have struggled trying to gain back the power he had before he got injured. But I assure you he is now strong enough to be a top contender among the juniors. He declared earlier that he would have a triple Axel ready for the next season at the 2009 Nationals, and he did! It looked more and more consistent as this season progressed. But unfortunately during this competition, it didn't help him like it had earlier. Being in second place after the short program, he then
failed both attempted triple Axel in the free program which cost him the silver medal. Despite having good jumps and spins, he said that he needs to improve his skating expression wise. If he can add some more feelings to his performance, he will be a thrill to watch!
Shoma Uno skated a flawless short program nailing a triple flip-double toe combination, a triple loop and double Axel. He earned 57.62 points. But fo ur falls on attempted jumps dropped the 12-year old, from second after the short to eighth in the free, and fourth overall. Although he made these mistakes his showmanship was still on and his outstanding footwork really excited the audience. His overall score was 152.04 points.
After having placed 6th in the short program, Yoji Tsuboi made some mistakes in the free skate, but a triple Axel brought him to fifth place. He's a masculine but sensitive skater and the free program the Godfather suited him very well. He earned 148.09 points total. Yoji skated at the Czech Junior Grand Prix event where he placed 12th.
Fumiya Itai finished in 6th place overall. He showed a beautiful and lyrical performance to the Phantom of the Opera
in the free skate. Not even the fall on the double Axel at the end of the program could ruin the overall impression.
His interpretation and expression skills were outstanding. The day before he had skated a brilliant short program to Tango de los Exilados. Itai competed in two Junior Grand Prix events this season but will move up to the senior ranks by next year. Remember his name and watch for this guy at international events!
Keiji Tanaka, who was the bronze medalist of the Junior Grand Prix, Rumania, and one of the big favorites of this event, had a disastrous short program and was in 19th place. A mediocre free skate brought him up to 9th place overall.
The skater who offered the most excitement to the audience that day was Kazuki Tomono. He skated to a special version of Beethoven's Symphony No.5. Kazuki is only 12 years old but already knows how to work the crowd!
Let me mention a few more skaters who impressed me with wonderful performances: Jun Suzuki's brilliant short program and also very good free skate landed him in 8th place. And although Daisuke Isozaki only ended up in 11th place, he showed what the power of expression means. Kosuke Nozoe landed a beautiful triple Axel-double toe combination in the free skate.
Ladies' single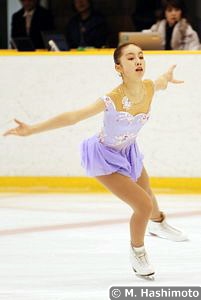 Risa Shoji skated two beautiful programs and earned a total of 158.42 points. Her short program was outstandingly executed while the free skate was a bit more of a struggle. She got edge calls for both her triple flip and triple Lutz, and the triple Lutz was also downgraded. Still, having good speed and musicality, this 14-year old looked very confident. After winning this event last year, Kanako Murakami won both the Junior Grand Prix Final and the World Junior Championships, and has since then had a successful senior debut season. Shoji is still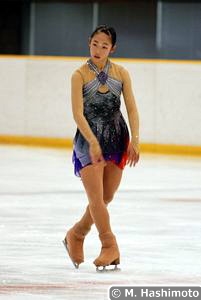 too young to follow in Kanako's footsteps, but I say she has huge potential and will be a great power in the ladies' field in the future.
Kako Tomotaki skated a flawless short program and had a solid free skate. She landed 6 triples consistently, but with an edge call on the triple Lutz. Her technical skills were so secure that all other elements were done with ease. I think this is a big advantage for her since the one thing she really needs to work on is the artistic side of the program. Kako looked like she was eager to follow the choreography and execute all the moves, but lacked the feeling for the music. At the award ceremony this charming girl smiled happily and I'm looking forward to her bringing that same charm and emotion into her performance to make it more exciting.
Miyabi Oba is a lovely skater with beautiful posture; watching her perform is therefore always fun. She skated two graceful programs but took an unfortunate fall during the straight line steps in the short program. The rest was performed very cleanly. She landed a double Axel-triple loop combination and got 9.52 points for it, which was the highest score for one element in
the ladies' discipline. She chose Polovestsian Dances for her free skate and made this exotic routine breezy and fresh, which suited her style very well.
After a disappointing 10th place after the short program, Satoko Miyahara bounced back with her strong free skate to Les Miserable. This 12-year old landed 7 triples including two double Axels and double toes in combination. Her technical elements score: 57.37, was the highest among the ladies that night. Satoko, who is the former national novice champion, impressed the crowds with her amazing speed and strong technique. She finished in 4th place, the same as last year, and with a total score of 140.23.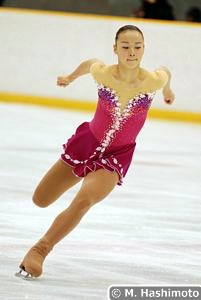 After having had a very good Junior Grand Prix season two years ago, Yuki Nishino has been struggling to keep up with her growth spurt, but seemed to be getting back on track. She had two good programs and earned 137.10 points; enough for a 5th place. Yuki was 5th in the short program and 6th in the free skate. She fell on the first jump of the opening combination in
the short program, and also had some trouble with her jumps in the free skate. Still, her musical involvement was fantastic and the way she moved her body very graceful.
Last year, Saya Ueno had to withdraw from the event because of the injury she sustained at the beginning of her short program. It was hard to forget how bitterly she wept backstage, but here she made up for that disaster. Being 4th after a solid skate in the short program, she struggled some with her triple Salchow in the free program. But her musicality was amazing. Her straight line steps went well along with the music and were also very beautiful to watch. She got 136.75 points in total.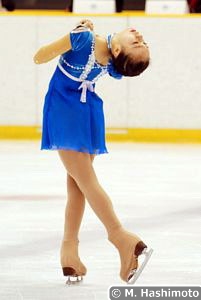 Although Roanna Sari Oshikawa finished 7th, her free skate made a strong impression on the audience. She skated a solid short program and placed third, but unfortunately made a few too many mistakes in the free skate. Still, her Romeo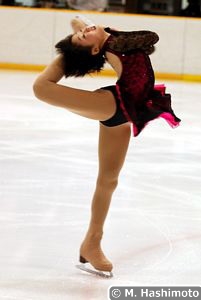 and Juliet was special and her dramatic performance moved the crowd deeply. I especially enjoyed the straight line steps.
One of the favorites in this event, Yukiko Fujisawa, was a bit off during this event. The reigning Junior Nationals bronze medalist found herself in 21st place after the short program, but then bounced back to a 5th place in the free skate, and finished 11th overall. This 15-year old has great potential and I hope for a strong come-back next season.
Some honorable mentions are: Karen Kemanai who has very strong technique, Haruna Suzuki with her impressive ballet moves, and Honoka Kasai who performed her playful free program like a fairy.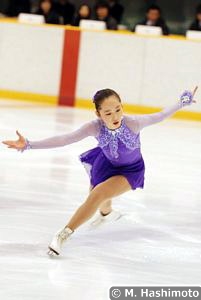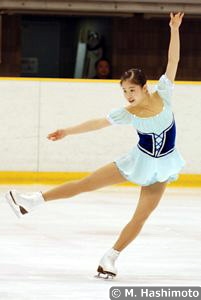 Ice Dance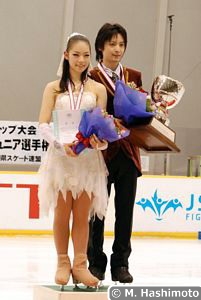 Although Japan has very wide fields in both men's and ladies' singles, there are seldom skaters who want to take on couple skating such as pairs or ice dance.
But the Mizutani brothers have been bravely competing in ice dance for many years. Both of them had hard times finding their partners though. Kokoro Mizutani, the younger brother, did find a good partner in Misato Komatsubara, and the two came to this event as the only ice dance team. Being students of Nozomi Watanabe and Akiyuki Kido, the former national ice dance champion, Misato and Kokoro chose a waltz; Song of the Spirits for their short dance and some catchy music for the free dance. I enjoyed their funny movements, beautiful spins and nice rotation lift in the free dance. I hope they will continue to work and progress together for a long time. They got 44.02 points for short dance, 59.85 for the free dance and 103.87 total.