Japanese Nationals 2010
Part I
By Atsuko Kuryu
Photos © Munenori Hashimoto
The Japanese National championships finished its three-day event on December 27th, producing 6 new Olympians. Oda and Ando have already secured Olympic spots in the Grand Prix Final earlier in the season.
Daisuke Takahashi swept the men's field beating reigning champion Nobunari Oda by 16.38, and Takahiko Kozuka who came 3rd.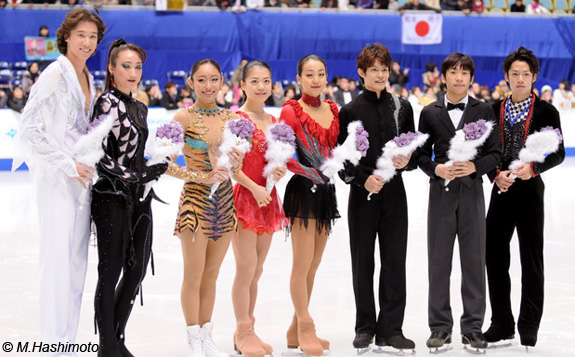 Mao Asada seemed to pull out of her slump this season to win the ladies' field. One of the most crucial battles for an Olympic place between Akiko Suzuki and Yukari Nakano was settled and Suzuki won the Olympic spot by 0.73. Miki Ando, (who has already been selected for the Olympic team), was 4th.
Cathy and Chris Reed (ice dance) won the title and also get an Olympic place.
In the pairs, only Narumi Takahashi & Marvin Tran took part and they kept the title.
Men's SP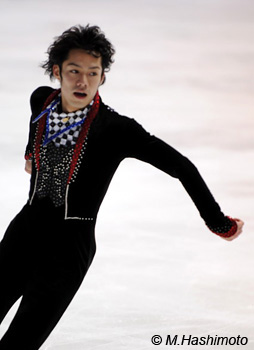 Takahashi skated an almost perfect performance and got 92.85. He included triple flip - triple toe combination, triple axel, triple lutz, along with two level 3 and one level 4 spins. The highlight of his short program was the circular step sequence, which was awarded level 4 plus 3.0 +GOE. Adding to this technical perfection he gained a high components score as well. He got 92.85 (51.20/41.65) for this performance.
Takahiko Kozuka was second with 80.54 (43.04/37.5). He stumbled on the landing of his opening triple axel and put his hand down during the straight line step sequence. Because of this hand down, he only got level 1 for his straight line step sequence, however his overall choreography has improved since the beginning of the season and the overall impression was not bad.
The defending champion, Oda, fell on the triple flip which was his first fall this season. Although he lost about 4 points with this fall, he picked up level 4 for all of his spins and level 3 for both step sequences. He got 79.60 (42.70/37.90).
The 2006 junior champion, Tatsuki Machida, gave a solid performance to place 4th. He seemed to struggle to improve after winning the national junior championships but all his jumps were solid and two of his spins were awarded level 4. The one thing he must work on was the level 1 circular step sequence, which needs more edge-work. His score 75.35 (42.60/32.75) was only 4.25 behind Oda.
The 2007 junior champion, Takahiko Mura, who has been suffering from a hernia since summer, gave a brilliant performance where he landed a very high triple axel to gain 74.85 (41.70/33.15).
Shigeyuki Koriyama who was 12th last year ranked 6th in the short program. His performance had great flow on the ice and he performed well to the music.
Nanri Yasuharu who had a hip- joint surgery came 7th with 68.88 (35.98/32.90). Only one skater tried the quadruple jump - Kensuke Nakaniwa who placed 8th. His polished performance was assisted by coach Kurt Browning. Two competitors from juniors, Keiji Takana who was 7th at the junior nationals and Junior Grand Prix finalist Kento Nakamura who came 9th and 10th respectively.
Junior champion Yuzuru Hanyu messed up a bit and finished 13th.
Men's FP
The overnight leader, Takahashi, won the free skate despite several mistakes. He fell on the opening quadruple toe loop, stepped out of the triple loop, stumbled on the triple lutz. All his spins got level 4, and both level 3 steps got a huge +GOE.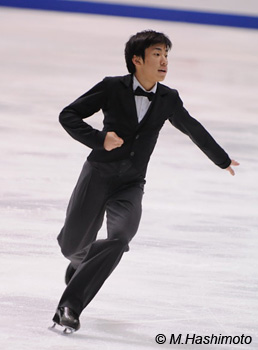 Thanks to the high PCS, he extended his lead over Oda to win the title. The score of the free skate was 168.28 (79.98/88.30) and the total score was 261.13. The audience was so excited when he appeared on ice and the excitement lasted until he disappeared backstage. His jumps still need more consistency, but he could potentially bring back a gold medal from Olympics.
He came to the interview zone without smiling and said, "I was not satisfied with today's performance. I didn't deserve to be a national champion with this kind of performance. For the Olympics I will train more and more. Maybe I will change some parts before the Olympics such as putting a triple axel in the later part of the program."
Oda also fell on the opening quadruple toe loop, but other than that he skated an almost perfect performance. The first triple axel in combination with triple toe had a problem on landing, but it didn't affect the rest of the program at all. The lovely Chaplin program regained its magnetic charm and his smile enchanted the audience. Since his quad was downgraded it was rewarded almost nothing, still he collected +GOE for all the elements except the missed quad so he got 85.00 for the elements score. He gained 164.70 (85.00/79.70) for the free skate and 244.30 in total.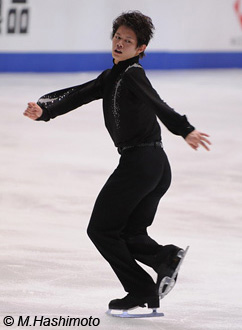 In contrast to Takahashi, he interviewed with a big smile on his face, as if he didn't lose the title: "I tried the quad which I've been aiming for this season. Even though I fell on the quad, I did everything after that. It meant a lot to me. I think I can benefit from this experience for the big games." Being asked what his goal for the Olympics was, he answered, "I want to land a quad at the Olympics because I have been working on it so long. My quad's improved a lot - I feel it is lighter in the air and the landings are stronger."
Kozuka decided not to put the quad in his program to aim for a perfect performance, though he had some mistakes on his jumps. He popped the attempted triple flip into double and also double axel into single. His straight line step sequence was level 1 which he hadn't expected at all because he went to the USA to brush up this part after the GP series. Still his skating skills were really amazing, so racked up 155.59 (75.89/79.70) for the free skate. His overall score was 236.13. "I was so nervous until I finished my performance, my legs kept shivering. I feel the Olympic season is so special. Maybe I could have landed all the jumps if it were not the Olympic season. I wanted to give my best performance."
Tatsuki Machida skated two solid programs to rank 4th. He scored 139.67 (70.77/68.90) for the free skate and 215.02 in total. His opening triple axel - triple toe loop combination was very big. He improved on his jumps but also his expression.
He said: "My personal best was over 190, so I was so happy because I scored over 200. I will continue skating setting a target to go to the Olympics."
Yuzuru Hanyu bounced back to 5th with a solid performance. He gained 137.23 for the free skate and 195.22 in total. He popped a triple lutz following a beautiful opening triple axel. The flip received a wrong edge call.
Yasuharu Nanri's performance moved the audience because they knew he had a hard time after surgery. When he finished his performance his coach burst into tears, which moved the audience. His score for the free skate was 132.13 (65.63/66.50), overall score 201.1.
Kento Nakamura skated an elegant program and placed 7th (188.39). Although his jumps were inconsistent, his expression stood out from the other skaters. Keiji Tanaka, 15 years old, was 8th (187.26). As this is his first senior nationals, this must be a satisfactory result.
According to the results, Daisuke Takahashi and Takahiko Kozuka qualified for the Olympic team.
Daisuke Takahashi
"I am really happy to be qualified for the Olympics but my performance today was not good enough as a champion. I want to use this as a springboard to show great skating in Vancouver."
Nobunari Oda
"Since it is the first experience for me to go to Olympics, everything there might be new. So I want to enjoy it and come back to Japan happy."
Takahiko Kozuka
"I don't have much time till the Olympics. Therefore, I want to make the most of every day."
Go to Part II