Medalist on Ice gala wraps up the Japanese Nationals
By Atsuko Kuryu
Photos © Munenori Hashimoto
With cheers and laughter the Medalist on Ice exhibition of the Japanese Nationals filled the arena with the happy audience; that is those lucky enough to get the hard to come by tickets. The gala was held on December 28th following the heated competition at the Namihaya Dome in Osaka, Japan. Sixteen skaters and two couples were selected to perform in this honorable show.
ACT I
After the joyful opening, Yukiko Fujisawa appeared on the ice and skated a fun cowgirl program: Cotton Eye Joe. In the first part she pretended to be a doll,
but then turned into a real cowgirl as the music changed tempo. Her spins were amazing as usual, and she looked lovely. This routine suited her age and amused the audience a lot.
Shoma Uno, 12 years old, was so cute in a tuxedo style costume. He skated to very popular jazz music: Fly Me to The Moon. This catchy music suited the youngster very well. When the music switched to The Saints Go Marchin' In, he took off his jacket and showed off an amazing step sequence which received loud cheers.
Haruka Imai, age 16, performed a more mature routine compared to the two previous skaters. The music was Somewhere and dressed in a bright pink costume her performance looked solid and relaxed, dignified for her age while maintaining good speed. Her spin was definitely something special to see.
One of the surprises on the evening was Kento Nakamura. His new exhibition program was passionate and romantic, expressing the spirit of the music with his whole body. Does he intend to follow in Stephane Lambiel's footsteps someday I wonder, cause I could sure hear the ohs and awes from the women in the crowd.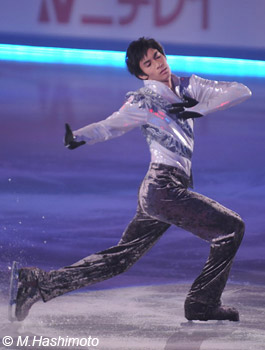 It seems like Kento has everything required of a male skater, he's the complete package!
Kanako Murakami, 15 years old, placed 5th in the ladies competition. She is a really brilliant skater; she has speed, consistency and appeal. People can't help smiling at her performance. Her routine to Miss Baltimore Crabs might have been a little too coquettish for her age, but she performed it very naturally.
The hope of Japan's next generation male skaters, Yuzuru Hanyu, has improved every time I've seen him. Although the jumps were not so good here, his harmony with music was outstanding. The music was a collaboration between rock and the Japanese traditional instrument samisen, and he expressed the spirit very well with his sharp and crisp movements.
Narumi Takahashi and Mervin Tran, the only Japanese pair, also showed huge improvement since last year. They finished second at the Junior Grand Prix Final in the beginning of December and will compete at the Junior World Championships. Their new exhibition program was a youthful routine with a beat. They skated in T-shirts and jeans and amused the people very much with their acrobatic technique and beautiful lifts.
Yasuharu Nanri is a rather shy young man off-ice, but his exhibition programs are often both playful and comical and make the audience laugh. This routine, a mix between Moonlight Sonata by Beethoven and a Japanese folk song is one of the most popular show programs among Japanese fans. They laughed and enjoyed this comical arrangement a lot.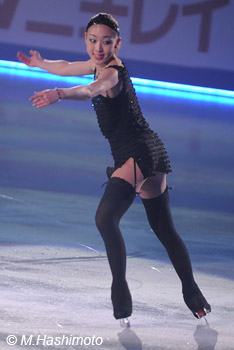 Hiding her disappointment over the 7th place finish under a saloon girl's mask, Fumie Suguri skated a glamorous program proving she's not only a skater but a great actress as well. The crowd really enjoyed her fun performance.
ACT II
After a 20 minute intermission the second act of the gala started with Tatsuki Machida. He's a member of the Four Continents team and seemed to improve his technique even during the show. He used a hat effectively to make his program entertaining. He also attempted a very high triple Axel as well as a quad in the show lights. Unfortunately he fell on both jumps, but still proved his potential enough to deserve the title of Japanese post Vancouver hopeful.
Yukari Nakano's Harem is one of the best show programs. Her elegant flow in the spiral sequence, her most beautiful spins and powerful but graceful steps; all you'd ask for in a top skater were there and then some. Once again, I couldn't help but feeling sorry that only three spots are allowed when the Japanese ladies field is so rich.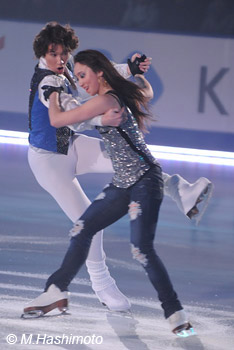 During Cathy and Chris Reed's playful program the audience laughed and cheered. Cathy was cool while Chris was a real comedian. I am sorry for all you folks overseas who don't have a chance to enjoy this entertaining program.
Takahiko Kozuka gradually reached the heart of the music during his performance to Closer by Ne-Yo, looking very hot and neat this time. We could enjoy his outstanding skating skills in this program, especially the hydro blading in the very beginning.
I once said that Requiem as a show program was a masterpiece when I reported about it in the Dreams on Ice show. I must mention it again because Miki Ando skated extremely well in this beautiful exhibition piece. You could see the real sorrow of a person in his/her grievous loss in the past. Great choreography, great performance.
Nobunari Oda's new exhibition program, Michel Jackson's Smile, was just as heartwarming and extraordinarily charming as his free program, or maybe even more so. Smile was also used in the Chaplin movie so Oda wore the same costume as in his free program. He even brought some elegance onto the ice, which he's seldom done before. I couldn't wait for the people overseas to see it because they will love it for sure.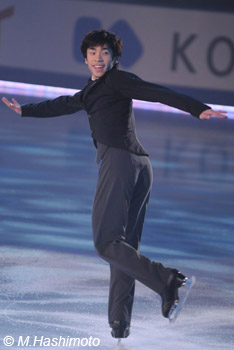 The crowd's favorite, Akiko Suzuki, was welcomed with warm applause. The audience loved her Caribe program. Her footwork was really fast and she kept the tempo to the crowd's delight. When she finished her performance she received big applause and a standing ovation.
At Daisuke Takahashi's mere appearance the audience exploded with even louder applause than for Akiko Suzuki. From the very first move he had the venue on fire. His routine, Luv Letter by DJ OKAWARI was a rather quiet and lyrical program for Takahashi, but he was still fabulicious and put his unique passion into it. His gift as an entertainer is superb and the audience was extremely excited about his performance.
More than anything people looked happy when Mao Asada took the ice. Her joyful Caprices showed how cute and adorable she really is. We didn't see this kind of delightfulness in her competitive programs this year so this exhibition program was a sort of relief for the fans. Free at last from the long anxiety over her slump in the last while, they truly enjoyed her wonderful skating and lovely performance with smiling faces.
All the skaters who qualified to the Olympic team had an encore where they showed highlights from their free programs. Then the Finale started with rather inspirational live music: Heal the world. Afterwards all the skaters danced together and skated around the rink waving to the audience. The music turned gospel and skaters and the audience alike enjoyed the beat. The 2009 Medalists on Ice finished in an upbeat mood which was perfect for the exhibition of the Japanese Nationals in this Olympic season. I and probably all the people there hoped every Olympic skater will do well in Vancouver.
I had a chance to talk with some of the junior skaters who competed in the senior Nationals and I asked them all the same three questions. Unfortunately, Kako Tomotaki and Yukiko Fujisawa were not there at that time.
How did you feel about your first senior national?
Keiji Tanaka (8th): Really nervous but I think I managed to skate well.
Ryuju Hino (18th): My performance was not bad, but I think I could have had a better result.
Fumiya Itai (20th): I was happy just to compete here, but I think I could have had a better performance.
Yoji Tuboi (25th after the SP): Although I didn't make it to the free skate, I was very happy to be here. I will do better next time.
Karen Kemanai (11th): I was not nervous. I'm satisfied with my performance.
What is your goal right now?
Keiji Tanaka: The Triple Axel!
Ryuju Hino: The Triple Axel.
Fumiya Itai: Consistent jumps.
Yoji Tuboi: I want to deal with the things at hand one by one.
Karen Kemanai: A triple-triple combination.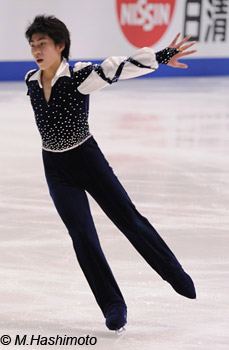 How do you feel about the Sochi Olympics?
Keiji Tanaka: I want to go there.
Ryuju Hino: I definitely want to go there.
Fumiya Itai: Nothing. I'm aiming for the Junior Worlds now.
Yoji Tuboi: Nothing at all.
Karen Kemanai: It's literally just a dream but I will do my best to get there.
Please remember the names of these young skaters because you will see them in the top of the international stage in the future.