Skate Canada 2010 - Day One
October 30, 2010
By Suzanne Herrmann
Photos © Suzanne Herrmann
A long day of competition began after arriving to the rink during the morning practices. The arena is a nice facility and Kingston a neat city—at least the part we are in. There are plenty of places to eat and shop (which is a great alternative to arena food!). There are countless cafes amongst the little street shops in walking distance to the arena. LuLu Lemon Athletica even had messages to the skaters written on little chalk boards above the clothing racks. This is a great event for the area!
History Lesson of the Day: Sir John A. MacDonald was the first prime minister of Canada. I read it on a sign on the way to Kingston!
The ladies competition was first up, starting around mid-day. The Canadian ladies put out a good showing today. There was a restart for Spaniard, Sonia Lafuente, after a hard fall caused by her toe-pick before she even hit an element. She skated around briefly and jumped a few single loops to make sure the knee she hit was ok. She went back out to center ice and skated a good program.
It was great to see Canadian, Cynthia Phaneuf, skate well—she puts a lot into her programs emotionally when she skates well. She skated through her jumps more confidently and took charge of the arena as she skated. Her overall presentation was strong and she finished in first place with 58.24 points, just ahead of
Ksenia Makarova, representing Russia, in second place with 57.90 points.
Ksenia came out and nailed her program. Her jumps looked effortless—even the triple toe-triple toe floated across the ice. While she had a moment where her spins slowed down too much, her spunk made up for it and the audience clapped along to her program. This girl is definitely someone to continue to watch out for.


In third place with 56.29 points was the new kid on the block, Agnes Zawadski, from the United States. She was first out of the gate and held her own out on the ice. She also nailed her jumps, including a triple toe-triple toe. She was lighthearted and confident and went out there to do her job. The difference with her compared to the top two is that she has not yet developed as strong an artistic component.
Alissa Czisny, also from the United States, was in fourth place with 55.95 points after a gorgeous program to a violin concerto with an amazing white dress. There definitely is a lot of talent in the field and it just was not present today.
Fumie Suguri, from Japan, also struggled a bit with her jump landings which held her back quite a bit and received a lower PCS score. She did fight for every landing which was a positive. Italian, Valentina Marchei, was held back after missing a great combination—but mustered the strength to pull off the first jump without falling, but then she suffered a freak fall in her footwork which I believe shoots the level down to a 1 and lost a lot of points.
Strangely enough, she was not the only one this evening with a footwork fall which is unusual to see. Swiss skater, Sarah Meier, was forced to withdraw due to injury but she remained in Kingston to watch the competition.
The next mid-day event was Pairs. It was interesting to watch a field of teams that are not at the top of the rankings. The young spitfire Russian team, Lubov Iliushechkina and Nodari Maisuradze, landed at the top of the leader board with 60.72 points after a fun and energy packed routine. While their spins were slightly out of unison at times, the rest of their program, including the twist and jumps were strong and spirited.
In second place with 56.34 points is the American team, Marisa Castelli and Simon Shnapir.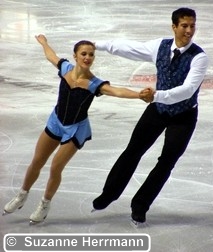 Their sharp choreography and strong elements was a surprise to a crowd that did not appear to be as familiar with the team. They attacked and did not leave the audience disappointed.
Less than a point behind with 56.14 points is Paige Lawrence and Rudi Swiegers, one of the Canadian teams. They skated a great program that was entertaining, but both had trouble with the landings of their side-by-side jumps.
Meagan Duhamel and Eric Radford, from Canada, skated a great program but Meagan doubled her intended triple side-by-side lutz which dropped them to fourth place with 54.80 points. For being together for a short period of time, they have come to be quite an effective team. (Last season Meagan still skated with Craig Buntin and Eric with Anne-Marie Giroux)
Canadians, Kristen Moore-Towers and Dylan Moscovitch, also deserve a shout-out. They are the replacements for Jessica Dubé and Bryce Davison and surely did not disappoint with their spunky program and finished in fifth place with 53.68 points.
The latter half of the competition began with the Men's short program. Japanese skater, Nobunari Oda, grabbed the first place position with 81.37 points with his superb choreography and amazing jumps—he just floats through the air and lands with such a soft and deep knee—it almost makes me think he will sit down but he glides on! His triple axel is so straight and so tight; it is phenomenal.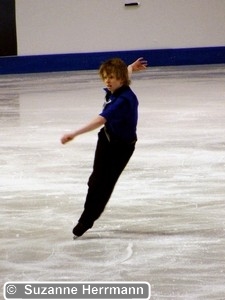 Sliding into second place just behind Nobu was Kevin Reynolds, from Canada, with 80.09 points. Kevin had the skate of his life landing two quads in the short — a friend told me that the Skate Bug commentators announced that he made history! He really was ON for every part of his program and the only thing keeping him out of first was that he has less experience at the senior international level and therefore has not developed his artistry to the same degree as Nobu has. Otherwise, it was a exceptional program.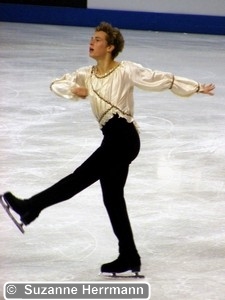 In third place with 77.53 points is Adam Rippon from the United States. He skated a flawless program complete with the hands overhead on his triple Lutz. He is so fluid and is in such control of his skating that I go into a zone when watching him. Liquid gold. It has been interesting to see the development of his triple Axel over the past couple of years. It is now so straight and tight he must feel good nailing it! No doubt this competition will be a race to the finish!
Canadian, Patrick Chan, did not obtain the result he was looking for and was visibly bothered by what happened in the program. His choreography is superb but he fell apart on two out of three of his jumping passes and had a freak fall in his footwork—he was enjoying the moment a little too much and appeared that he perhaps lost just enough focus. He is just over 4 points behind Adam with 73.20 points which some have mentioned seems a bit high. Personally, I do not think he should be as close in range to three skaters who skated flawlessly.
Alban Preaubert, from France, was entertaining as always but his score kept him in fifth place with 69.71 points. He skated very well and his jumps looked smoother than the last time I saw him skate last year.
Javier Fernandez from Spain and Paolo Bacchini from Italy deserve a mention. Both skated wonderful programs and put it all out there for the competition, holding nothing back. Paolo is back from an injury and looks smooth and strong. He finished in 10th place with 59.78 points. This was perhaps Javier's strongest program at the senior level and it was entertaining to boot. He somehow combines fantastic skating with a great sense of humor and really endears himself to the crowd. He finished in sixth place with 66.74 points—if he can maintain his position, it would be his highest-ever finish at the Senior Grand Prix level.
The Short Dance closed out the night. I am still trying to get used to saying "Short Dance." I really miss the Original Dance as it was my favorite and really enjoyed watching Compulsories so this might take a while to grow on me. While I do not feel the CDs suffered as much because there still has to be an entire pattern of a dance in the program—Golden Waltz this time—the other half I think did get short-changed. I would like to know what the skaters think.
As John Kerr said following the event, the top two teams are so close because he likes to keep it interesting (haha!). Actually, the event was great and Vanessa Crone and Paul Porier revved up the home crowd and skated an amazing program—their best I would have to say—and finished just barely in second place with 62.95 points. As the announcer said when the crowd was leaving the building, "Folks, it doesn't get much closer than that."


Sinead Kerr and John Kerr, from Great Britain, are in first by .01 of a point with 62.96 points. They applauded their competitors as they took the ice to the electrified crowd. Sinead and John used it to their advantage and had the crowd clapping along for a significant portion of Shut Up and Let Me Go, the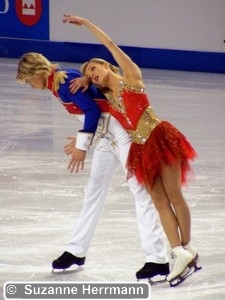 second half of their dance.
Both teams succeeded in their twizzles—Vanessa and Paul's coming later in the program and Sinead and John's taking a different look—John's position is unique and I thought was striking.
In third place with 54.43 points sits Pernelle Carron and Lloyd Jones from France. Madison Chock and Greg Zuerlein, from the United States, Alexandra Paul and Mitchell Islam from Canada and Rachel Tibbets and Colin Brubaker all danced beautifully and deserve a mention.
Tomorrow will surely be a day full of many more surprises as the results of three of the four disciplines will be decided! 'Til next time..