Skate Canada 2010 - Day Three
November 1, 2010
By Suzanne Herrmann
Photos © Suzanne Herrmann
Funny Fact of the day: Rudi Swiegers is hysterical. Couple him with Dylan Moscovitch and prepare to laugh your pants off. Stay tuned for exhibition practice for more (including photos!).
The final day of competition is always bittersweet. Of course all good things must come to an end. The day began slightly later with dance practice. I cannot say I blame people for sleeping in—there were significantly less people this morning. I made sure I was there by the time practice started with choice caffeinated beverage #1 of the day. I mostly watched but photographed a bit during the second group, namely Sinead and John Kerr as they are my sentimental favorites. Vanessa Crone and Paul Poirier have grown on me this weekend!
The Free Dance mixed up the Short Dance standings. Canadians Vanessa and Paul skated a flawless program to win the Free Dance and finish with the gold medal and a total of 154.42 points. Their skills have improved tremendously in the past couple of years and it shows. The Free Dance was choreographed by Christopher Dean and has taken the team to a new level of skating. While there is room for improvement, the dance was strong and well skated with passion and strength.
Finishing third in the Free Dance and second overall were the British team, Sinead and John Kerr with a total of 149.80 points. The dance was well-skated but it was not up to their best and there was a bobble in a lift. They did lose training time after Sinead injured her shoulder but I do not think it was noticeable. I even forgot until I was talking to John! Although they were hoping to finish in first, second is certainly a strong result and the team was well-received by the Canadian crowd.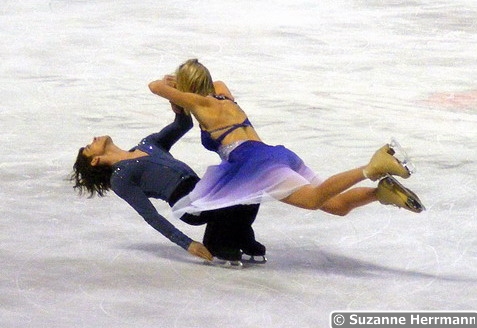 I would consider the bronze medalists a surprise though they certainly are deserving. A very strong team relatively new to the Senior rank, Americans Madison Chock and Greg Zuerlein finished fourth in both the Short Dance and Free Dance but moved up to third overall with a total of 139.05 points. Their Free Dance was fun, exciting and entertaining. Greg even added make-up to portray his character! The program was a take on Cabaret and honestly, the only thing I did not like was that the colors in Greg's costume did not match Madison's! I love the programs where the skaters can reach the audience in an entertaining way and not become IJS robots.
Fourth place finishers Alexandra Paul and Mitch Islam, from Canada, deserve a shout-out as their score for the Free Dance was second place and moved them
up from sixth to fourth overall with a total of 138.16 points. They are definitely a team to keep an eye on in the future.
I saw Mitch skate with Joanna Lenko when they competed at the Junior Grand Prix event in Lake Placid a handful of years ago. I was most impressed by Joanna and Mitch's twizzles. This was my first time seeing Mitch skate with Alexandra and I was not disappointed! The team has a great skating quality and a lot of potential.
The exhibition practice was definitely one of the most entertaining portions of the entire weekend. I will save that for next time… I am keeping you in suspense because I need to get some sleep!