A chat with the Swedes at the "Stockholm Ice" press conference
By Reut Golinsky
Photos © Reut Golinsky, EMJO
During the European Championships in Tallinn a small press conference was held in the official hotel to promote the upcoming Stockholm Ice show. Fashioned after the "World's Best on Ice" concept the show will be held in the Ericsson Globe arena in the Swedish capitol on April 2nd.
Star skaters like Evgeny Plushenko, St├ęphane Lambiel and Aljona Savchenko & Robin Szolkowy will perform along with some of the best Sweden has to offer, like Kristoffer Berntsson, Adrian Schultheiss, Viktoria Helgesson and Team Boomerang.
I attended this press conference and used the opportunity to catch up with the Swedish men and talk about the competition (Adrian finished 12th and Kristoffer 15th) and about their participation in the show, which was the main reason for the press conference.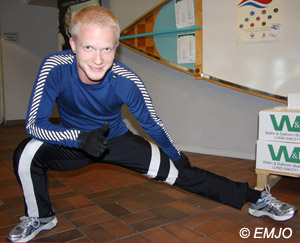 How do you feel about your performance in the competition?
Adrian: Me personally, I'm not happy with the results. But it's not something I can change now, so I need just to accept it and to learn from it. And sometime maybe it'll be my day. That's what I'm training for.
Kristoffer: I'm not happy at all. I skated one of my worst programs in a long time. But this is figure skating, and it's not so easy.
You both always have very interesting, creative programs that people remember no matter how you place.
Kristoffer: Personally I like to do something new, something different, I don't want to skate like everybody else. I try to be special, to do something extra.
Adrian: I agree that Sweden may be one of the most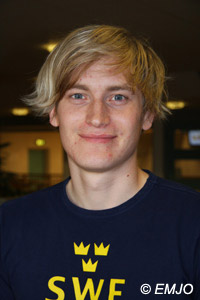 creative countries, using modern choreography.
Do you see yourself skating more in shows?
Adrian: Unfortunately we don't have many shows like this one in Sweden. Maybe we can go to other countries... Of course it would be interesting to participate in some other shows. I have to prepare for a new season too, but if it's not too much stress it might be really nice to do some exhibitions.

Kristoffer: Now I'm still at home a lot, I don't have to travel much, only to competitions. But if you participate in shows you need to travel all the time and tour, and that's not for me, not my kind of life. But of course once in a while, here and there it's fun; to participate in a big show is amazing. And this show will be a great experience for Sweden and Swedish figure skating. To fill up the Globe arena would be awesome, especially with all the great skaters coming.
During the press conference St├ęphane Lambiel was asked about the Swedish skaters. Swedish journalists even asked him to pick the one who should be sent to Vancouver.
"Adrian and Kristoffer are both great skaters," answered St├ęphane. "I love Kristoffer's style; he always pushes figure skating over to his side, to something interesting. He is creating a new atmosphere on the ice and I really like that. Adrian, I think, has great abilities on the ice; he is a strong guy with a great future ahead. He still needs to gain maturity on the ice but he already has good technical abilities to get to the top."
Being diplomatic and tactful as always, St├ęphane preferred not to make the decision for the Swedish Olympic Committee:"It's a very hard decision; I would love to send them both. They are both great skaters. And they are so different; one is really a skater with his own world, very interesting movements; the other one is strong and young and he wins... I don't want to make this decision!"
And of course he didn't have to. Two days later the decision was made by the Swedish Olympic Committee; Adrian Schultheiss was chosen to represent Sweden at the Vancouver Games. Some would agree, others not but that's the reality of sports; sometimes you win and sometimes you don't. I hold to what I told Kristoffer and Adrian at the end of our short conversation: Figure skating is not only about medals and places. What's important is that people notice and remember your programs. And this is for sure the case with the two of them.
We wish them lots of luck and encourage the Swedish audience to attend and enjoy the Stockholm Ice show on April 2nd.
For information and tickets