Japan Nationals 2010
Day 1 & 2
January 12, 2011
By Atsuko Kuryu
Photos © Munenori Hashimoto
A heated battle to secure spots for Worlds occurred at the Japan National Championships from December 25th to 27th in Nagano, Japan.
In the Men's field, Takahiko Kozuka won his first national title with a big margin, Nobunari Oda was second and Daisuke Takahashi third. Kozuka skated a flawless short program and had a relatively good free skate. He earned 251.93 in total. Oda, finishing third in both programs, had four falls in total. Takahashi bounced back to second with a high-spirited free program after finishing fourth with a weak short program. Yuzuru Hanyu, the reigning world junior champion, finished fourth overall. He showed a powerful short program which landed him in second place but couldn't keep the same power in the free program.
While in the Men's singles, three big favorites won their spots for the Tokyo Worlds in the natural course of the event, the ladies' field showed a more challenging contest. Miki Ando, who skated two solid performances and received a total score of 202.34, won her third national title. To every fan's relief, Mao finished first after beautiful short program and finished in second place overall after a second-place free program. She was nine points behind Ando with a total score of 193.69. Kanako Murakami was so energetic and eager to rise above Akiko Suzuki and won the last ticket for the 2011 World Championships. Murakami had only one major mistake in both programs while Suzuki had three. The reigning junior national champion, Risa Shoji placed fifth.
In Ice Dancing, Cathy Reed/Chris Reed won their fourth national title. Two teams competed in ice dance. The Reeds gained a total score of 127.71. The second couple, Emi Hirai/Taiyo Mizutani earned 95.88 points.
The only pairs team to represent Japan is Narumi Takahashi/Mervin Tran and consequently, they won the title. Even though they were only one pair, they were very solid and strong. They received a total score of 172.05 with two consistent programs.
Day 1
Pair's Short Program
Skating to the music Feeling Good, by Michael Buble, Narumi Takahashi/Mervin Tran showed their improvements from last year. Narumi popped her attempted triple Salchow into a double, which was the only mistake in short program. Their double twist was so high and the extension which Narumi showed at the lift was awesome. They earned 56.80 total points.
Men's Short Program
Kozuka, who has been noted for his outstanding skating skills, became an overnight leader because of a fabulous short program. He collected positive GOEs for all of his elements and gained almost the same program component score as Takahashi, which is very rare. His performance was not only solid, but he also showed great musicality, which moved the audience into giving him a standing ovation. His score was amazingly high at 87.91 points.
"I did 100% of what I intended to do in short program," Kozuka said afterwards. "I mentally demanded as much as I had two years ago when I had a very good result in the GP series. The only thing I want to do tomorrow is to skate as well as I did today."
The surprise in second was Yuzuru Hanyu. He clearly resolved to put his full power into the program. Performing a role of a swan along with the music of White Legend & Pyotr Tchaikovsky, arranged by Ikuko Kawai, he was so energetic and gorgeous. His triple Lutz received a wrong edge deduction, which was the only defect in this performance. He gained 78.94 for his effort. "I was surprised with my high score," noticed Hanyu happily. "I tried to pay as much attention to my expressions as the technical matters and it worked."
Oda failed on the first jump of an attempted quadruple toe loop- triple toe loop combination but recovered by putting a triple toe after his triple Lutz. Adding to the fall, his Lutz was regarded as a wrong edge take-off and again, he fell in the middle of his step sequence. In spite of these big mistakes, he remained in third place with a score of 77.48 points. He said, "I was in good shape. One thing I couldn't do was to win myself."
Disappointed and in fourth place was Takahashi, who made several technical mistakes. He seemed to lack something which usually makes him stand out. He stepped out on the landing of opening triple flip-triple toe and over-rotated his triple axel, and furthermore, his Lutz take-off called as a wrong edge. However, he played to the audience in his step sequence and overall performance, which earned him a standing ovation. He received a score of 74.78 points.
One of hopes in this event, Tatsuki Machida showed a good performance with only one mistake—a hand down on the landing of his triple Lutz. He finished in fifth place with a score of 73.75 points. He skated with amazing speed along to the fast music of Dark Eyes. Takahito Mura finished in sixth place with a small margin and Daisuke Murakami, who had successful Grand Prix season, finished in seventh.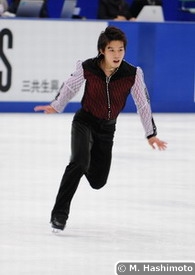 Day 2
Short Dance
There were only two teams in this field. Cathy Reed/Chris Reed, who recently changed coaches, skated an impressive short dance to the music of the Addams Family and led by big margin with 51.77 points. Skating to the music from the movie Howl's Moving Castle, Emi Hirai/Taiyo Mizutani showed improvement from last year and gained 37.28 points.
Ladies' Short Program
Mao Asada skated a wonderful short program without falling, which made most of the audience very happy. When she appeared on the ice, the crowed watched her every move with baited breath. Her triple Axel seemed to have a two-foot landing and the triple loop in combination with double loop was regarded as under-rotated.
Still, she skated a solid and beautiful program and became the leader of the day. This was the first performance for her to skate through without falling in this season.
At first, her coach Nobuo Sato didn't want her to try the triple axel because he thought it was too early for her to attempt it, but she insisted and he finally gave her free rein.
"I think I did show everything I am able to do now," noticed Asada right after her performance. "During my performance, I heard a big cheer from the audience and it pushed me a lot."
Miki Ando changed her short program after the Rostelecom Cup. She skated her new short to Broken Sorrow, Egyptian in the Night/Nuttin' But Stringz to perfection. Wearing a beautiful light pink costume, Ando looked so classy and graceful. Although her base value was not as high as Asada, she piled up a lot of +GOEs and followed Asada only by 1.46 points.
"To tell you the truth, I wanted to challenge with a triple-triple combination, but Nationals is the one event in which you can't make a mistake so I decided not to do it as my coach indicated," Miki said afterwards. "I think this was a good decision because I could skate very comfortably, but I really want to try it at the next chance".
Up and coming star, Kanako Murakami, finished third with a score of 61.52 points; 3.26 less than Ando. Her only mistake was popping an attempted double Axel to a single. Despite this mistake, her Jumping Jack program was energetic and fun to watch. "It's so frustrating that I popped my double axel. I think I thought of my mistakes during the practice. That's why I missed it," she explained.
The reigning national junior champion, Risa Shoji, showed a flawless and brilliant performance and finished in fourth place with a score of 58.22 points. Fumie Suguri finished in fifth place with an expressive performance and Yuki Nishino's relatively clean short program led her to sixth place.
To our surprise, Akiko Suzuki finished in seventh after the short program because her triple Lutz was downgraded. She lost almost four points with this mistake. "I felt like shrinking back and couldn't rotate fully. This is what Nationals means to every skater; it is where we want to show our best."
Pair's Free Program
Narumi Takahashi/Mervin Tran skated a clean program except for the first side-by-side double Salchow. They seemed to improve every time I saw them. They have constantly delivered a high-level performance and have gained a good amount of +GOEs for their execution of elements this season. They presented a good interpretation of the music, Julie Marcotte, and gained 115.25 points for the Free Skate. Their overall score was 172.05 points and they won their third consecutive title.
Men's Free Skate
None of top three skaters were at their best in the free skate.
Kozuka had two major jumping errors, but still the overall impression was great. Adding to his established skating skills, his jump landings seemed to improve a lot. He also received good recognition on his musicality. He also picked up level fours for all of his spins. The fall on the opening quadruple didn't affect his overall performance and he finally won his first title with a free program of 164.02 points and 251.93 points overall.
"I am really happy to win my first title of the National Championships," said Kozuka with a big smile after his victory. "Today's performance was not good at all, but still I could win, so I can evaluate myself this time."
Asking why he could make a breakthrough this year, he answered, "There are many aspects such as competing in the Olympics, training alone overseas, practicing with Mao Asada and so on."
Oda, not up to his usual standard, fell four times in total in this competition and finished third in both programs. He still
managed to finish in second overall. He also fell on the attempted quad just as Kozuka and Takahashi had, however, he collected himself to show a brilliant performance until he fell again on his triple Axel. He picked up 160.00 points for his free program and a total score of 237.48 points. This was his fourth silver medal in a major event this year.
"I really wanted to win because I had set the goal to win the national championship at the beginning of the season, so I am very frustrated," said Oda right after the competition was over. "I won four silver medals this season so I will work harder for the gold in the latter half of the season."
Takahashi was a real fighter. Despite his condition, he delivered fabulous performance. He had several problems on his jumps, but his power of expression and great skating skills helped him finish second in the free skate. He couldn't catch Oda—he missed him by just 0.69 points, but he still finished in third overall with 236.79 points.
"I'm very happy because I finally stood on the podium," Takahashi stated as he smiled with relief. "I felt like being driven into a corner after the short program, so I was relieved I could manage to stay in third. I was in bad shape, but now I know I can achieve a good result only if I could provide a strong motivation."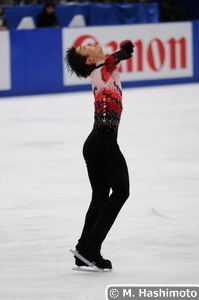 After finishing second in the short program, Hanyu seemed to cause a storm in this event. However, he lost his momentum in the Free Skate. He fell on the triple Axel and popped an attempted triple Salchow, so he lost the chance to go to his first World Championships. He still has great potential to vie for the top spot from now on, so we must watch him carefully.
Takahito Mura, showing balanced power and a solid performance, slid into fifth place. Machida, who won Nebelhorn Trophy earlier this season and regarded as a hope of the season, finished in sixth after a sequence of failures.
Daisuke Murakami skated a good free skate, but the fall on the attempted quadruple Salchow and the bad landing on the triple loop sent him to seventh place.
Yasuharu Nanri skated in his last nationals and showed an enchanting performance. After he finished his performance, he burst into tears and so did his coach. The audience gave him a standing ovation for his long-lasting contribution to men's figure skating in Japan. He had declared his retirement before the event. Nanri was twelfth overall, but no one cared about which rank he landed in.
It might be the last nationals for Kensuke Nakaniwa, but he didn't mention it clearly. In his program, he attempted a quadruple toe loop, which had been his trade mark, and landed it at last. If he claimed his retirement, the crowd would have admired him as much as they did Nanri.