Japan Nationals 2010
Day 3
January 13, 2011
By Yukiko Sawaguchi
Photos © Munenori Hashimoto
The Japanese Nationals, especially the ladies event, is known to everyone as the most competitive Nationals in the world. This is a legend that started at Christmas time in 2005, where each of the 6 skaters in the last group showed their best performance in the long program. This was the Olympic season, and with Torino in sight everyone skated with heart and mind to make no major mistakes in the climactic battle, which was later called "'the holy night miracle." At that time the last group consisted of: Olympic gold medalist, Shizuka Arakawa, World silver medalist, Fumie Suguri, World Champion Miki Ando, and Olympic silver medalist Mao Asada, Four Continent Champion Yukari Nakano (now retired) as well as Yoshie Onda (now retired). It was Fumie Suguri who ruled the event in 2005.
Since then, the tradition has remained the same. Every season, skaters are aiming to stand on the podium and offer this thrilling competition over Christmas, with unexpected drama, sometimes exploding with passion and joy on the ice, bringing tears to the crowd's eyes. The skaters say "It's the top game in Japan. We want to show our best."
Let's take a look how the ladies did this season.
Ladies single
Risa Shoji/The Lake House and The Cider House Rules
I still remember her brilliant performance in Beijing at the Grand Prix Final. Although she missed the podium then, she returned to her home country with pride. Also, Shoji won the National Junior Championships held a month ago, in her debut year in the junior circuit.
She looked very nervous before skating, but then she was on immediately after the audience's fanatic standing ovation for Mao Asada. But Risa stayed calm and executed a very clean free skate including a doubled Lutz (with an edge call), a double Axel-triple toe combination, a triple flip (under-rotated), a triple loop, a triple Lutz (under-rotated)-double toe combination, and from an Ina Bauer into a triple Salchow, and a triple toe-double toe - double toe combination. Despite some mistakes on the jumps, this fourteen-year-Tokyoite earned 107.60 points and was in 5th place in the long program, 6th overall.
It is quite rare to see such a young skater having five kinds of triple jumps with beautiful flow as well as elegant skating and flexibility. She has reached the level of the so called "total package" skater already. Adding to this, she has an excellent taste in costumes. The thing she should pursue is a triple Lutz with a correct edge. Risa won the Rookie Award 2010 and I am sure it won't do anyone any harm to remember her name as a possible future top skater. She will stand out on the senior stage sooner or later.
Interview by the host broadcaster
Risa: "I was a bit disappointed with my jump mistakes, I could have skated better. Because this is my first Nationals, I was so nervous at the beginning, but in the end I could enjoy skating very much. I want to be a skater that everyone remembers in spite of a few mistakes."
Shoko Ishikawa/Violin Concerto by Peter I. Tchaikovski
This 20-year old Tokyoite was once one of the would-be successors of the Golden Age (Ando/Asada/Nakano/Suzuki) and was expected to follow in their footsteps, but kept struggling on the senior stage. She opened her long program with a clean triple toe-triple toe combination (a triple toe-double toe combination was originally planned), a double Axel, a triple flip, a triple Salchow-double Axel combination, a triple Salchow and a double flip-double toe combination. The double Lutz was judged as a cheated edge. Shoko managed a very clean program in spite of the lack of speed,
While waiting for the score, Shoko told her coach Nobuo Sato (same coach as Mao Asada, and father of Yuka Sato) in the kiss n' cry that she had felt terrible at Nationals last year because she couldn't show her full capacity and couldn't skate the free program. This year, her brilliant performance received a standing ovation from the whole venue. Shoko got 100.59 points for her free program which put her 6 th, and she finished 9th overall with a score of 149.63, her season's best.
Kanako Murakami/Mask of Zorro
Kanako has done well in competitions so far this season. Surprisingly, this sixteen-year-old high school student finished third in the NHK Trophy, a higher placement than Mao Asada. She then won her first Grand Prix title at Skate America, and later grabbed the bronze medal at the Grand Prix Final in Beijing. Her results as well as media's attention towards her has skyrocketed, and her popularity has grown rapidly.
Skating to the Mask of Zorro, she opened with a big triple toe-triple toe combination (although the axis of the first triple was leaning), then landed a triple Lutz, a triple flip- double Axel sequence, a triple flip, a triple loop, a double Axel, an under-rotated triple Salchow- double loop-double loop combination including a well-centered layback spin from hair cutter to Biellmann and a beautifully positioned choreo-spiral. Her skating was very powerful as usual and rewarded with 126.02 points for her long program. Kanako remained 3rd in all segments and was also in 3rd place overall with a total score of 187.52.
Her triple Lutz had an edge problem as usual and I have some thoughts on Kanako's skating style. She should break the habit of the high-kicking entrance to the triple flips and Salchows, and abandon the hunched posture. But she secured a spot at the Worlds held in her home country in March.
Interview by the host broadcaster
Kanako: "I was surprised when I saw my score because it was much better than I expected. I tried to make no mistakes in previous events but couldn't, but this time I skated as perfectly as I planned, and I was so happy and quite satisfied with my performance. My coach said to me 'Wow, you did it' and she looked happy too. I think I could be a little better here since I skated in the final. I keep making efforts to improve my skating, and I want my fans to keep rooting for me. I've just finished my performance and the final results haven't come in yet. All I want to do right now is to rest."
Akiko Suzuki/Fiddler on the Roof
With a determined expression and beautiful calm smile on her face, Akiko started her long program with a triple Lutz followed by a double Axel-triple toe combination with a shaky landing (the triple toe was under-rotated), a triple loop, a doubled flip, a triple flip-double toe-double loop combination, a triple loop-double Axel sequence and a triple Salchow. Akiko got 119.10 points for her free skate and moved up from 7th in the short program to 4th overall with 175.96 points. She wasn't chosen for the World team.
Interview by the host broadcaster
Akiko: "I was not in perfect shape, but I was able to organize my long program almost as planned. I felt a bit awkward in my jumping compared to the condition in which I was in the early season, so I couldn't focus on my performance because of too many checking points as a whole. As I have experience from the fierce competition at the last Nationals, I thought there would be no pressure on me this season. But it didn't go as well as I expected; Nationals are always challenging. I will keep training hard to make my jumps more stable so I can afford to pay attention to details through the whole program."
Fumie Suguri/Song of Sheherazade & Bagoa's Dance
The TV commentator explained that Fumie competed in Nationals before the Junior National champion Shouji was even born. Fumie has won Nationals five times, and been a runner up four times, and won bronze twice. This veteran lady still keeps an eligible status at the age of 29. She landed a triple Lutz-double toe combination, a triple flip, but doubled a planned triple Salchow, landed a triple Lutz and a triple toe but doubled the flip. She also managed a double Axel-double Axel sequence. She earned 97.72 points, was in 9th in the long program and dropped from 5th to 7th place overall with 154.90. A miracle didn't happen again this night.
Mao Asada/Liebestraum by Franz Liszt
Reigning World Champion and Olympic silver medalist, as well as four-year consecutive National Champion, Mao has struggled with edge corrections, which she started in June. Needless to say, she has ended up with the worst results so far since she began competing in the senior circuit in 2005, the Torino Olympic season. Mao opened with an under-rotated triple Axel, a triple flip-double loop combination, a triple Lutz from the wrong edge, a double Axel-double toe-combination, a triple flip-double toe combination, a doubled Salchow and a triple loop. Her two-positions beautiful spirals were highly stretched and straight line steps were rewarded level 3 plus 1.10 GOE. All spins were rewarded level 4. Mao earned 127.47 points for the free program and was second overall with a score of 193.65. She was finally able to put almost all planned elements together for the first time this season, and grabbed a ticket to the Worlds held in Tokyo later this spring.
Interview by the host broadcaster
Mao: "When I fished skating the program I thought I had shown everything I can do now, so I am very satisfied right. After the 6 minutes of warm up, all I was thinking about was to do the same triple Axel I did yesterday. But I haven't reviewed the judges' scores yet, so I'm not sure how it was judged by the technical panel. Today I was so relieved when I finished. I feel I have become stronger by surpassing past obstacles. I took this last chance to qualify for the Worlds and it will lead me to upcoming competitions next year."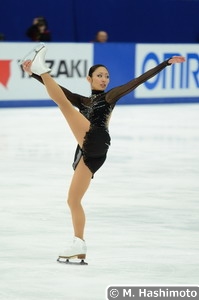 Miki Ando/Piano Concerto in a minor by Edward Grieg
Skating to Grieg's piano concerto, Miki landed all her planned jumps solidly, including a triple Lutz,-double loop combination, a triple loop, a double Axel-triple toe combination, a triple Lutz, a triple Salchow, a triple toe and a double Axel-double loop-double loop combination. She expressed her joy with a fist in the air. Apart from excluding the triple flip, this was definitely her best performance this season. Miki is well known for being a jumping genius, and she proved herself in front of the packed arena. She was rewarded level 4 for all three spins and got no negative GOE on her protocol. She collected 58.66 points as a base value for the technical elements, plus an additional 12.84 points of GOE with 66.08 of PCS. She won the National title with 202.34 points overall. In 2004 she won this event in the same venue, Nagano.
Interview by the host broadcaster
Miki: "I was very nervous and my feet didn't move as I wanted them to, so maybe it would be better if I had skated much faster. But I was satisfied that I could do both the short and the long programs without major mistakes in this important competition. I was much happier with the results here than in the Grand Prix Final. My focus is not on how many points I can earn but on how well I can perform. In that sense I feel very good. Because I was especially nervous today, I tried to calm myself down by watching the faces of my fans and my banners, so I could get myself under control. I don't think of myself as a strong skater, so I keep myself up through this."