Japan Nationals 2010
Day 4
January 14, 2011
By Yukiko Sawaguchi
Photos © Munenori Hashimoto
Japan Figure Skating Championships 2010/Medalist on ice 2010
Medalist on ice 2010 took place on December 27th. It is a great honor for skaters to perform their exhibition programs at this show. Only these skaters who represent Team Japan on junior and senior levels and have reached top 4 in each event at the nationals are invited to perform there. It is also an event that always reminds the figure skating fans that it's the end of the year.
At the end of the Day 3 event teams who will be representing Japan were officially announced as follows:
Team Senior Worlds
Men: Takahiko Kozuka / Nobunari Oda / Daisuke Takahashi Substitutes: Yuzuru Hanyu / Takahito Mura
Ladies: Miki Ando / Mao Asada / Kanako Murakami Substitutes: Akiko Suzuki / Fumie Suguri
Pairs : Narumi Takahashi / Marvin Tran
Ice Dance: Cathy Reed / Chris Reed
Team Junior Worlds
Men: Kento Nakamura/ Keiji Takana/ Ryuichi Kihara Substitutes: Ryuju Hino / Takuya Kondo
Ladies: Risa Shoji/ Yuki Nishino /Miyabi Oba Substitutes: Kana Muramoto / Kako Tomotaki
Pair: Narumi Takahashi / Marvin Tran
Ice Dance: Misato Komatsubara / Shin Mizutani
Team Four Continents Figure Skating Championship
Men: Men: Takahiko Kozuka / Daisuke Takahashi / Yuzuru Hanyu Substitutes: Takahito Mura / Tatsuki Machida
Ladies: Miki Ando / Mao Asada / Akiko Suzuki Substitutes: Fumie Suguri / Haruka Imai
Universiade Winter Games
Men: Nobunari Oda / Daisuke Murakami
Ladies: Shoko Ishikawa / Sion Kokubun
Ice Dance: Emi Hirai / Taiyo Mizutani
Highlights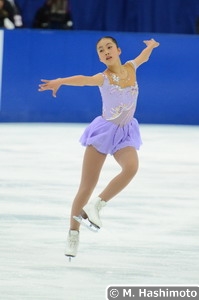 Risa Shouji / 5.6.7.8
She opened with a triple Salchow, skating to up-tempo cowboy music and showing off the perky side of her. The program also included an elegant layback spin, a triple toe and a double Axel. Although this is only the first year that she's competing in the Junior Grand Prix Series, she demonstrated her capacity very well, missing the bronze medal only by a small margin in the final held in Beijing. But at the junior nationals following the Grand Prix Final she proudly lived up to the expectations of the fans and the coaches, winning the title of Japanese Junior Champion at her first attempt. The 14-year-old Tokyoite skater has a very elegant and graceful skating style and good physical movements as well as stable jumps and good flexibility – all of which you wouldn't usually expect from a young skater. Risa will be competing at the Junior Worlds.
Akiko Suzuki / Harlem
In my opinion the most passionate skater at the national ladies' singles competition was undoubtedly Akiko.
She is second to none in expressing the joy she feels when she's skating. It may be because of the fact that it took her two years to recover from anorexia and she knows how bitter life is when you can't skate. Akiko appeared in a sexy belly dance costume with a big red scarf. She charmed the audience with a triple Lutz and her spiral. Movements of belly dance were also incorporated into her program. This season she didn't get into Team Japan, but she will be skating at the Four Continents Figure Skating Championships.
Yuzuru Hanyu / Vertigo
The reigning Junior World Champion Yuzuru looked like he had a great time skating to the contemporary music of U2, showing us a triple toe, a beautiful Ina Bauer, a triple Salchow and a Biellmann spin rarely done by male skaters. He usually chooses beautiful classical music for his competition programs, but the brisk choreography of this exhibition program highlighted the versatility of this 15-year-old high school student.
Cathy Leed/Chis Leed / Meditation de Thais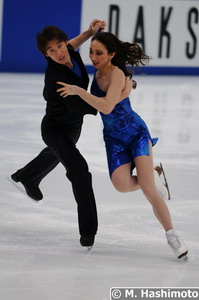 Only two couples of ice dancers competed at the nationals and only the Leeds will be able to compete on the international senior level and have a chance to qualify for the Olympics. They have won the national title four years in a row. They left coach Morozov after Skate America this season and moved on to an Israeli Galit Chait, who is based in New Jersey. They changed their free dance program only a week ago. It is a little bit ironic that Morozov is known for having his single skaters bounce back from setbacks, but so far he has never succeeded with ice dancers, although he himself used to be an ice dancer as well. It seemed to me that technically they had improved. Their edges, transitions and basic skating skill were better than last season. They skated to very challenging but traditional and elegant music and stood out with it. One thing they could work on a bit more are Cathy's movements in the lift, especially in the curve lift. It looked a bit rough compared to the top ice dancers in the world. However, the ice dance tradition doesn't have a very long history in Japan and it isn't very widespread, so they are the only hope we have right now. Miracles hardly ever happen in ice dance, but practice makes perfect. So we hope they will move up to the next level little by little under the new coach.
Narumi Takahashi / Marvin Tran I will survive
It's always fun to see this young pair skating their cheerful and dynamic routine. You can't help but feel very uplifted every time you see their performance. Although their twist lifts are still double in the competitions as well, their skating was full of speed and their beautifully positioned lifts were good enough to excite the audience. They themselves also say that they have a lot of room to grow. But they have improved nicely this season. Narumi is endowed with wonderful athletic capability and flexibility, so her body stretches and rotates with ease, making their lifts and spirals spectacular. They will be competing at both Junior and Senior Worlds.
Kanako Murakami / Be Italian
She says she wants to skate to this music in a very sexy way. It was not as sexy as she said it would be, but she made an eye-catching entrance using a stool and a tambourine as props. Skating to Fagie's hit tune, her program included a triple flip, a triple Salchow-double loop-double loop combination as well as a triple toe and she showed powerful skating speed and good edges.
Daisuke Takahashi / La Valse D'Amelie
This is exhibition program choreographed by Stéphane Lambiel is already familiar to us. Needless to say, Daisuke is one of the best skaters in the world. He has everything a skater can desire – great skating skills, deep edges, stable jumps and the quad. However, the fans argue about the pros and cons of this program. The program looked very mellow and smooth, but at the same time it is very challenging and includes very difficult elements, such as a difficult entrance from loop turns to a triple flip and a triple Axel with a short entrance. This program might leave you with the impression as if a once powerful flame is going out slowly. The program is very tranquil and it seemed to me that this image reflects his career as a figure skater. Takahashi has mentioned in an interview that he intentionally asked Stéphane to incorporate loads of Lambiel's signature moves into the program. It may be that he just wanted to use these Lambiel-like step sequences and movements that seem to be free from all the rules but at the same time don't actually violate the rules.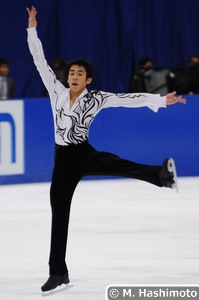 Nobunari Oda / I could have danced all night jazz version 3
In Nagano he finally did a clean and solid program. This was undoubtedly the best exhibition program performance of the night so far. He skated to the beat of the modern jazz version of 'My Fair Lady', delivering a fun and smooth program full of difficult elements, including a triple loop, from turn into the entrance of a triple Axel in the sequence, a split jump, an Ina Bauer, a Klimkin eagle and well-positioned spins. The deep edges of his steps on one foot are a must-see. This fancy program is like a jewel box embellished with the glitter of his style. Last but not least I want to add that his new costume, which was made up of a golden shirt, a purple tie, a black vest and pants, was also glittering.
Mao Asada / Ballade a piece 23 of Chopin
The theme of this program is said to be a ballerina practicing her routine in a lesson. To reflect that image, Mao appeared in a white costume like a ballerina, demonstrating breathtaking forward and backward spirals, a triple flip, a triple loop, a huge spread eagle, split jumps and a Biellmann spin. She made only one mistake when she singled an intended double Axel, but she later made up for it by trying it once again. This program consists of very simple and typical figure skating elements, which Mao manages to execute very well, making the program look elegant and beautiful.
Guest skater: Stéphane Lambiel
Lambiel / La traviata
Lambiel has his very own style. Skating to La Traviata, he recreated the lively excitement of the Vancouver Olympics to the Japanese audience. He started with a huge triple, which I thought was a quad attempt, and carried on with a triple flip, a triple toe and a double Axel. He doesn't let the difficultly of the jumps to ruin the atmosphere of his skating and the world that he creates around him on the ice. The audience of ladies seemed to appreciate his performance. He is called the 'Prince on the ice' everywhere in the world.
Takahiko Kozuka / Free fallin' by J. Mayer
I guess no one opposes to the fact that the skating skills of Kozuka are amongst the best in the world. They can possibly be even better than the skating skills of Takahashi, but it has been said that Kozuka lacks the ability to express his passion or emotions on the ice. It seems that he has tackled this problem and has tried to improve. The first part of his program didn't include any jumps and it may have been the best part of his program. We were able to fully enjoy the beauty of his skating and his smooth edges. Skating comfortably to contemporary music, he performed a very mellow program that included a triple Lutz, a triple Salchow (he stepped out of it), a double Axel, circular steps and breathtaking spread eagles with both in-edge and out- edge one after another, which I think are the best in Japan. It was the first time he won the national title. His Olympian father, Tsuguhiko Kozuka, was also once a national champion.
Miki Ando / Why do people fall in love
Skating to slow and graceful music, Miki left us speechless with her beautiful feminine program, one which teenagers would never be able to do to. We couldn't take our eyes off of Miki as she showed us such elements as a double Axel, a triple toe, great spirals, a triple Salchow and a feminine lay back spin in a serial sequence. Maybe I'm wrong, but I think she even had tears in her eyes.
Interview in the press conference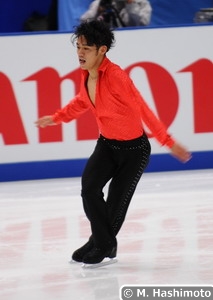 Daisuke Takahashi
I was glad I grabbed the last spot. When the SP was finished, I thought it will be difficult to move up to top 3 but that I can try to skate a very dense FP. My fighting spirit didn't leave me, which I was very happy about. I was able to get a ticket to the Worlds thanks to the support of the audience. I don't know yet what will happen after the Worlds. (He implied that he may leave eligible status after that, so Tokyo Worlds may be his last competition.) If I would have to skate in the qualifying round, I would skate thinking that it is a practice and not a real competition. I also appreciate that the Japan Skating Federation will send me to other competition in-between, so I can improve my condition for the Worlds. Before 4CC, I will go to the US to change my free program. I want to complete the free program by the Worlds. I also feel a bit uneasy that there was a big gap in the Technical Element Segment. I will keep practicing until the Worlds. I never felt leadership in Team Japan despite my age. Four years ago I couldn't get over the nerves of skating in front of the home audience, but I will do it this time.
Nobunari Oda
When I represented team Japan the last time, I was able to meet a lot of athletes from different sports and I became friends with them. This is a very good memory. That's why I asked the Federation to send me to the Universiade. My goal for the Worlds is to stand on the podium, if possible. (When asked to tell about the best and the worst memory from the Worlds:) The best memory is from my first Worlds in Calgary and the worst one would have to be Turin 2010 because I couldn't proceed into the long program. (When asked what he needs to do in order to medal at the Worlds:) I guess it is essential to increase my PCS and to make the program a bit better balanced. I also have work on my steps and spins. Since I am a bit better at spins than at steps, steps will need special attention. I invited Sebastien to Japan and altered the straight line step sequence before the nationals. I wanted to get at least level 3. But I think my edge was not deep enough to be awarded with 3, so I guess that's way I only got level 2. To qualify for the Worlds was one of the goals I set for this season, so I'm glad I made it. Having a family helps me to gain power.
Takahiko Kozuka
After having some time to sleep on it, I'm slowly starting to realize that I actually became a national champion. I was so glad to have a group of over 100 supporters from my company Toyota. After the free skate I was congratulated by the people of Toyota. I felt like I could return the favor for the support I received from my company. Yesterday when all the competitions were finished and I and my training partner Mao were chosen for Team Worlds and my other training partners skated very well (Shoko Ishikawa/ Haruna Suzuki) as well, Team Sato had a small celebration gathering. My coach showcased wide knowledge of proverbs there. Some of these sounded like they could be very useful when you want to stay calm before the
competition, but unfortunately I have forgotten all of them.
Kanako Murakami
Before the season I never imagined I would be here, but I am beginning to realize that I will compete at the Worlds held in Japan. I think I can grow by competing on the senior level. I won't rest at all until the Worlds. I want to focus on the current program and elements, so we are not thinking about changing the program. My main focus is not to make any mistakes and to skate consistently through the program. (When asked about being exposed in the media and whether it bothered her or not) Not at all. Now many people walk up to me to say hello or wish me good luck and this I where I get my power from.
Mao Asada
I feel so relieved. I think the fact that I decided to include only one triple Axel helped me to stand on the podium. When we were sitting together in the Kiss & Cry after my free program, my coach Nobuo Sato told me that there is an old proverb in Japanese that says that if you hunt two rabbits at the same time, you won't catch either of them. But I will try to catch 3 rabbits at one time at the Worlds (meaning that she plans to include one triple Axel in the short program and two in the long program). There have been some ups and downs, but I felt I finally got over the huge mound ahead of me and my jumps are becoming more consistent. I won't let myself loose until the Worlds and I will show a better performance there than here at the nationals. Last season was an Olympic season and the toughest one for me yet. After taking some rest I started the new season fresh under a new coach. (When asked how she feels about the fact that her lifelong rival Yu-Na Kim is also going to compete at the Worlds:) I focus only on my own programs and my planned elements and try not to make mistakes.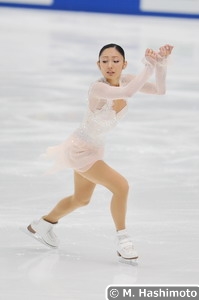 Miki Ando
These are the second Worlds that will be held in my home country, so I am very glad that I'm able to skate in front of home crowds. My goal for the Worlds is to stand on the podium. But my motto will always be the same: to follow my own heart and feelings when skating. In the end it doesn't matter how many points I could have earned. During this year I will get some rest and I will perform at some ice show (Stars on Ice) in various cities. (When asked why she threw her fists in the air after the long program) I was so satisfied that I had executed all the planned elements, especially the five consecutive jumps, including a double toe-triple toe combination. So it was unconscious, I was so embarrassed when I saw myself doing that on the big screen.
Takahashi/Tran
We are going to try our best and I promise we'll show our best skating in front of the Japanese audience.
Interview with Nobuo Sato
Comments about Mao Asada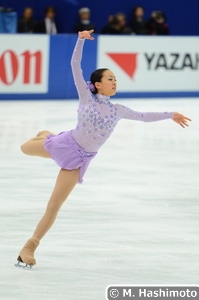 Mao did a great job. It was much better than I expected. After the two competitions in the Grand Prix Series she could finally get control of her body movements again. I was utterly astonished by her decision and her performance. She has the guts to face any kind of challenges. I was left speechless. When she asked my permission to do a triple Axel for the short program after a six-minute warm-up, I didn't want to let her do it. And I still believe that I should say no and not let her do the triple Axel. But this time I thought I'd better give in if it gives her any confidence to know I support her decision. Other coaches may have been surprised by what I made her do and wondered why I did it. We had a bitter experience with Yukari Nakano (also triple-axeler, who retired last season when she didn't make it to the Olympics. She was chosen for Team Worlds, but withdrew in the end.). We placed more importance on the results and discouraged her from doing the triple Axel, which killed her fighting spirit. This time we left the decision up to Mao to get her fired up. As for the long program, we had agreed to do just one triple Axel. The Grand Prix Final might have been a turning point. When I came back from China, I noticed Mao got better and she landed triple Axels with high ratio. It's been half a year since she started with edge correction of the Lutz jump with Coach Nagakubo. But now we have held back and haven't worked on the edge correction anymore. This period of half a year is really important. Although we still have a lot to improve, I am amazed by her performance at the nationals. Now she can do everything she wants to do. It's brilliant. We will pursue a much higher goal, which will give her confidence.
Comments about Takahiko Kozuka
I don't think his skating has improved or changed, but he gained physical strength before the season. Besides, he got mentally stronger. It may be because he spent some time in Canada to practice on his own this year. This plan was not set up by anybody else, he was willing to organize the trip and stay there by himself. I suppose it was also hard for him because it was his first time to do everything by himself. He told me that he used rollerblades for training during the stay. These experiences and the fact that he had to stay away from his family made him much more independent and brought him mental stability, which helps him to stay calm even in competitions.
Comments by Kumiko Sato
All the students of our team skated so well, which I was very proud of. We are lucky enough to have an Olympic gold medalist Shizuka Arakawa as a great role model. I am not coaching Mao myself; I'm just helping my husband. Triple-triple combination receives a lower priority for a while. As for the triple Axel, Mao is very stubborn and she'll never give up the triple Axel. We don't have a long relationship with Mao, so if we have different opinions, we try to compromise with each other. My husband is always praising Mao. We have known Taka for a long time, so we know what he thinks. We are not afraid to be frank with him, but with Mao we still hesitate sometimes. Taka sees how we treat her and he is a bit jealous of Mao and constantly says: "You two treat Mao like your grandchild while you are very strict with me". This season has already started, so we don't push our students too much. If there is one thing we want to avoid, it's injury. We definitely don't want any injuries!