The 2010 Swedish Nationals
Part I
January 23, 2011
By Magdalena Osborne and EMJO
Photos © EMJO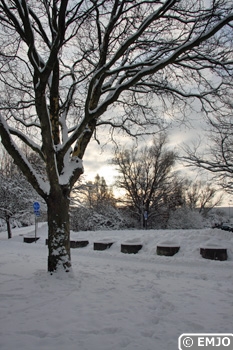 If anyone thought they'd go to southern Sweden to escape the snow and cold, they were sadly mistaken. Malmö displayed a Christmas wonderland, but also a snow blizzard and temperatures more traditionally found up north. But none of this stopped the Swedish Nationals from coming to town. Skaters, coaches and officials from all around the country gathered for the competition, along with a growing number of people in the audience as the competition progressed.
The event kicked off with a press conference held at the arena, where eleven members of the media had gathered. Ten of them were men; number eleven was Absolute Skating photographer/reporter EMJO. Several officials from the Swedish Figure Skating Association were introduced and took turns reporting about the status of figure skating in Sweden. So far this season the Swedish team has collected 7 medals, an accomplishment that has taken ten years. The goal is now to medal in Sochi in 2014.
At Nationals 104 skaters would participate during the four days of competition, accompanied by 56 coaches from 36 clubs.
Figure skating ranks in the top 10 of the most popular sports in the country and the Stockholm Ice show last spring was a huge success that hopefully will be repeated this year on April 2nd. The press listened and then voiced a wish that a show like that is put on at the new Malmö Arena. EMJO asked why there is no Nationals gala and was told by Ann-Christiné Karlsson, President of the Malmö Skating Club, that a gala is a matter of finances. Besides the adjustments of the rink, more skaters would have to stay on until the end of the competition.
Carina Skoog, the Elite Sports Manager, explained that the team for Europeans (2 men and 1 lady) would be determined not just by the results at Nationals, but according to the overall performance this season. Of course the biggest excitement of the competition would be which two of the three top men, Kristoffer Berntsson, Adrian Schultheiss and Alexander Majorov, would claim those spots. According to the ranking points Alexander was in the lead, which rendered him the biggest interest from the journalists present. Adrian was also there but not Kristoffer, who was delayed due to the bad weather.
In the ladies' discipline it was pretty much assumed that the spot would go to Viktoria Helgesson, although she had both her younger sister Joshi and Linnea Mellgren breathing down her neck, hungry for that one ticket to Bern. All three ladies were present at the press conference, as well as Malin Magnusson, a local favorite. Markus Björk, a talented junior skater from Malmö, was also there.
Senior men
The men's competition had us sitting on the edge of our seats. EMJO had watched the practice sessions and reported that Alexander looked his very best on the ice; strong and solid. But 9 senior men entered and several deserve to be mentioned. Michael Neuman from the Lidingö club skated a short program to the Addams family theme. The choreography was well planned and this young man has a knack for artistry. His long program was to Händel's Sarabande, and again Michael lived his program. The audience clapped along and cheered for his hydroblading and well executed triple Lutz-double toe combination. He finished in fourth place overall.
Anton Truvé from Stockholm rocked the arena with his entertaining short program. His free program was Cha Cha and he wore something neon orange that definitely brightened up the ice. Besides a triple Salchow, his jumps were not on his side during this performance. Too bad, because the opening triple flip was huge.
Luleå's golden boy Alexander Majorov went into this competition with a lot of confidence and rightfully so after a great se ason so far. The audience cheered loudly as he entered the ice and started his Austin Powers short program which included a great death-drop to camel-spin. Alexander has speed like few others and a high entertainment factor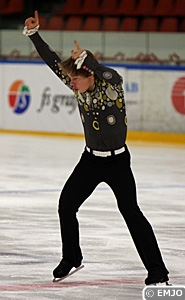 with great mimic. This could have been overall great had it not been for the failed jump elements. The triple Axel was not fully rotated and the combination turned into a single Lutz-triple toe. A triple flip became his best jump almost reaching its base value. When the program was over he quickly exited the ice but his little fans didn't seem to care how he had done. They kept passing him programs and pieces of papers to sign as he sat waiting in the kiss n' cry, which made coach Alexander senior chuckle.
The long program was very much better; Alexander took a fall on the opening triple Axel, but then went on to nail a triple Lutz-triple toe combination and most other jumps. Two combination spins earned level 4, and although the step sequences were only rated at levels 1 and 2, he gained extra GOE on both, not least because of the incredible speed. Overall this was really good and Alexander redeemed himself big time. Unfortunately it couldn't make up for the lost technical points in the short program. He was only 0.07 points behind Adrian in the free skate and actually had the highest technical score of the bunch, but still only placed third overall. Of course he was disappointed and many with him.
Adrian Schultheiss from Göteborg also had a lot of support from the audience. His Scuba short program went well, including a gorgeous triple Lutz-triple toe combination, a buttspin and some fun dancey moves. He earned 69.67 points compared to Alexander's 57.71 and placed second after the short program. Although Adrian has proved to be a very versatile skater who can own any music
genre, I never thought I'd see him do Romeo and Juliet. But he did, and he did it well! He attempted a quad toe, the only one in the competition, but fell. The triple Axel was beautiful and seemed effortless. Adrian lands his jumps very lightly and didn't seem to tire; a triple Lutz-double toe-double toe combination was executed near the end of the program. It was the kind of program and presentation that makes one proud to be a Swede, but Adrian wanted more and was not very happy. A total of 198.87 gave him a silver medal. Not what he had aimed for but he was asked to find something good in it all:
I was happy going into the competition, and I stayed happy. The future is bright!
Would you rather go to Euros or Worlds?
To both of course!
Kristoffer Berntsson proved once again who is the King of Swedish skating, and earned his ninth national title in the process. His short program was entertaining although not perfect: triple Axel, triple Lutz-triple toe and a step out of the triple loop. Still, good enough to put him in first place with 71.95 points. His Michael Jackson medley free skate was immensely popular with the audience who clapped along and loved the moves. The program included beautiful solo jumps like the Lutz, flip, loop and Salchow. The combinations were less successful with under-rotation, hands down and step-out. The circular steps earned level 4 + extra GOE. It's always a pleasure to watch Kristoffer even if this wasn't his best performance ever. His choreography seldom leaves much more to wish for, but in this case parts of the program seemed a bit empty with long preparations for jumps and not enough Michael Jackson. But Kristoffer did win and commented that this win was special to him since he almost quit after last season. Now he's glad he decided to stay on and so are we! His total score was a whopping 205.05!
The final standing was Kristoffer, Adrian and Alexander, in that order. But it was still up in the air who would be on the Euros team, and Alexander still had the highest ranking. The decision came the next day when the Swedish Figure Skating announced on their website that Kristoffer and Adrian would represent Sweden in Bern at the 2011 European Championships. Although the press release gave the impression that the decision was made solely on the results from Nationals, Carina Skoog assured me on the phone that this was not the case. The elite committee had considered the wider picture and assessed who would have a better chance at Europeans, judging from recent competition scores. Alexander would compete at Junior Worlds and the World team would be decided at the Nordics in February, meaning that the battle between these three talented men is not over yet, but to be continued!
Of course there was more to Nationals than the senior men. Let's recap the
Senior ladies
While watching it was obvious that there's a lot of talent here; some already in the top and others preparing to get there. There were 12 ladies competing, among them Malin Magnusson from the local Malmö club. She had strong support from the audience and was cheered on loudly. Malin has nice spins but singled the Axel and the Salchow and under-rotated the combination. The low technical score put her in fourth place after the short program, and she remained there after her Firedance free skate as well. She still had a few problems with the jumps, but managed a very pretty triple toe-double toe combination and double Axel. The choreography was great and had Salome Brunner written all over it and Malin; we want to see more of you!
The top three looked like many had predicted. Viktoria Helgesson won her fifth Nationals (and will go to Europeans), followed by her sister Joshi and by Linnea Mellgren in the bronze position. Viktoria skated to Puccini music performed by Vanessa Mae. The
opening combination rendered virtually no points; the triple loop and double Axel that followed were much, much better. The performance was pretty, like anything Viktoria does, but with few surprises. The high level spins were beautifully executed and Viktoria collected 52.42 points. The free skate (to classical music) started with a fall on the Lutz, but a strong comeback offered several high points like a text book triple loop and camel spin. (Yes, I'm a sucker for good camels that aren't painfully slow and/or wobbly.) Viktoria also maintained good speed through her step sequence; it was definitely a high point of the program. There's no doubt this girl has a lot going for her. She beat her previous personal best score; it would just be nice to see her take a chance on some other type of music and show that she is good for so much more than classical and pretty. After the competition she commented:
My short program was the best I've ever done. I missed the flip, but other than that… well, there's always more to work on. But it's been a great competition. Now I need to polish both my programs for Europeans. I'm not planning on changing anything in the choreography; unless something would give me more points, then you never know…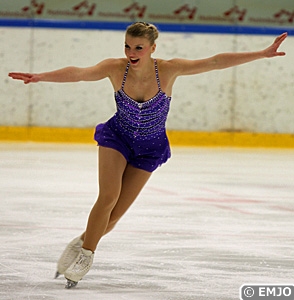 Joshi Helgesson is a breath of fresh air with a high spunk factor on the ice. She has the speed and the energy and goes all out, like nailing the opening triple Lutz in combination with a double toe. Then she took an unnecessary fall on a triple toe but managed the double Axel and got a higher element score than her sister. Sarabande has rarely radiated so much joy of skating! The long program offered more entertainment and joy. The first triple Lutz went without a hitch as did the triple loop, and the spins and steps all got awarded extra GOE points. An interesting tidbit is that Joshi got some choreographing help from Stanick Jeanette, a former French elite skater. Joshi was third after the short program, but second in the free skating and finished second overall:
I missed the toe, but other than that it was ok. I've had a cold and don't feel so great.
Are you going to Worlds where Sweden has two spots?
I don't know yet, but it would be great. I might add the flip to the program. I have it, but it's not perfect right now. I'm willing to try though!
The third top lady was Linnea Mellgren, a 21-year old from the Enköping skating club, who unfortunately often falls a bit in the shadow of the well known Helgesson sisters. But she can certainly hold her own, she got bronze at the Merano Cup (well, ok, Viktoria won there) and she manages to do what the others don't: a triple-triple combination. She did it in the short program and managed the other jumps as well and was in second place. Linnea has speed and some different moves that make her stick out. The long Titanic program started with the same triple toe-triple toe combination. It was slightly under-rotated and she stepped out of the triple flip, and doubled the Salchow and loop. But she also collected good points on her beautiful spins and steps, and executed no less than three jumping elements after the two minute mark. Good girl!
I've worked really hard on the triple-triple combination and the toeloop is my best jump. It was such a great feeling when I first landed it at the beginning of the season and knew no one else here had done it. In this competition I'm the most happy with my short program, it was my personal best. The free skate was ok, not great, but overall I'm happy since I beat my personal best by quite a bit. True, I was aiming for silver, but bronze is fine too.
Go to Part II.