The 2010 Swedish Nationals
Part II
January 23, 2011
By Magdalena Osborne and EMJO
Photos © EMJO
Senior pair
You read that right; Sweden has a senior pair again! Last year's juniors, Ronja Roll and Gustav Forsgren from Jönköping, stepped up and joined the senior ranks. That meant they were the only pair competing in their class, but they still skated and it was great to watch. Maybe they aren't quite ready for Europeans yet, but they have only skated together a year and a half and have accomplished a lot in that time. Ronja landed a double Salchow throw in the short program and Gustav is very strong and had no trouble putting her down with only one hand after a lasso lift. Some of the pair spins were very pretty, but most of all Ronja and Gustav are having fun out there which shows! And remember Niklas Hogner, Sweden's star pair skater from a few years back? He was now acting technical specialist during the pairs' event.
After the free skate there was a bit of time to talk to Ronja and Gustav. They both started skating at a young age, but as singles.
Ronja: When I decided to try pairs my coach helped me find Gustav, he was in a different club.
Gustav: I skated in Uppsala, but took a long break from it all, and then she called and asked if I wanted to be her partner. I thought "that could be fun", and now we're here. It was fun; lifting stuff is always fun.
What's the best part about pair skating?
Gustav: Like I said, lifting stuff is fun...
Ronja: I'm the "stuff"!
Height wise there's a big difference between you, is that good or bad?
Gustav: It's both. But we have to live with it and make the best of it. We use the advantages and try to ignore the disadvantages since this isn't something we can change.
What other pairs inspire you?
Gustav: All the Russian pairs are really cool
Ronja: I like the Canadians, Dube/Davison. They are very good.
Do you watch pair skating on TV together?
Gustav: Usually not, but it happens, like with Europeans and Worlds sometimes.
How would you rate your performance here?
Gustav: I'm pretty happy, but of course there are always things to improve on. We haven't competed all that much together yet.
Ronja: I think we did ok considering.
Describe your practice routines.
Ronja: We train together every day but Fridays, but not all the sessions are on ice.
Gustav, what do you do to build the strength to lift Ronja above your head?
Gustav: Right now I just keep lifting her, which will have to do. But it works; I get strong without getting huge muscles.
Ronja, are you ever scared up there?
Ronja: Not really, not scared, no. It feels a bit strange when I'm in a horizontal position, I'm staring at the ceiling and it's weird! Especially if I'm not in perfect balance but tipping a little.
Gustav: When she leans forward it gets heavy. But other than that there's not a huge difference for me if she's upright or horizontal.
What will you work on the most in the next little while?
Ronja: We need to land a couple of throw jumps and the solo jumps, at least I do…
Gustav: And work on our skating and the synchronization. Our side by side spins usually work pretty well, better than today anyway.
These two are a hoot; giggling and joking a lot. And there will surely be a lot of "better than todays" from them in the future. But that's not the full Swedish pairs story, there's more:
Junior pair
It was as much of a treat as it sounds; a junior pair as well! We had seen the sister/brother team Michele and Richard Lundberg from the Tyringe club before and they have improved! A double toe throw jump was executed in the short program along with some decent footwork, and in the free program a triple Salchow throw and a double loop throw. They like their first names pronounced French style and they too are a delight to interview; they talk very fast and finish each other's sentences. Initially they were asked to comment on their performances:
Richard: The short program went ok, but we were a bit slow.
Michele: And a bit too careful, we weren't really nervous but we played it rather safe…
Richard: And then I missed the Axel…
Michele: Typical when I nailed it! But those things happen.
Richard: We made some little mistakes, we can do better! But today in the free skate we had better speed…
Michele: Yes, the speed was our main focus today, it was way better.
Richard: And the elements were ok, except for the side by side jump. But that happens when you can't practice jumps, I've had some injury issues and had to rest a lot to even be able to compete here.
Michele: I've had problems too with a foot inflammation and it's not quite healed yet, so we're not at our best. But we did well with the throw jump (a triple Salchow), it was the first time in competition!
Who are your pair favorites?
Richard: We like to watch the Germans; Robin and Aljona, they are so good, and all the Russian pairs. The Russians have good flow, speed etc.
Michele: The Chinese pairs have all the elements…
Richard: And great technique, we watch their throw jumps, they are fantastic! If we have problems, like with a throw jump, we can watch others and see their technique. We like to go to competitions with other pairs and see how they do things.
You had no competition here.
Richard: At home we practice with another pair once a week, but they are beginners so it's not the same. They learn from us!
Michele: In the summer we can go to training camps, but in Sweden there isn't much for pairs, so we mostly go to camps for singles. For pairs-camps we have to go abroad.
Richard: In January we're going to Poland to train with their pairs and even compete. So we'll get some inspiration and training there.
Have you given up your careers as single skaters?
Michele: Actually, no. I still compete, but I mostly concentrate on pair skating.
Richard: I have put singles aside.
How much do you practice in a day?
Richard: We have an hour on ice every morning, and then a lift session which is floor training. There's also gym training and more lifts, and in the afternoon we skate as singles.
Michele: We both have to work on our strength but I don't need so many big muscles…
Richard: She needs good balance and strength to hold herself up, I need to work with heavy weights.
Michele, you are quite tall to be a pair skater.
Michele: Yes, I haven't seen very many pair ladies as tall as I am. But it works anyway and I don't think so much about it.
Richard: As long as I can lift her, her height is not a problem. She has grown a little lately, but I have too, so the difference between us is still about the same.
You are together at home and you train together; how do you manage to stay friends?
Michele: Sometimes it's very hard, but we've gotten better at it.
Richard:We hardly ever fight now, where we used to disagree a lot, and both of us felt we were right. But we've learned to bite our tongue.
Novice pair
Like the other pairs Vera Björklund and Alexander Backlund from Gävle had no competition in their class, and as novice they only had to perform a free program, Anything goes. It was a little rough but also included some pretty moves and there's definitely potential there!
Junior ladies
No less than 24 ladies entered here and several of them are really good!
Rebecka Emanuelsson from the Älta club won this event. Her short program was close to perfect. In the free skate she had some jumping issues but still nailed a triple Salchow-double toe-double toe. Not bad! Runner up was Isabelle Olsson from the Mörrum club. She landed a high double Axel at the end of the long program and had loud support from the audience. The bronze medal went to Josefin Taljegård from Göteborg. Her free skate to Romeo and Juliet was a good program with great speed, transitions and fun moves. But this time she had problems with most jumps; too bad. We have watched these girls for years and they keep getting better and better. We've also had our eyes on Malmö's Nicole Svensson since she was a beginner. She finished 14th overall in this competition. Nicole is very artistic but the jumps didn't agree with what she wanted. She tried a triple Salchow but it was downgraded and the rest of the jumps were doubles. But go, Nicole, the future is yours!
Junior men
The winner was Mathias Andersson from Lerums club 133,78. His greatest moment might have been a beautiful triple toe in the long program, along with a triple toe-double toe-single loop
combination. The silver went to Daniel Neuman from Lidingö who nailed a triple toe-triple toe in his short and long programs. And both of these guys landed nice double Axels in both their short and long programs.
The Bronze went to our Malmö boy Markus Björk. He was in the lead after the short program where he impressed with a triple toe-double toe combination and a great straight line step sequence. Unfortunately he was unable to hold his long program together and slipped to fifth place. His coach Ela Magnusson commented: I feel badly that he wasn't able to manage his long program like he usually does. But he is learning and he medalled so we're happy!
Novice girls
This was also a large category with 24 contestants. Our main attention was focused on Myrtel Saldéen-Olofsson, a local talent we've followed for years. Unfortunately she was off to a very rocky start and was only in 10th place after the short program. But Myrtel came back and showed everyone what she's really made of in the free skate where she placed second. Overall she ended up on the podium with a bronze medal around her neck. To her credit she landed a triple Salchow and a double Axel-double toe combination, very well done! Triple jumps were few and far between in this category, but Gabrielle Josefsson from the Landvetter club skated away with the gold while the silver medal went to Clara Callne from Luleå.
Novice boys
These guys are too cute! They are just starting to go after the easier triple jumps, but some displayed some good footwork and silver medallist Mandus Thorman of the Mörrum club opened his long program with a double Lutz-double toe-double toe combination, wow! The winner was Nicky Obreykov from Sollentuna and the bronze went to John Hallman, Landvetter.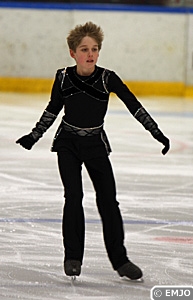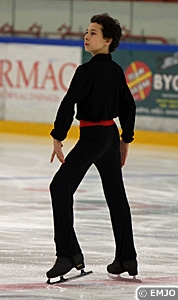 The competition ended with a medal ceremony where officials from the Swedish Figure Skating Association, the ISU and the local club presented medals and flowers to the most successful skaters. Some awards and scholarships were also handed out. Alexander Majorov was given the Salchow award; money given to a promising young talent that excelled last season. And Adrian Schultheiss (during the ceremony accidentally called Alexander Schultheiss…) and Viktoria Helgesson were given awards for outstanding achievements last year at the Olympics and Worlds.
Overall it was a very enjoyable competition. We were neither too cold nor too warm and much appreciated the concession stand where hotdogs, soup, sandwiches, cake and candy as well as hot and cold drinks could be purchased for a modest sum. A pressroom was available for interviews and there was quick access to schedules and results. Live feed was provided through the club website. Although the arena by no means was full, it takes a lot of planning to put a competition like Nationals together. The local club president Ann-Christiné Karlsson knows: Now that it's over I can catch my breath! But it's all worked out so well, we've had fantastic volunteers and all involved have worked very well together to cover all that needed to be done. And this arena is perfect; just the right size. The week's been great and maybe we can do it again sometime! Maybe not next year thought…