ISU World Figure Skating Championships 2011 - Days 1 & 2: Preliminary Rounds
April 27, 2011
By Vicky Azhoychik
Photos © Vicky Azhoychik

The 2011 ISU World Figure Skating Championships were originally scheduled to take place in Tokyo, Japan in March, but were moved to Russia as a result of the earthquake and tsunami on March 11. First, we express our sympathies to Japan and the Japanese people. Second, it should be noted that Worlds was organized in a very short period of time at a high level.
On Monday, the preliminary round for Men determined the 12 skaters who will continue on in the competition. Misha Ge, the 19 year-old man from Uzbekistan, had some issues with his elements, but performed an impressive and lively program and the audience gave him very warm support.
It was a bit strange to see such titled skaters as Takahiko Kozuka and Michal Brezina in the qualification round and both confirmed their high-level skating skills. Michal made a number of mistakes including problems with his jumps, so he is third in the preliminary round. After Takahiko performed his interpretation of Piano Concerto No. 1, by Franz Liszt, he took the lead. Alexander Majorov stood in second place.
Tuesday was the qualifying round for Ice Dance and Ladies. Ten couples qualified for the short dance. Among them were Sara Hurtado and Adria Diaz from Spain, with an amazing program to the music, "Be Italian." Their skating was expressive, interesting and included unusual elements. Lucie Mysliveckova and Matej Novak made it through to the next round, but they did make mistakes. Finishing in first in the preliminary round were Kaitlyn Weaver and Andrew Poje. Their skating was impressive and they earned a new seasons best. After their performance, Kaitlyn said happily, "It is our first time competing in Russia. I'm very excited to be here. It is a great start to a great week."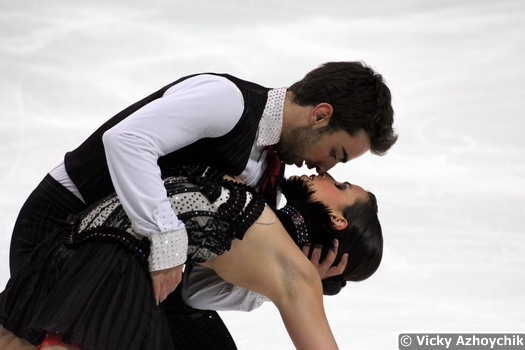 At last the ladies cleared up who will skate in the short program on Thursday. The results are not predictable; they showed beautiful, but not faultless skating. It will be the first World Championship for Mae Berenice Meite and Joshi Helgesson, who earned the highest scores, and will also be the first for an overwhelming majority of qualified ladies.