ISU World Figure Skating Championships 2011 - Day 3: Pairs' Short Program
April 28, 2011
By Maria Bagdasarova
Photos © Olga Trofimova, Absolute Skating

China's Qing Pang and Jian Tong took the lead in the Pairs short program. The Olympic silver medalists delivered a flawless lyrical performance to The Pearl Fishers by G. Bizet featuring clean side by side triple toe loops, a huge triple twist and a confident throw triple loop. The Chinese collected 74.00 points which is their season's best. " It went really well today, all the elements were well executed. Today's performance gives us confidence for the free skating tomorrow", Qing Pang told the press.
Aljona Savchenko and Robin Szolkowy of Germany lie in second place with 72.98 points. Skating to a playful and crowd-pleasing Korobushko, the 2008 and 2009 World Champions landed a difficult throw triple flip and side by side triple toe loops and got high levels for non-jumping elements. "We did everything we could do. We can sleep well tonight, relax and then skate clean tomorrow. Everything is still possible, but obviously you're more relaxed when you have a little advantage (in points). It was a great program and we did all the elements. We are really happy and I think you could see that," the Olympic bronze medalist commented.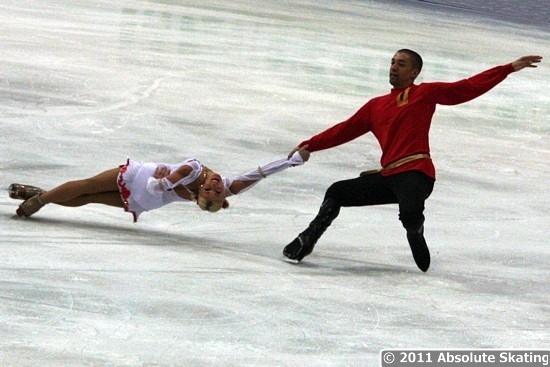 In third place are World Championships debutants Tatiana Volosozhar and Maxim Trankov of Russia. The couple was formed last summer after Tatiana and Maxim split with their previous partners. Their past international experience gave these freshmen a great advantage; the team is coached by Nina Mozer and Volosozhar's former partner Stanislav Morozov in Moscow. A solid performance by the Russians to Carmina Burana by Carl Orff was warmly received by the home crowd and included a high triple twist, clean side by side triple toe loops and a throw triple loop. The couple earned 70.35 points which still gives them a chance to reach gold at their first World Champs.
Defending World bronze medalists Yuko Kavaguti and Alexander Smirnov who were expected to challenge for the gold at this event disappointedly lie in 5th place with 62.54 points only. After the couple executed most of the difficult elements in its powerful Thus Spoke Zarathustra by R.Strauss routine, Smirnov fell at the beginning of the step sequence and the death spiral was awarded only a level One.