ISU World Figure Skating Championships 2011 - Day 4: Men & Pair's Free Program
April 29, 2011
By Vicky Azhoychik, Reut Golinsky, Suzanne Herrmann
Photos © Vicky Azhoychik
Day 4 brought us the first medals of the competition and a lot of pleasure. If the MenÂ's podium was more predictable, the Pairs held us in suspense until the final minutes when Tatiana Volosozhar and Maxim Trankov determined final placements.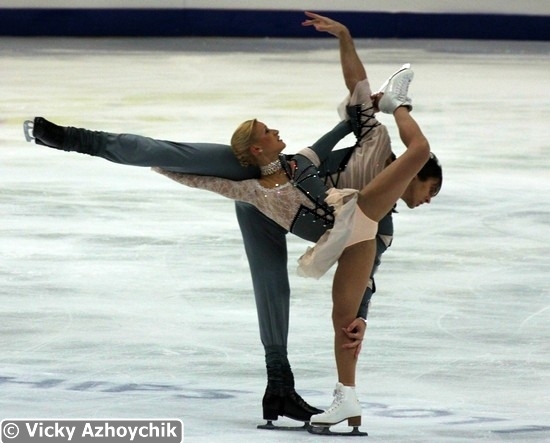 Men:
Florent Amodio, the reigning European champion, turned the crowd on by dancing to stirring tunes. When he was asked about having forbidden lyrics in his music, he smiled. "It turned the performance even more into a party and to lose one point didn't matter for me."
With his playful program to the soundtrack from "Pirates of the Caribbean," Javier The Sparrow Fernandez finished with 149.10 points and 218.26 overall. This was good enough for the top ten and earned Spain two places for the 2012 Worlds. Javier impressed the crowd with not one, but two, different quadruple jumps. Unfortunately, he failed to complete a good triple Axel-triple toe loop combination. "It was the first time I performed two quadruple jumps in one program; this is so great!" he commented after his skate. "My coach and I—we planned to include the second quad since the European championships. First I could [complete] only the Salchow, [but] then I started to try the toe loop. When both jumps became stable, we decided to add both of them to the program. Maybe next season I will also try to add a quadruple jump to the short. For now, the triple-triple combination has a higher priority to work on as I had some problems with it today." Nikolai Morozov, Javier's coach, is confident Javier has an edge as few skaters attempt more than one different quadruple jump in competition. Few skaters have two different quads in their competition arsenal.

Patrick Chan and Ryan Bradley completed two quadruple jumps in his long, but they did the same jump in both of their jumping passes—the quadruple toe loop. Michal Brezina is an exception. Even though he had never performed two different quads in competition, he announced his intention to do so and succeeded. Unfortunately, he fell on the much simpler Lutz and flip jumps. He was fifth in the long and had to settle with the "chocolate medal" just as he did a year ago. "I am very satisfied with my performance even though I had two mistakes towards the end. The beginning was great; I performed two different quads. Now I know that I can do this! In general this season was pretty hard for me as it took me much time to recover from my injury. I even thought that this season might be my last one".


Brian Joubert skated much better than in the Short. He succeeded in landing his quad toe loop and he completed two triple Axels, one in combination. Brian was fourth with 156.38 points and was very satisfied with his performance. "I think this was the best performance in my career. I really like this program because it accents not only the technical side but also on the artistic one, which was always my goal. It allowed me to show a different side of my skating." The costume for this championship was changed. "After Europeans, I understood that the previous costume didnÂ't suit me. I look fat in it. That's why I brought one of my older costumes here instead."
Tomas Verner attempted his quad again and he failed to complete it again, which really influenced the rest of his program. He made too many mistakes and was only thirteenth. This wasn't the result he was looking for. "I'm glad that this season came to its end, but I'm not glad with how it finished. [A score of] 140 points for the long program is the lowest result I had in this season, but I'm glad for the feedback I got from the audience. In general I'm satisfied with my season. I didn't expect that I would participate in Grand Prix final and I think I had great programs too."

Finishing with the bronze ahead of many titled and experienced skaters with a segment score of 163.52 for a combined total of 241.86 was the young Russian, Artur Gachinski, the Junior World Bronze medalist from just one year ago. His technical ability is superb and promising for the future. Artur successfully created the image of a pianist in his program to the music, "The Bolt," by Dmitri Shostakovich. It would be nice to see him with more difficult choreography in the transitions instead of stringing the moves together with easy steps and arm movements. His gusto and excitement plays well to the crowd, which is an especially important quality! He was excited about his score and a great result and noted the support from the audience.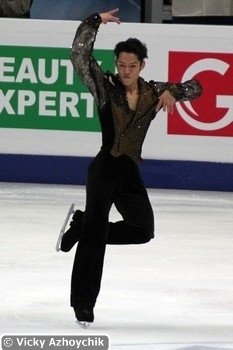 Daisuke Takahashi, third after the short, ran into equipment trouble when entering the first jump of his program. He stepped off the ice briefly while his blade was reinforced with additional screws. "A screw came loose on my boot; it is my fault although I check them every night," he said disappointedly. He struggled with a few other elements which dropped him to sixth place in the long and fifth overall. No doubt this type of issue plays with one's mind—if a skater needs to step off of the ice for such a problem, he is only entitled to a very short period of time to rectify the issue. The pressure to complete that and calm down before beginning again takes much focus. He earned 152.72 for a combined total of 232.97, which certainly was disappointing. One thing he can be proud of is his ability to re-focus in a short period of time and to then perform a decent program. His program component scores remained third best in the long.

The hopes of numerous Japanese fans stayed alive with Takahiko Kozuka. Winning with a large margin over bronze with his lyrical skating, he earned a segment score of 180.79 for a combined total of 258.41. His program is put together start to finish. There are no empty moments; every second is choreographed with intricate movement. The natural ability to link elements as he interprets the music is often only seen at the very top level, a place he belongs. As an underdog, perhaps the pressure was less intense but at the same time, there certainly must have been personal pressure to do well for Japan. He rose to the occasion and put out a worth performance!

Patrick, winning his first World title, showed what champions are made of. His artistry and grace enabled him to link elements together as if the program is one entity. Setting a new record in the Short gained him an advantage and he ended up finishing over 22 points ahead of the rest of the field. Finishing the long with a score of 187.96 and a combined total of 280.98, if he looked behind him, he may only see Takahiko in the distance. Every move is choreographed; hardly a step falls out of place. It is rare to see crossovers in lieu of footwork throughout his program. The connecting moves are interesting and captivating and the speed he displays in his spins is impressive. On the question about the key to success, he said, "Figure skating is about being smart—taking care of my body, concentrating on training, but also just as much on recovery."
Then the Pairs took their turn to perform their programs.
Ludmila Kalinina, the coach of the young Russian team Vera Bazarova and Yuri Larionov commented after their perfectly-suited short program to "Adagio" by Secret Garden "They really worried. They came [out] on the ice, heard all that applause ...They still don't know how to handle this. Usually we perform abroad and there it's not so loud, but here, they had lots of friends and people came from Perm to cheer for them. Of course they tried to do their best." Apparently, the excitement and responsibility in front of the home crowd influenced their long program too. Their jumps suffered. Yuri fell on the side by side triple toe loop and the double Axel-double Axel sequence was under-rotated. From fourth spot after the Short they dropped to fifth. "Of course we are disappointed that we couldn't perform a clean program," Vera agreed, "And the margin to fourth place is so small... But to tell the truth both fourth and fifth placements are very good. Last year we were eighth, so the progress is obvious."
Tamara Moskvina's pair Yuko Kavaguti and Alexander Smirnov was a main contender for the gold, Japanese Yuko and Russian Alexander could become a beautiful symbol of this championship which was moved from Japan to Moscow. It seemed as though the people at the Megasport Arena stopped to breathe until the end of this beautifully performed program. However, the sport is not as interested in symbols and stories; the result is what matters the most. After they failed to perform a clean short program, with more than 11 points standing between them and the leaders, even bronze was almost out of their sight. After the mistakes in their long, it became obvious that this season, unlike the two previous ones, they won't finish with a medal. "It was really hard to prepare for today's skate after what happened yesterday. Yuko helped me. She told me, "Let's skate our program for ourselves, for our Russian and Japanese fans who came to cheer for us, for our coach, and only then for the judges. I want to thank the public for the very warm welcome we received."

It is noteworthy to mention three North American teams that stood out in the competition. Both Canadian teams displayed strong skating and "attack" in completing elements. Eric Radford (and partner Meagan Duhamel) is a trooper for completing two programs with an injured nose. Kirsten Moore-Towers and Dylan Moskovitch have a youthful jubilance that is sure to take them far. When they reached Kiss & Cry you could hear one of them exclaim, "That was awesome!" That is what skating should be all about in the end! Watching this team improve over the past two seasons has been exciting. Caitlin Yankowskas and John Coughlin also deserve a shout-out for a very-well completed program! Their program was sentimental and it was obvious that it meant a lot to them and they were able to express that to the audience. Strong performance and meaningful choreography resulted in a well-deserved sixth place finish.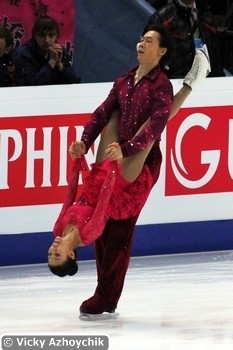 Chinese Qing Pang and Jian Tong, although fantastically matched, just did not have the performance to match the top two teams. From the very beginning the observers knew that it would be a fight to medal when Jian missed his double Axel. Their skating continues to be exquisite and one highlight no one can deny is the soaring Split Triple Twist! While they lost the lead they held after the Short, they easily held onto bronze with a segment score of 130.12 for a total of 204.12.

A great and surprising first-year team consisting of seasoned skaters was that of Tatiana Volosozhar and Maxim Trankov, representing Russia (Tatiana previously competed for Ukraine). What they created on the ice verged on magical—it was special to see both skaters finally have the opportunity to reach their potential and to have Tatiana's former partner, Stanislav Morozov, at the boards to coach and encourage them made the success sweeter. Solid is one of the best ways to describe their technical ability and they were able to match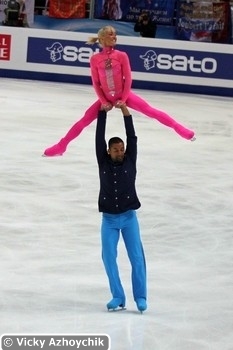 it with superb artistry. They earned 140.38 on their short and 210.73 total for the competition. The crowd cheered so loudly that nothing else could be heard! To think that this was the silver medal-worthy skatersÂ' very first Worlds together causes one to wonder what they have in store for the future!

Aliona Savchenko and Robin Szolkowy are heads above most of the rest. As usual, they performed every element at the highest level and captured their third career World title. It is amazing to watch them—it is almost as if they take you to another place as they skate their program. The elements are incredibly solid—Aliona hardly used her arms to check out on her throw landings because her body is so perfectly poised upon landing. The speed they display and the unison in their spins is unmatched. They finished with an incredible total of 144.87 for a combined total of 217.85 to win the competition.