John Kerr's thoughts on Men Free, Worlds 2011
April 29, 2011
By John Kerr
Photos © Vicky Azhoychik, Absolute Skating

Hey guys,
As I was sitting in my apartment in NJ watching Worlds I suddenly decided that the world needed to hear my views on the event. This was the first time that I had actually watched Worlds on TV since 2003 Worlds so maybe this was my way of feeling a little more involved in the proceedings. Getting a chance to interact with so many skating fans while the event was ongoing was a lot of fun too.
After seeing some of my random scribbling Absolute Skating asked if I could do a slightly more formal review of the event. Since I am unemployed this week I decided that I would enjoy the challenge of writing about skating instead of just doing it.
First of all the Men's long program. Since I couldn't quite drag myself out of bed before 7am (being in the US I am 8 hours behind Moscow time) I unfortunately missed the first 2 groups. I am reliably informed by my Spanish friends that Javier Fernandez 'wuz robbed' so I am happy to go along with that assessment.
First to go of the final 12 skaters was the 2007 World Champion Brian Joubert. Performing to Beethoven's 9th Symphony proceeded to skate just as strongly as he did in Bern at the Europeans. All the jumps were there, including a quad toe and 2 triple axels, but I just didn't believe in his new 'classical' style. I am all for skaters trying out different styles but at this stage of his career I think he should stick to what he does best - strong and masculine but with a theme. I think his 'Bond' short program from some years ago was a great vehicle for him.
Tomas Verner is definitely one of the nicest guys in figure skating and it has been wonderful to see him have some good performances this season after some disastrous skates in 2009/10. His 'Michael Jackson' free program has some great moments in it but there are just a few too many pieces of music in it for me. A few too many errors on the jumps meant this was not to be his competition but if Tomas can get his jumps back to their 2007 level then he can still challenge for World medals.
I had managed to see Richard Dornbush at US Nationals and I liked him then and I like him now. He has a really dynamic style and the music choice, 'Sherlock Holmes', worked really well for him.
Ryan Bradley put a smile on everyone's face when he won the 2011 US Nationals because he is just so popular over this side of the pond. I'm not sure everyone gets his classical 'tongue in cheek' routine because it kind of relies on people knowing his personality. He didn't ham it up as much as he did at US Nationals because I think he sensed that the audience weren't quite getting it. He will have loved having the opportunity to compete at Worlds again though and I'm sure he will have a great career on the pro scene in the US.
Michal Brezina had an amazing first 3 minutes to his routine. Two different quads and 2 triple axels meant that with 1 minute to go he had a legitimate shot at a medal even with the final group to go. Unfortunately 2 falls in that final minute on the flip and the Lutz meant it was not to be this year. Those 2 successful quads were a huge step forward for Michal though and I think I will put some money on him for a medal in Sochi. Being Scottish and a little stingy I think a Pound each way will suffice.
First to start the final group was Patrick Chan and he pretty much won the competition on the first 2 jump passes. Two stunning quads, one in combination with a triple toe, meant the other guys were going to be fighting for silver and bronze. Apart from a slight step out on his triple Axel everything else was superb. Great jumps, good spins (something he is not always credited with) and superlative skating skills make him a worthy champion of the COP generation.
Poor little Nobu Oda. How does this guy not have a World medal? He would have had it here if he had only put a double on the end of his first triple Axel. It obviously isn't the first time it has happened to him either so I'm sure he will be beating himself up about it - unless Lee Barkel hasn't already... I still prefer him doing more fun light hearted routines than this serious stuff. It suits his body type more and it might help him put a smile back on his face.
Artur Gachinski is the next big thing in Russian skating. He has awesome jumping ability but his programs leave a lot to be desired. If he wants to challenge the likes of Patrick Chan then he is going to have to develop this side of his skating pretty quickly.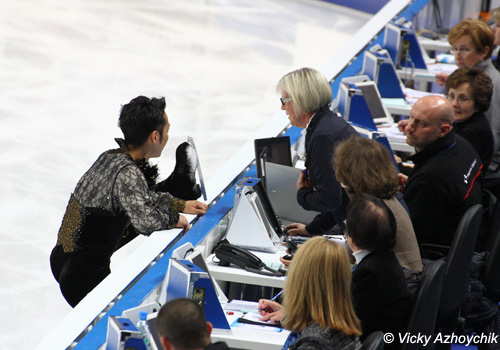 Next to go was Daisuke Takahashi and I'm sure the pressure of defending his World title got to him a little bit. A disastrous mishap with his skate on the opening quad was too much for even this great Champion to recover from and more errors were to follow once he re-started. Takahashi is a sensational performer, only bettered by Stéphane Lambiel perhaps, and a brilliant skater but, unfortunately, he was just a little off his game this week.
Performance of the night for me was Taka Kozuka, my one time pairs partner.
We did a show number together once in Japan in which I did a lift with him and also a, kind of, throw triple Axel!! It was all preparation for this breathtaking performance. His Skating skills were on a par with Patrick Chan and so were all the jumps and spins. How the judges managed to give Patrick 9 points more on components I can not quite comprehend.
My first response to hearing lyrics in Florent Amodio's performance was something along the lines of "what the f***". The kid is a breath of fresh air in figure skating and he has brought a style of movement to the ice which has never been seen before and I, along with many other, love it. What I can't fathom is why use the lyrics? It didn't enhance the performance because all his choreography is emphasized in the rhythm of the music meaning that the lyrics are largely irrelevant. Still 7th place in your first Worlds is pretty good so c'est la vie.
Hate not being there but the next best thing is watching it and writing about it.

Lots of love, John K