ISU World Figure Skating Championships 2011 - Day 5: Short Program Ladies & Short Dance
April 30, 2011
By Vicky Azhoychik, Maria Bagdarasova, Suzanne Herrmann
Photos © Vicky Azhoychik

On Friday, the Ladies performed their Short program at the Megasport Arena. The main intrigue was whether YuNa Kim, after a year away from competition, would be able to return to her customary leading position or
not.
Not fighting for a medal, but worth a mention is the debuting Belgian, Ira Vannut. Not only is this her first Worlds, but it is also her first season in seniors. She occupies 17th place overall, but succeeded in earning the 10th best technical score of the ladies, topping even Mao Asada's. "I was already happy to have survived the qualifications and just tried to skate my short flawless. I will of course fight to do the same tomorrow and will then just see where I end up," said the 16 year old with a smile.
Carolina Kostner and Mao Asada, who sit in sixth place and seventh place respectively, roughly seven points off the lead, are unpredictable. Though Mao is a consistent skater, her triple Axel has been unreliable. During this program, her triple Axel was two-footed and downgraded and the triple flip was marked as under-rotated. She completed a nice triple loop. Though the music was okay and she skated her program well, she lacked an emotional connection to the music. On the flip side, Carolina connected well to her music and the audience enjoyed it as they clapped along, but the fall on her triple flip held her back in the standings. Each skater still has a chance to fight for a medal in the long.
Alissa Czisny with a lyrical style and amazing spins settled into fourth position. This may be beneficial for her as there is less pressure in fourth position but it still remains a strong position to move up from. Her only bobble was a forward landing on her solo jumping pass, a triple flip. She is a skater with a complete package. Her extraordinarily-centered spins are out of this world, the stretch she has in her spirals is unparalleled and she skates as if she was born with skates laced to her feet. The only things she has struggled with are her jumps. Since she began working with Yuka Sato and Jason Dungjen, her confidence and consistency have improved tremendously.
Under what must be intense pressure and expectation, YuNa Kim topped the leaderboard with only 0.33 points to spare. Unfortunately, she stepped out of her triple Lutz, her first jumping pass, before landing a triple flip-double toe combination, a double Axel and performing three level four spins to score 65.91 points. Kim said at the press conference that she was a little nervous when she came to the rink even though everything went well beforehand. "The rest of the program wasn't so bad and I'm in first place right now, so I'm pleased about that," she added. YuNa was asked why she returned to competition. She said that even though she wanted to skate longer, she experienced a lack of motivation because it is hard, not just physically, but mentally to continue to train. Each day she questioned her purpose. Watching her perform after a year off is interesting, especially now that she is studying under a different coach. Her skating is no less precise but her intensity from the Olympic season appears to have toned down and allowed her to perhaps relax.
Miki Ando, finishing the segment in second place with 65.58 points, performed a strong program to music by Ennio Morricone, but later on the press conference said that she is not satisfied with her spins. Various spectators tuning in debated her placement since it was so close to YuNa's and she did not miss any elements. The artistry in her skating is superior to that of the past and she produced a gorgeous program complete with a stunning dress. She performed as if she was enjoying every moment.
Both Russian ladies, Ksenia Makarova and Alena Leonova, landed triple toe-triple toe combinations and experienced no issues with any of their jumping passes. Their programs were expressive, but quite different. Alena took on the role of a circus artiste and landed in fifth place with 57.75 points. She displayed a very expressive style with an infectious smile and connected well with the audience. Her jumps were tight and rotated quickly. She will definitely be a force to be reckoned with in the future! Makarova, who won the small bronze medal, has developed a sharp style and displayed it well as she skated to Flamenco, by Didulja. Her jumps were solid and her spins, precise. She also looked like she enjoyed herself during her time on the ice. Ksenia wondered how she landed in a medaling position with 61.62 points, but remained calm and said, "For tomorrow, I want to do the same thing and I hope it works out." She noted that the support of the home crowd helped a great deal.

The Ice dance competition opened on Friday night with the Short Dance. Tessa Virtue and Scott Moir of Canada took the lead with 74.29 points. The reigning Olympic Champions delivered a flawless and smooth performance to Waltz and Tango, which showcased their great flow and impeccable unison. "We are very pleased with our skate tonight. We did exactly what we
wanted to do: go out there, do a strong Waltz, keep the flow. It felt like we got all the key points that we wanted", Moir said at the press conference.
Half a point behind the Canadians are Meryl Davis and Charlie White from the USA. The Olympic and World silver medalists skated very confidently to "La Boheme" and "La Traviata", with their characteristic speed and ice coverage. Davis and White earned 73.76 points which put them in a good position to challenge the Canadian's gold Saturday night.
In third place with 70.97 points are Nathalie Pechalat and Fabian Bourzat of France. The newly crowned European champions produced a soft and elegant routine to "Dr. Zhivago", and closed the short dance on a high note for the Moscow audience. "I feel liberated and content. I did my job. Tomorrow, we can give everything. We have nothing to lose. I am focused for the free dance that hopefully will bring us a medal," Nathalie Pechalat commented.
While the standings in the top three were hardly unexpected, the placements lower in the table brought a couple of surprises. Maia and Alex Shibutani impressed the audience with probably the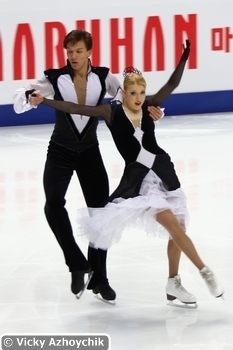 fastest twizzles of the night. The clean performance to "Carousel Waltz" earned these students of Marina Zueva and Igor Spilband a season's best of 66.88 points, which put them as high as 4th place.
Home crowd favorites Ekaterina Bobrova and Dmitry Soloviev who after their silver medal at the European Championships in Bern earlier this year were expected to challenge the podium, are in 5th place. The couple from Moscow failed to hold one of the positions in the rotation lift, which was graded only at level two instead of the usual level four. "Apart from the lift, we managed to do everything planned and made this last performance of this dance very expressive. We will keep ourselves together for the free and will do our best to skate well", Bobrova commented.
Bobrova and Soloviev edged out the other Moscovites, Elena Ilinykh and Nikita Katsalapov, who stand in 6th place by 0.3 points. Alexander Zhulin's students delivered a powerful routine to Waltz from "Agony" by Alfred Schnittke, and a Tango which highlighted their strong basic skills, flow and deep edges. The World Junior Champions won the audience over and were awarded with a standing ovation. Unfortunately, this couple lost a level on the twizzles sequence which cost them a spot in the final warm-up group in the free dance.
The Golden Waltz sequence in the short dance by Madison Chock and Greg Zuerlein showed how a compulsory dance can be harmoniously incorporated into a short dance. Dancing to "Milord" and "Padam Padam" by Edit Piaf, these 2009 World Junior Champions hit every beat of the music with their moves.