John Kerr's thoughts on Short Dance, Worlds 2011
April 30, 2011
By John Kerr
Photos © Vicky Azhoychik, EMJO

I have to confess to feeling a little sad at the start of the Short Dance because I would have loved to have been there performing. That said it wasn't long before I was in 'fan' mode and enjoying the competition in that capacity.
As I had to work today I had to watch the penultimate group after the last group so I decided to write about some of the performances in, almost, the results order.
I have to admit that I did not expect such a strong performance from the Olympic Champions Tessa Virtue and Scot Moir. Every time I see these guys I can't quite believe how good they are and the scary thing for the other competitors is that they are getting better! The connection they have in their dancing is second to none in the history of Ice dancing in my opinion. This routine had so many layers to it that I had to watch it twice to catch some of it.
Meryl Davis and Charlie White have beaten their Canton Teammates a number of times over the last few year but never at the World Championships. They produced a dynamic and strong performance to the music of 'La Traviatta' and 'La Boheme' that might have given them 1st place if they had only got a level 4 call on their twizzle instead of a level 3.
There is no doubt that both these teams have pushed each other to new heights but for me Tessa and Scott still have a slight edge. It's so close though that either of these teams would be a worthy World Champion come tomorrow.
A mature and classy performance from Nathalie Pechalat and Fabian Bourzat has them in 3rd place. As long as they don't have a 'f*** up' of epic proportions then they should have no problem hanging onto that tomorrow. They have stepped up a level this season and they deserve all the success they get. With all the young talent coming up at these Championships though I think it might not be a good idea to hang around for too many more seasons.
Probably the biggest surprise of the day was the 4th place finish in the short dance of the Shibutani's. This team have exploded onto the senior scene this year and they look every inch the real deal. I remember meeting them for the first time in 2005 and they were so tiny and cute but boy were they talented. This program was beautiful but I did not think it had the difficulty in it to deserve 4th place.
In my opinion 4th place should have gone to the '3rd' Canadians Kaitlyn Weaver and Andrew Poje. They actually finished 7th but this routine is pure genius. It has so many great transitions and the poise and sophistication it exuded was 2nd to only Virtue and Moir. These guys are the most improved team of this season and I enjoyed their performance the most. And, of course, they had the best choice of music ;-)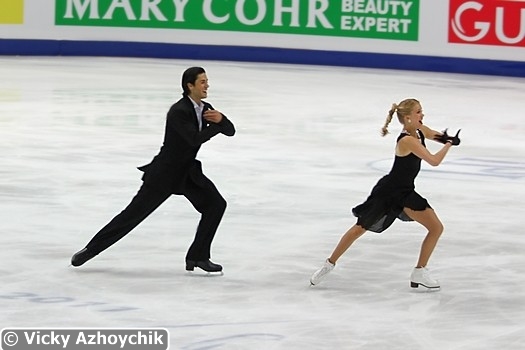 The European silver Medalists Bobrova & Soloviev performed very well to the music of Chess. Their change of music mid-season was a great idea because I think that Tom Jones rendition of 'Delilah' has to go down as one of the most annoying songs ever written. They are another team who has improved a lot this year and they really had to considering how closely their young teammates are chasing them.
Elena Ilinykh and Nikita Katsalapov had a routine of 2 half's for me. Their 'Agony' waltz was a little too overpowering for the Golden Waltz section of the dance. The tango section was brilliant and showed such fire and passion I had to remind myself how young they still are. They are going to be right there when Sochi comes round.
A quick special well done to my training mates Allison Reed & Otar Japaridze and Penny Coomes & Nick Buckland for qualifying for the Free Dance tomorrow! I can't wait for tomorrow now!

Lots of love, John K