ISU World Figure Skating Championships 2011 - Day 6: Long Program Ladies & Free Dance
May 1, 2011
By Maria Bagdarasova,
Photos © Vicky Azhoychik

The Ladies' free skating opened the final day of competition at 2011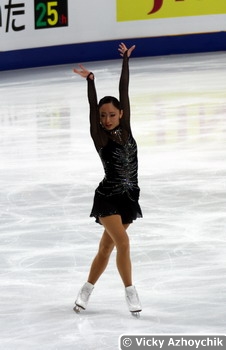 World Championships in Moscow.
Miki Ando of Japan maintained the strong level shown in the short program and claimed her second World title. Ando executed 5 clean triples and level four spins. The only glitch in her otherwise clean and elegant performance came when she doubled the toe loop in the planned double axel – triple toe loop combination and stumbled on the exit.
Yuna Kim of Korea failed to keep her overnight lead. She kicked off her free skating with a soaring triple lutz – triple toe loop combination, but singled flip and the second jump in a planned triple salchow- double toe loop combo. " At the beginning I had a mistake and I was nervous after the jump (popped flip), but then I was back to normal and did my best," – Yuna Kim commented at the post event press conference.
Carolina Kostner of Italy moved up to bronze medal position from sixth place after the short program. With amazing speed and outstanding ice coverage throughout the program Kostner landed five clean triple jumps. " Yesterday I made a mistake and I was angry with myself because it cost a lot as it was the short program. But today's mistake was not so terrible as I had a chance to fix it by performing everything left properly," Kostner commented.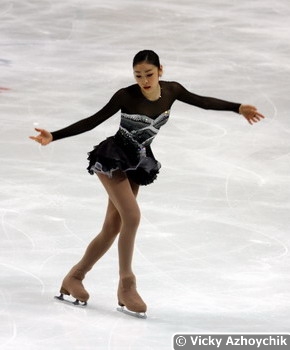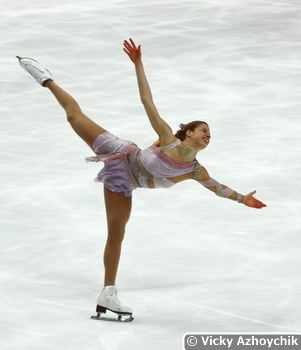 Alena Leonova of Russia deserved a standing ovation from the home crowd for her energetic routine to the soundtrack of The Witches of Eastwick. The Russian delivered solid skating featuring an impressive combination of two triple toe loops and moved from fifth to fourth place overall.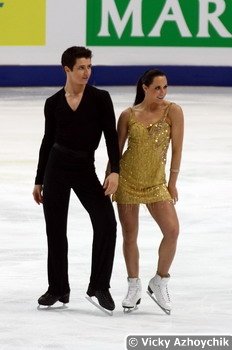 The short dance made it obvious that the battle for the title in the ice dance event at World Championships would be between Tessa Virtue and Scott Moir and their training mates Meryl Davis and Charlie White.
Virtue and Moir took the ice first in this duel. Dancing to the Latin rhythms of Rumba and Samba the Olympic Champions appeared with a new uncharacteristic style for them. The couple who had to miss the first half of the season due to Virtue's injury pleased the crowd with level four lifts and sensuous and intricate footwork. It was evident that Tessa and Scott gave everything they had. 107.50 points which were awarded to this dazzling performance of a demanding routine made the task even more difficult for Meryl Davis and Charlie White.
The Olympic silver medalists kept their composure well. Davis and White delivered a confident performance of the
ir Tango in which all their elements except for the diagonal step sequence were graded a level four. This was unquestionably a technically strong performance however it lacked a true tango passion. It seemed that Virtue and Moir had just been crowned with a World title for a second time. The judges had a different opinion. Meryl Davis and Charlie White earned 111.51 points outscoring Virtue and Moir both in total element score and program component. Davis and White took first place overall and became the first World Champions from the USA.
"We couldn't be any happier. We've worked our entire life for this moment. It's never been easy, we put an extra effort when it got hard and it's just such a blessing it paid off when it counts here at Worlds," White told the press.
The battle for the bronze medal was even more dramatic. Nathalie Pechalat and Fabian Bourzat who held an overnight third place were first to skate in the final warm-up group. The European Champions started off their sophisticated routine to the music from Charlie Chaplin movies well.
Nothing seemed to stand on their road to their first World medal until the couple fell right at the beginning of their circular step sequence. This error was fatal for Nathalie and Fabian. With only 92.57 points in the free dance (6 th place in the segment) they eventually slipped to 4 th place overall.
This unfortunate mistake by Pechalat/Bourzat left the door to the podium open to Ekaterina Bobrova/Dmitry Soloviev and Maia and Alex Shibutani who held 5th and 4th place respectively after the short dance.
Bobrova and Soloviev skated elegantly but could not avoid mistakes. A couple of stumbles throughout their performance to the Melody of the White Nights by Isaak Schwartz did not let them challenge the medal and in fact made them slip to 6th place overall.
Bobrova and Soloviev were overtaken by the Canadians Kaitlyn Weaver and Andrew Poje who produced one of the highlights of the night. Their routine to the Moulin Rouge soundtrack was crisp, technically solid and very expressive. The students of Pasquale Camerlengo and Anjelika Krylova who failed to make the Canadian World team last two years could definitely be proud of their fifth place finish in Moscow.
The bronze medal eventually went to Maia and Alex Shibutani who competed in their first senior World championships. Maia and Alex put out a clean performance of their ballroom free dance to Smile and Let's Face the Music and Dance. " We're just speechless. Going into our first World Championships we were really looking forward to just enjoying the experience and showing all the hard work we have put in this year. We're just happy having two solid performances so this result (bronze medal) is amazing," Maia Shibutani commented.
Thus, for the first time in history of the World Championships the podium consisted of North-American teams. And what is more remarkable is that all three medalists are coached by Marina Zoueva and Igor Shpilband.
Closing by Suzanne Herrmann
Watching Worlds and discussing the trials and tribulations many have overcome reminds me of a quote from Kurt Browning (voiceover while skating to Have a Little Faith in Me – John Hiatt). "All those hours spent alone on a rink is where a skater's strength comes from. That's where a standing ovation starts. If you don't really want to be there, it's gonna show. Nothing that you dreamed about is gonna happen if you forget why you started in the first place. You gotta skate with your heart. Before anyone can believe in you, you're gonna have to believe in yourself." No matter what happened on the ice, each and every skater has put incredible effort and much time into preparing for this event. Congratulations to all and especially to those who made dreams come true.