Art On Ice: A show that tickles the senses!
February 13, 2012
By Eva Maria Jangbro (EMJO)
Photos © Eva Maria Jangbro (EMJO)

Act 2
and we are rolling again!
The air acrobat Tamara opens the second act with a stunningly beautiful number. She is doing her tricks in "water", that is, the background shows water and fish, and is like an open sea or a gigantic aquarium. Tamara looks like a mermaid surrounded by a large water snake that swims around her. I absolutely loved this beautiful number; it had everything and deserves to be my highlight number two.
Elena Ilinykh and Nikita Katsalapov
Black Velvet – Tinka Belle
What a fresh breath these young ice dancers are, so much more than just beautiful. They have natural chemistry; Elena so sexy in her black dress and Nikita handsome in great looking pants. There are fast lifts, great technique and tons of speed in their performance along with the sensual skating. You can tell they love performing to live music.
Emanuel Sandhu
The Man I Need - Tinka Belle
Emanuel does another funny number that suits him and he still has some triples! And of course we get to see his great spirals. He is at one moment hypnotized by Tinka Belle who makes him turn around, look to the right etc. Emanuel is an elegant skater but he's also a s
inger. The audience missed out on him singing Purple Rain at the after party; he looked somewhat like a taller version of Prince.
Miki Ando
Black Swan
This is my show highlight number three and the program that captured me the most. The performance from Miki is incredible; you can feel the pain going straight to the heart. I think this is the Black Swan program of the season (and there are maaany). Miki often skates black, dark numbers and this one is surely one of the best. There is also a black swan ballerina on stage to complement the skating, but it is Miki we are watching. She keeps the audience spellbound in that gorgeous dress, wearing her feelings on the sleeve. Magnificent!
Tatiana Volosozhar and Maxim Trankov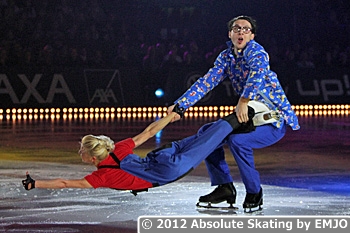 Super Mario
This is such a fun number and I really love the faces Maxim is capable of making; they are priceless! I have seen this program before and it is playful and very entertaining. I understand it is difficult to find time to make two new gala numbers, but I won't lie; I would have loved to see two new numbers from Tatiana and Maxim, like I did from the Germans.
Finally Mick Hucknall, former lead singer of the band Simply Red takes the stage. Rumors of his death in a Jet Ski accident last year were obviously exaggerated – he is very much alive! The audience gives him a warm welcome and he sings New flame. Now the big star part begins.
Isabelle Delobel and Olivier Schoenfelder
It is only love - Mick Hucknall
Isabelle and Olivier always seem to find new props to play with. This time it is a chair and a table. They are in a restaurant being served by a waiter. Olivier skates around with Isabelle sitting on the chair, then they move on to some of their trademark lifts. This is great singing and mature ice dancing at its best. They connect well with Mick and he is really on tonight!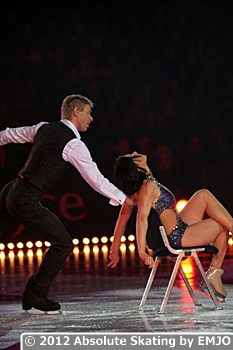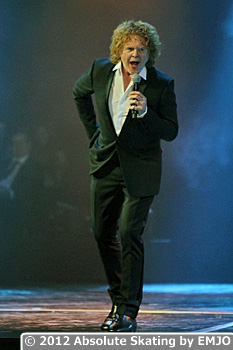 s
Sarah Meier
Stars - Mick Hucknall
Sarah looks so comfortable in her role as a "star" show skater and interacts very well with Mick, who keeps delivering his greatest hits! Maybe it was the Cheese fondue Mick said he had earlier during the day, that made him get into the right spirit.
Florent Amodio
Money - Mick Hucknall
This talented young man skated to the perhaps longest number of the evening and kept the energy up throughout the performance. He sure has the stamina for it! Mick is giving it all and so is Florent. Again he gets the audience going!
Ekaterina and Alexander Chesna
Holding Back - Mick Hucknall
These air acrobats do a very daring number. I have seen it before but this time I managed to keep my eyes open and state they have no safety net. But I knew that already. Brave people or maybe crazy people... Mick has now moved to the podium that slides around on the ice while singing Simply Read's first hit Holding Back the Years.
Aljona Savchenko and Robin Szolkowy
If You Don't Know Me - Mick Hucknall
Simply Red's very biggest hit is coming up and Mick asks us to all sing along. We do while Robin and Aljona skates a romantic program in red, well, she is wearing red.
Stéphane Lambiel
Something Got Me Started - Mick Hucknall
We're almost at the finale, but of course we have to have one last number from Stéphane. He and Mick understand each other very well with Mick following every move Stéphane makes on the ice, with both eyes and voice. Stéphane looks like people do when they win a million dollars. He skated like no one else and looks totally happy. Again he goes for the quad and that in show light! There is so much energy in that body; I expect (and hope) it'll last for many years to come.
Finale: Fairground
Mickis on the floating podium surrounded by the skaters. He looks happy, the skaters look happy and the audience gives an appreciative standing ovation. We are all happy!
Summary
To my surprise I like this show even better than last year's. A lot of it is because the connection between the singers and the skaters was not only better, but the skaters felt like a big family.
What could possibly make the show even better? Well, I still love the short transitions between numbers at Stars On Ice and other shows, and of course group numbers. But this was truly great too and you can't always have it all.
Anyway, this was more than plenty to fuel up my frozen winter spirit with positive energy. I award everyone involved in this production the highest PCS, thank you all! And me, well, Iwill go back home happy and smiling!