Gala in Grenoble: Dance on Ice
Grenoble, France
September 4, 2013
By Oxana Shkrebtienko
Photos © Oxana Shkrebtienko, Alexandra Ilina, Grenoble Alps Metropole/patinoire Polesud
There is a great tradition in France among figure skating clubs - to organize the annual club galas. It's a kind of report from each club of its current yearly activity. The coaches as well as the young skaters prepare for this performance throughout the whole year. Local television and press, art directors and choreographers are involved in this work. They sew beautiful costumes for all the participants and create original programs. All of these preparations are paid for by generous sponsors, mainly from local businessmen and companies. Tickets are not very expensive, so the ice rinks usually have full crowds.

Not only parents and friends of young talents attend such galas, but local people also gladly come to watch the performance. It gives them great pleasure to admire the artistry of their local kids, as well as specially invited stars of figure skating. For local skaters it is a unique opportunity to perform together with famous sportsmen from their national team. It is an honor and also a good experience for them. Every member of the French team accepts invitations with great enthusiasm to participate in club galas. Sometimes the proceeds from ticket sales go to charity; for example last year in Nice part of the money was donated to the Association Against Childhood Cancer "Enfants et Santé".

Clubs prepare for this annual gala during the whole year by creating themed programs and suites, and every year's gala theme is new. This year's gala in Grenoble was called Dance on Ice. The theme, as it is not hard to guess, was the dances - folk, ancient and modern, group and solo.
Figure skating clubs of Grenoble and Vaujany took part in the performance. Skaters from Vaujany opened the presentation with the number Flash dance.
Then group and solo programs were performed to folk music from around the world: Oriental and Celtic dance, Sirtaki and tango.

After showy Danses de l'été summer dances executed by the skaters group of club section, two young boys from a high level section skated their programs. Thomas Clermidy performed Dance avec les loups and Nathan Carriére showed a program of Michael Jackson songs, having fun interacting with the audience.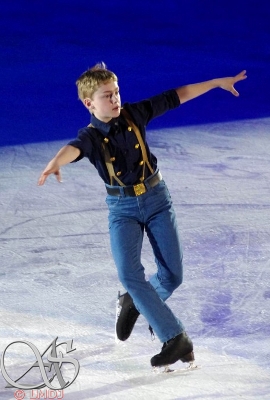 A savage dance, full of impressive movements and tricks, was executed by skaters from a high level section. Children played to the crowed and the audience loved the performance.
After Noël-Antoine Pierre skated his elegant program to the music Happy, a favorite of the local public, Chafik Besseghier from Grenoble, appeared on the ice. In the first part of the show he executed his exhibition program from last season. Created to techno music, it was skated with high speed and good quality jumps. He is a ball of energy and you could hardly take a photo of Chafik because of his incredibly speedy movement on the ice.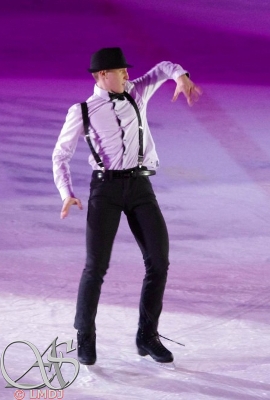 Closing the first part of the performance, Brian Joubert skated a melodic, lyrical and sensual
Luna tu sung by the group Mezzo from Kazakhstan.
It was just magic brought to the ice! This number was created for a "one-time performance", it was absolute improvisation by Brian. But after the big success of this program at two shows in Kazakhstan he decided to keep it as his new exhibition number.


During the break between the two acts we met with friends who came to Grenoble from many countries to enjoy this spectacular event. There were ladies from Italy, Germany, France and Russia. This was not the first time for us to see each other and we were happy to meet again! And also we got acquainted with one new friend at this hospitable rink, charming Margarita Popov, the mother of a French team young hope, Marina Popov.

The second part opened with a group "Country" dance performed by a Club section.

Then two girls from a high level section executed their firey, high energy programs.
Lou Bonnin danced to Lili voulait aller danser and Marina Popov performed Rock'n Roll.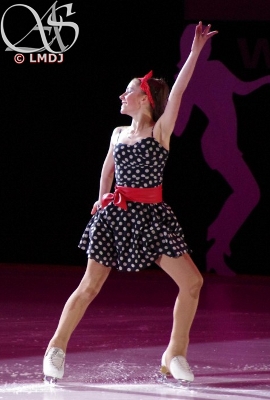 A group of children dressed as dolls in colorful costumes skated a very touching La valse des poupées. Such a sweet exhibition!
After Charleston by Club section skaters wearing costumes of the 1930's, Kevin Aymoz from a high level section executed his funny Boogie woogie, an intense, very well interpreted program.
The main theme, "Dances on the ice", was perfectly reflected in each number of this gala, one of which was Burlesque by Gabrielle Scalzo. The girl dressed in a typical cabaret costume elegantly danced, playing with the crowd, which truly enjoyed her performance.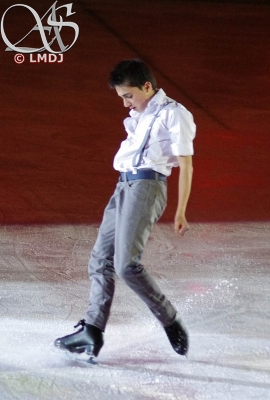 Then skaters from competition sections appeared on the ice in a group for a "Celtique dance". Many nice surprises were planned for the audience at this gala, one of which occurred during the group Celtic dance. At the final part of this number, during Lord of the dance music, Brian Joubert suddenly appeared among the skaters and performed his famous solo Irish steps. The performance was enthusiastically cheered by the crowd.
After this another popular top hit song started, Gangnam style, that became a figure skating hit this season. The skaters also have fun interacting with the audience.


Grenoblean Chafik Besseghier performed his free program and pleasured the audience with his high energy skating and quality of his performed elements. In the second part Brian Joubert skated his famous exhibition program Sandstorm of Daruda, with a quick tempo and a violent drive. The program is famous for his unique footwork which speeds up untill sparks fly from under his skates! It doesn't matter the kind of music to which he skates his program, he is always a brilliant and an organic part of the image.
Another surprise was a combined number of Brian Joubert and Chafik Besseghier to the music Sandstorm. It appeared to be improvised to the spectators' eyes, but looked so cool when they performed their footwork towards each other, executing jumps and spins together!
But not only was the audience surprised by the participants; but one skater was also surprised by his fans. It happened at the beginning of the gala during a traditional awards ceremony when the skaters received some gifts from sponsors. A representative of the international fan club "La Maison de Joubert" awarded Brian Joubert with a diploma for his outstanding achievement in figure skating to commemorate the fact that he jumped and landed more than 100 quads at International Figure Skating competitions. Brian was really surprised and highly pleased.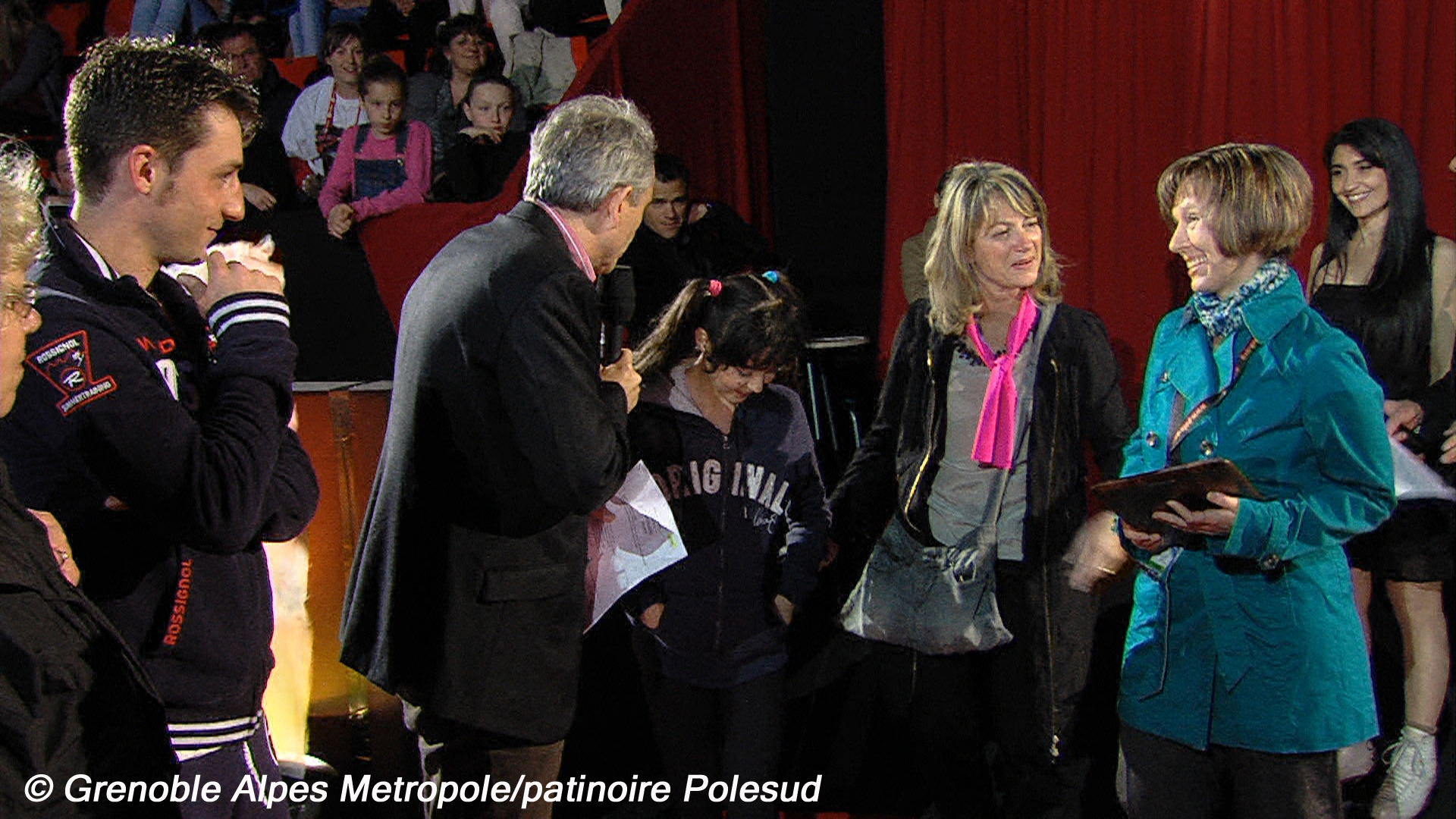 At the end of the show all participants, kids and adults, took the ice again. The rink became full of skaters who started to dance an ardent Macarena all together, cheered by the audience. It was very funny and became a nice finale of this unforgettable evening.

The spectacular event was held at Patinoir Polesud, on May 31. See you the next year, Grenoble, at the next beautiful club show. What will be the gala theme then?
Also check out the extra photopage here!