The complete Grand Prix Final 2013
December 15, 2013
By Atsuko Kuryu
Photos © Keiko Kasai
The 2013 Grand Prix Final began on Dec. 5th at Marine Messe Fukuoka, Japan. A total of roughly 30000 people visited the venue to watch the international top level skaters compete at this event. There were many dramatic emotions of joy, sorrow, satisfaction, and disappointment on the ice, and the arena's audience shared these moments with the skaters. The competition, which ended on Dec. 8th, was followed by an exciting exhibition. Japan showed its strength in senior single categories by producing the champions of both the single men's and single ladies' competitions. Neither the reigning men's world champion, Patrick Chan, nor the pairs world champion team of Tatiana Volosozhar and Maxim Trankov were able to top the podium. We witnessed how strong the Russians are in junior ladies and junior pairs. In junior ice dance the Russian couple topped two American teams while all brand new medalists rose out in junior men's singles. Let's review the competition and remember how interesting the event was to watch!
Day 1

Junior Ladies, Short Program
The four Russian skaters topped the two U.S.A girls. Skating a flawless program, Maria Sotskova won the short. She made use of her long arms, legs and the flexibility of her entire body. She nailed 3 fantastic level 4 spins and 3 consistent triples to receive 61.29 which was her season's best. She said she treated the Junior Grand Prix Final as just another competition.
She was followed by Serafima Sakhanovich, who only stumbled on the landing of her combination jump. Other than that she was perfect and got her season's best score of 60.56 as well.
Evgenia Medvedeva, who entered as top junior girl, only did three level 3 spins and stayed in 3rd place with 58.75. She said she was injured and her left foot was hurting.
Alexandra Proklova was 4th (51.27) because she couldn't complete a combination jump. American Polina Edmunds won 2 JGP events but finished only 5th (48.20) because she touched down a hand at the second triple toe of her combination jump and fell on the triple loop. Angela Wang, who filled in for Karen Chen, fell twice and finished last (44.69).
Junior Men, Short Program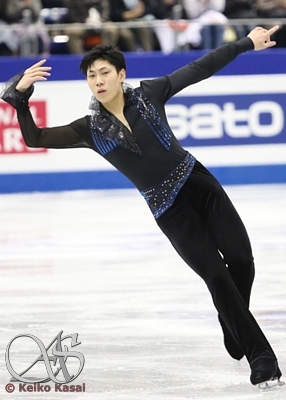 Japan's Keiji Tanaka dominated the short program. His performance was so mature that he appeared nearly ready to compete on the senior stage. He landed his opening triple Axel and three other triples smoothly and showed wonderful expressiveness to "Instinct Rhapsody". His score was 73.63. "I was very happy to skate in Japan, where everyone supports me," said Tanaka.
The runner up was Ajian Pitkeev from Russia. He also landed solid triple Axels and 3 other triples and nailed three level 4 spins to surpass Tanaka's base value but failed to collect as much +GOE as Tanaka. This was his first time skating in a big competition so he said he was very nervous. He received 72.24 points.
Nathan Chen of the U.S.A fell on the landing of the second jump of his combination and finished third, with a score of 71.52. He said that missing the jump set him back a little. However, he was satisfied with the result. "But overall I thought I did pretty well," said Nathan.
Russian Alexander Petrov also did pretty well (70.92). His performance was almost perfect but he earned less points than the top three men not only in TES but also PCS. Boyang Jin of China moved softly but skated fast. He also nailed all the jumps cleanly to get 68.42. The only skater who was disappointed by his short program was Japan's Ryuju Hino, the reigning bronze medalist. Even though he landed a beautiful triple axel, he popped his triple Lutz into a single and scored 58.56.
Junior Pairs, Short Program
Five of the pair teams out of the six were from Russia; there was only one Chinese pair and they won the short program. Xiaoyu Yu and Yang Jin from China combined high technical level elements and musical inspiration which they must have been learning from their coach, Hongbo Zhao. They skated flawlessly and were rewarded with the high score of 61.10.
Lina Fedorova and Maxim Miroshkin also executed an almost perfect performance. Their lasso lift was beautiful and pair combination spin was outstanding. Their score was 58.58.
Maria Vigalowa and Egor Zakroev also showed a solid performance. Their step sequence went very well with the music and their death spiral was fast and beautiful. They earned 55.07.
Evgenia Tarasowa and Vladimir Morozov were just 0.16 behind (54.91) .Their throw twist was very high and the lasso lift was visually wonderful. Vasilisa Davankova and Andrei Deputat skated first and seemed to do just as they planned, earning 54.82 points. Kamilla Gainetdinova and Ivan Bich were the team with the most disappointing performance in this discipline. They failed to complete their last element, a pair combination spin which was not counted. They only received 48.40.
Men's Short Program
Yuzuru Hanyu set a new world record for a short program with the astonishing score of 99.84. He landed a quadruple toe in the opening, and all the other jumps effortlessly. He compiled level 4 spins and step sequence, except for the last combination spin which was level 3. He had set new records several times already with this short program and be assured it was powerful and passionate. "I'm just very surprised [to have scored a world record]" he said, not hiding his surprise. "I just did what I am capable of. I hope to enjoy this special event until the end."
Patrick Chan from Canada hit a textbook quadruple toe-triple toe combination but stepped out and touched a hand down on the landing of the triple Axel. He also popped an attempted triple Lutz into a double and only got 87.47 but held second place. "I focused so much on the quad and didn't really focus on the rest," he explained, giving the reason for his mistakes on the jumps after the combination. "I felt confident, and that is why my first quad was good."
Nobunari Oda fell on his opening quad toe and got an edge call for his triple Lutz. But other than that, he collected himself and managed to stay third. He earned all level 4 spins as he expected. His score was 80.94. "I was nervous and I fell on my first jump," said Oda. "And after that, I felt like I woke up. I cannot take back what I fell on, so I hope to land it [the quad toe] in my free skate."
Chinese Han Yan was fourth after he fell on the quadruple toe and popped the second jump of his triple Lutz-double toe combination. Once seen, his short program is unique and unforgettable. Unfortunately he couldn't make a good impression on the audience this time. Russia's Maxim Kovtun failed to land all three jumps he attempted. His score was only 68.92 and he dropped his head into his hands at the Kiss & Cry. But Tatsuki Machida of Japan must have been even more disappointed than Kovtun. He popped his opening quad toe into a double. Even worse, his triple Lutz-double toe received no points because he repeated the same jump (double toe) during the short program. He only received 65.66 for his effort. He said, "I can't put it into words, but please watch my free skate. I've been skating 20 years and I want everyone to enjoy my skating."
Ladies short program
Mao Asada of Japan appeared to land her trademark triple axel cleanly but it was judged as under-rotated; this was her only mistake. Collecting two level 4 spins and step sequence, her positive GOE added up, earning her 72.36 for the short program. It was graceful, and at the same time very strong technically. The audience was excited and joyful, giving her a standing ovation as well showering the ice with presents and flowers, which fell like rain.
Russian Adelina Sotnikova gave a great performance, too. She didn't leave anything on the ice this time. She landed all the jumps (three triples and a double Axel) and did three level 4 spins and a level 4 step sequence. Adelina commented on the depth of Russian skating by saying "There are four strong girls here and they could all potentially be in the top three. I try to not relax, and to skate just as well in the long program in order to keep this place among the Russians."
Ashley Wagner from the U.S.A skated to her music with rhythm, showed a mature performance and was third by a narrow margin of 0.24 points. She moved precisely and landed all the jumps cleanly including a triple flip-triple toe combination. "Today was an awesome performance. I am so happy." she smiled. "I feel really good about the flip-toe; it's something that I set my mind to from the start of the season."
Julia Lipnitskaia and Elena Radionova of Russia also skated seemingly flawless programs but Lipnitskaia got an edge call for her triple Lutz. They did every difficult element effortlessly. Lipnitskaia's score was 66.62 while Radionova got 64.38. Anna Pogrilaya of Russia missed her double Axel entirely and scored only 59.81.
Day 2
Junior Ladies, Free Program
The young Russian skaters dominated this area. Four out of the six competitors are 13 years old. Maria Sotskova, who just turned 13 the day before this event, showed her full potential and talent which won her the title with a score of 176.75. Her free skate was solid and powerful. She under-rotated the second jump in her jump sequence, but the spins and step sequences were all level 4. "I was so nervous before the competition today," she confessed. "I didn't know what to do with myself. My choreographer helped me and said 'you have to put your fears in a separate box'. So I took a tissue and put it away. It is still in my backpack." With her fears in her backpack she became junior Grand Prix Champion.
Serafima Sakhanovich, aged 13, came second overall (and second in the short program) with a total score of 172.86. She landed most jumps but stepped out on the double Axel in the later part of program and got an edge call for her two triple Lutzes. She said she was proud that she managed the difficult combination of triple Lutz-double toe. "I wasn't nervous at all," she said bravely. "I had a call from my mother and she encouraged me and told me not to get nervous."
Evgenia Medvedewa was 5th in the free skate with a score of 163.68, however she stayed third overall. "I enjoyed the nervousness I had before the competition," she recalled. "And it made me realize I really want to have these feelings again."
American Polina Edmunds looked really mature in this category, even though she is only16 years old. She skated a flawless program. She moved gracefully to music from Peer Gynt. She earned 113.51, her season's best, enough to be second in the free skate (113.51) but finished 4th overall. Alexandra Proklova showed beautiful positions throughout her program, especially her last layback spin which was breathtakingly beautiful. She was 5th with a score of 157.77. American Angela Won might not have been ready for this event because she substituted Karen. Her score was 131.58.
Junior Men, Free Program
There were fresh and young medalists in the junior men's category. From China, Boyang Jin, who was 4th in the short program placed first with 3 quadruple jumps and won the title. He landed a quad Salchow, followed by quad toe (hand down) - double toe combination as well as a single quad toe. His Charlie Chaplin medley was full of fun moments and because he skated happily and energetically, it made the audience happy. Clapping their hands along to his step sequence, they showed how much they liked and supported him. His score for the free skating was 216.73. His technical elements score was as high as 88.59 but the PCS was only 61.72 which was 5th out of the 6 competitors. "I could perform as I have planned. I always do well during the practice but at the competition I become careless." He reflected his past performance. "I could add more difficult jumps into my program. Besides my jumps, I'd like to improve my expression."
Adian Pitkeev of Russia stayed second. Skating to the music of Art on Ice, he gave a fabulous performance. His jump take-offs looked very easy and all the jumps were very high. He also had class and brilliant expressiveness. Contrary to Boyang, he received a high PCS; the second highest. "For myself I am very satisfied with my skating," said Adrian. He also praised the other medalists at the press conference, "The medalists next to me, I was impressed with their skating. I have more things to do from now on."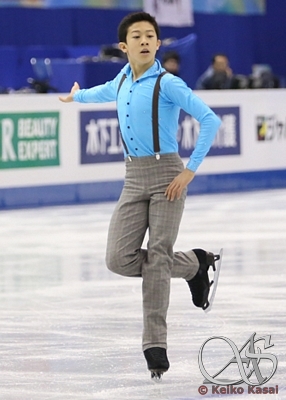 The skater who got the highest PCS was Nathan Chen of the U.S.A. He just had one triple Axel in his free program but got enough TES to get on the podium because he did most of his jumps in the latter half of the program. He landed 7 triples and 3 doubles there. His performance to the music of Chatanooga Choo Choo/ Summertime was vivid and stylish. He also has good showmanship at his age of 14. "I got my triple Axel which is definitely a big bonus for me," he said happily. He had not included this jump in the Grand Prix competitions yet. "It's a dream come true. I've always wanted to come to the JGPF."
Overnight leader, Keiji Tanaka from Japan, dropped to 4th overall. He fell on his quad toe and second triple Axel, which cost him a place on the podium. He made some more mistakes so his score was only 132.08. "I tried not to think too much about skating last in the group." But unfortunately he did.
Despite several mistakes Alexander Petrov skated naturally and unconstrained, gaining an overall score of 198.63 and ranking 5th. He looked older than his age of 14 years old, so we all can look forward his growth both physically and in his skating. Reigning bronze medalist, Ryuju Hino was not in best form during this competition. His total score was 182.39 which must be much lower than he expected, but he is positive after the event and said he would practice harder for the next competition. Let's hope for the best for him.
Pairs, Short Program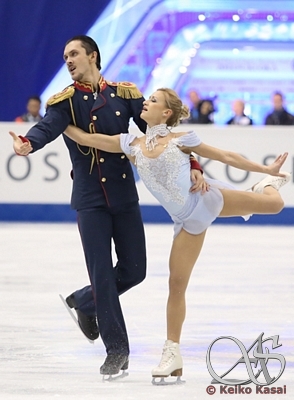 Please let me call this game "the miracle moments of the evening." All six pairs performed excellently and renewed world record after world record. There were standing ovations for each pair after their performances. Anybody who could watch this event must have felt thankful for the opportunity. The reigning World champions Tatiana Volosozhar and Maxim Trankov nailed an overwhelming performance and hit the newest world record score of 82.65. The music of Masquerade involved the whole venue and generated a good deal of excitement. "We were able to do a clean program as we did three competitions ago and we are very happy about it," Maxim said. "But Nina Mikhailovna (Mozer, coach) keeps us at a kind of medium level; we weren't in top shape and we can't say that we are at a 100% now."
Aliona Savchenko and Robin Szolkowy came second. They skated before Tatiana and Maxim and received 79.46 points, the world record at that time. Their program was fabulous and so dramatic; they did it flawlessly. They were disappointed to get a time violation deduction. "Our skating was better than the first two competitions," said Robin. "That was quite good, especially for the first full run-through of (the new version of) the program. We are going step by step," said Aliona.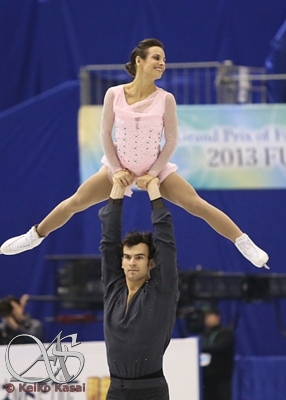 Third were the reigning Olympic silver medalists, Qing Pang and Jian Tong. They showed a breathtakingly beautiful performance to Ennio Morricone's Lady Caliph. They did all the elements perfectly but didn't collect all level 4s. Their score was 75.40. "Today, we were able to do a clean program and we are very happy about it," Jian said, satisfied. However, he had an anxiety. "I have a small knee injury, so I hope that gets better."
Meagan Duhamel and Eric Radford from Canada must have been very happy when they saw their score, because at that time, it was also a new world record. It would be beaten again soon though. The score reflected that their performance was great. They got 73.57. It was solid and had a beautiful flow throughout the program. Chen Peng and Hao Zhan from China gave a better performance in every competition they entered. This event was not an exception - especially the height of the throw twist and the distance of the throw jumps were notable. Their score was 68.87. The other Canadian pair, Kirsten Moore-Towers and Dylan Moscovitch also did well and received 68.77 points. Their program was cute and enjoyable.
Ice Dance, Short Dance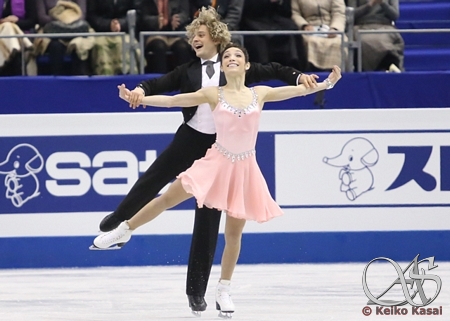 Compared to the Pairs event this was a more predictable competition. Meryl Davis and Charlie White from the U.S.A. led with a margin of 0.07 on runners-up Tessa Virtue and Scott Moir. Their score was 77.66 which was their season's best. They picked up level 4 for their opening step sequence, the finnstep, and the rotational lift. Their twizzles were fast and were entirely in sync. Their strong and exciting performance delighted the audience and they gave them a big standing ovation. "We are very happy with today's skate," said Charlie. "We settled in quickly and technically with all our level 4's." Meryl talked about their rival, the Canadian couple (Virtue & Moir), "I think that we are very fortunate to train alongside each other. Having such talent as Tessa and Scott every day in training and competition does nothing but push me and Charlie."

Virtue and Moir nailed the greatest performance in this season so far. They topped Davis and White slightly on the technical score. They made all level 4 for their elements as well but received more GOE. The audience couldn't take their eyes off their performance when they were skating. "Tessa and I are extremely happy with our skate tonight. We've been training really well at home and we wanted to skate just as well," Charlie explained. He said about Davis & White in return, "I found myself coming to this event really excited to compete with Meryl and Charlie. This narrow margin will be exciting for the fans and hopefully have more people interested in ice dancing."
The reigning World bronze medalists, Ekaterina Bobrova and Dmitri Soloviev from Russia danced to upbeat and joyful music. They skated fast and moved sharply. They got level 4 for their synchronized twizzles and level 3 for the step sequence. "We are very happy with our performance today. At the beginning we did have a little glitch in our steps but other than that everything went smoothly," said Soloviev.
Canadian Kaitlyn Weaver and Andrew Poje skated a flawless program featuring an amazing curve lift and well-synchronized twizzles, placing them in 4th (67.64). To our surprise, Nathalie Pechalat and Fabian Bourzat started out a little behind. They looked slower than usual and picked up only one level for their rotational lift. Their score was 66.83. Bourzat explained one of the reasons why they failed to get level 4. "We just made some changes in the short dance after France so it felt like a new program." Anna Cappelini and Luca Lanotte were charming as usual but the levels they got weren't as high as the others.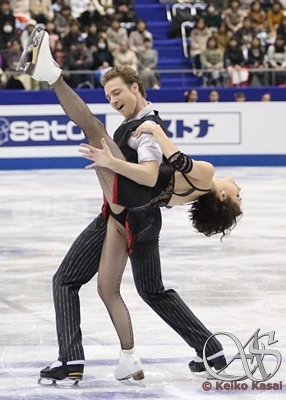 For the rest of day 2, day 3 and 4, including some not before published photos, go to part 2!
Also, if you want to see more of these photos, check out the dailies of day 1 and day 2 we previously published.