From summer training into the season: Alexei Mishin's training camps
September 17, 2013
By Ia Remmel (Pia)
Photos © Ia Remmel (Pia)

The summer camps of Russia's top coach Alexei Mishin have become a fruitful annual tradition, attracting young skaters from around the world. This year the first two camp's location was the small Italian village Pinzolo while the third and final camp took place from July 22nd to August 3rd at Tartu in Estonia. While Pinzolo's icerink is located next to beautiful mountains, the rink in Tartu is in the middle of a large shopping centre.
This year the camps drew particular attention because Evgeni Plushenko started his Olympic preparation here after months of recovery. Many of Mishin's prominent students trained in the camps as well, such as Elizaveta Tukhtamysheva, Artur Gachinski and the young promising skater Maria Stavitskaya. Alongside them trained young skaters from Estonia, Russia, Ukraine, Switzerland, Austria, Latvia, Belgium and Finland.
The schedule at the camp is very tight, including physical training, ballet, jump basics on and off the ice and work with steps, edges, flow and spins. Trainees can participate in a group or take private lessons. The coaches of Mishin's group are Mishin's wife Tatjana Mishina, Oleg Tataurov, Vakhtang Murvanidze, Vladislav Vladimirov, Tatjana Prokofieva, Nikita Mikhailov, Estonian coach Sanna Remes and choreographers Georgi Kovtun (choreographer on ice) and Elena Karpova (choreographer on the floor).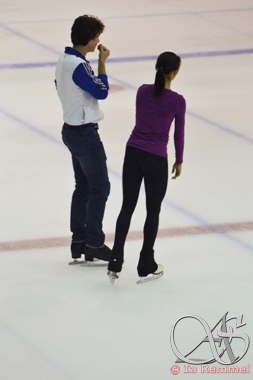 The day I arrived at the camp there was a large group practicing step sequences with the energetic and inspiring Vakhtang Murvanidze. Young coach Nikita Mikhailov gave a private jumps lesson, Tatiana Prokofjeva polished the steps and choreography of the skaters, Sanna Remes worked with spins and Vladislav Vladimirov coached young ice dancers.This year the camp also included young ice dancers from St. Petersburg. It was interesting to observe how Alexei Mishin worked with the skaters on jumps. Every little move was polished and explained in detail. After watching him work, one could admire his energy and devotion.
Then the air became electric - Evgeni Plushenko was starting one of his first practice sessions at the Tartu camp. During the training he concentrated on the triple axel. He also used the harness system from time to time and hit more than six of them in a row. He practiced spins as well and did a run through of his short program to the music "Taka jak ty" by the Ukrainian band Okean Elzy. After a few days he started to prepare for his long program with Maxim Staviski and Edvald Smirnov, a ballet choreographer who has created some of Plushenko's previous programs.
I had the opportunity to follow one of the camp's galas as well. It was nicely arranged with real show lighting. The opening featured a really young skater, 3 year old Riana Kadyrova from Kazan who presented her lovely program based on Russian national themes. She had come to the camp with her older sister Yasmina. All of the audience was charmed by her performance and it was great to see how much she enjoyed skating. The next appearance was by Latvian junior Anastassia Petukhova. She had nice soft skating but her jumps remained doubles.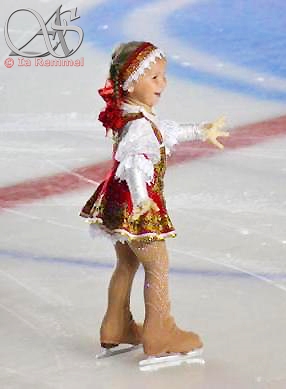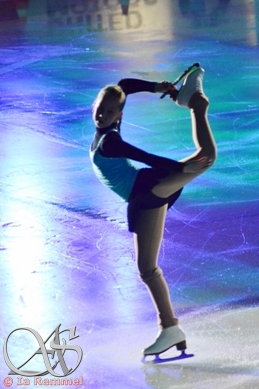 Two of the gala skaters came from Switzerland. Aubane Raccurt was enthusiastic and lovely but her skating could have been more fluid. Yoonmi Lehmann left a good impression, having polished movements and good jump technique.

Other performers included the sisters Dali and Milena Kasyanova. Their skating had nice basics but was a bit cautious in terms of jumps. Charlotta Hendrix from Belgium skated well but needs more power and height in her jumps.
The little ice dancers Alexandra Samersova-Fjodor Sharonov and Sofia Mukhametzianova-Konstantin Frolov were a joy to watch. The two Austrian skaters Ines Wohlmut and Christina Grill had interesting programs and costumes but their performance needed more personality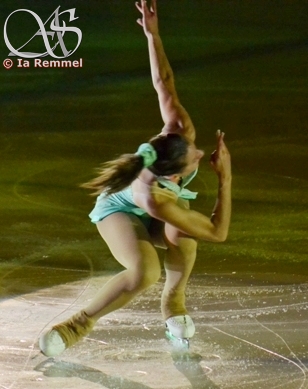 The two Finnish juniors Eveliina Viljanen and Nelma Hede are going to be competing in the juniors during the new season. Currently, they did not yet show their full portential in terms of jumps. Their performance could also use more personality.
The Russian skaters Diana Guseva and Bogdana Lukasevits left a good impression with strong basics and jumps. Diana Guseva looked especially promising.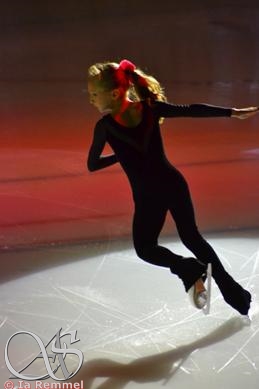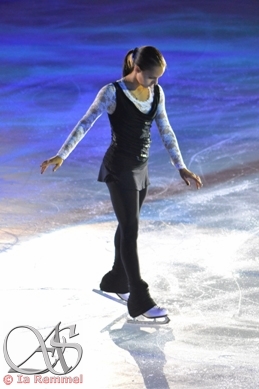 Maria Stavitskaya had beautiful lines and nice deep edges. It was very interesting to observe her practice these concepts with an ice dance coach ahead of the gala. Stavitskaya's program to the "Don Quixote" ballet music suited her really well as she resembled a balerina on the ice. Sindra Kriisa is a promising Estonian junior skater with interesting choreography and presentation. This year her long program is skated to Bolero's arrangement and her short will be to Ruja-Tango performed by the Estonian cello band C-Jam. Both programs were choreographed by Edvald Smirnov.
After having a tough season the 2011 Worlds bronze medalist Artur Gachinski seems to be much stronger this season. First he skated his long program to "Anna Karenina" soundtrack which was very suitable for him. During his program he hit three triple axels and a quad, and offered triple axels for an encore. Later he also skated a Flamenco short. It was somewhat a pity that we did not get to see Liza Tukhtamysheva performing at the gala but after her recent camps she had been fighting with illnesses.