Dear Friends - an amazing rehearsal
September 20, 2014
By Atsuko Kuryu
Photos © Keiko Kasai

It is difficult to get tickets for figure skating events in Japan these days – to shows or competitions. This is very true for the Friends On Ice show, and even for the rehearsal called Dear Friends. Tickets sold for about $60 and Keiko and I fortunately had a chance to watch. We'd like to share our precious experience here.
The Friends on Ice 2014 rehearsal was held on Thursday, August 21.
Olympic champion Shizuka Arakawa promoted and hosted the show as usual, but she did not perform on the ice this year because she is pregnant, expecting her baby in October. She still produced the show, but did not skate in it. At the press conference after the show, she enthusiastically talked about the opening and how it was a bit different from previous shows. The skaters would wear very fashionable clothes, supplied by VOUGE JAPAN and appear on the ice like fashion models. Shizuka said she asked the skaters to walk like models and they actually did. Please note how gorgeous the dresses were in the beautiful shots by Keiko. I was especially fond of Shae Lynn's white coat with the colorful flowers on it, and Evan's camel coat.
After this fabulous opening, the show continued with Saya Ueno, who was selected through an audition. I will not comment on each performance here, since it was a rehearsal and some skaters didn't perform a whole program, but I would like to talk about some inspiring moments.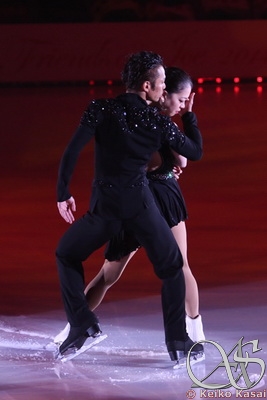 The most exciting number for me was a group number performed by three male World champions (Evan Lysacek, Daisuke Takahashi and Brian Joubert); killingly attractive especially for the fans of the Vancouver Olympic era. These guys showed several personal specialties and looked so masculine. I found myself missing the time period when those three competed together. Another highlight was Akiko Suzuki and Daisuke skating to Libertango, a number that became a hot topic after they performed it in the real show. When I watched it, some parts were cut so I couldn't really tell how it would turn out, but the audience who saw it later said it was really hot and extremely passionate.
When I watched Evan skate, I had a special feeling because I hadn't seen him on the ice for a while. In the announcement he made before his performance, he declared he had had a tough time giving up his Olympic challenge because of the injury (all the skaters were able to comment before their performance). But he finally came back and gave us a really wonderful performance. He used his long arms and legs fully and had good ice coverage with great speed.
Speaking of comebacks, I want to say something about pair skaters Yuko Kawaguti and Alexander Smirnov (Russia). When his injury was announced, lots of people thought it would mean the end of this pair. But it wasn't. They are back on the ice after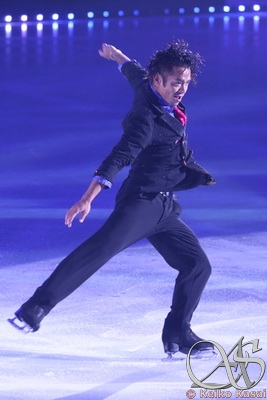 much effort and hard work. Just to see them awoke many emotions; their performance was beautiful and so worth watching.
The main attraction of the show was Daisuke Takahashi's new exhibition program, Caravan. It's a really busy one, he has to move, dance, run, and entertain all through the program. Even during the performance, he looked as though it was too much, and at the end he was gasping for air. Maybe it was just a sly disguise for the rehearsal, or maybe not. Anyway, whether he was tired or not, you have to be satisfied with this program. It was full of fun and you can enjoy Daisuke's aura everywhere in his performance. Just enjoy it!
There were more highlights in this show, such as Takahiko Kozuka's new programs for the up-coming season, Brian connecting with the audience, Miki Ando's consistent power, and lots more. At the end of the show, Shizuka said: "See you next year!" So we can expect to enjoy this wonderful show again next year when she has become a mother. What a joyful thought, I propose a toast to her!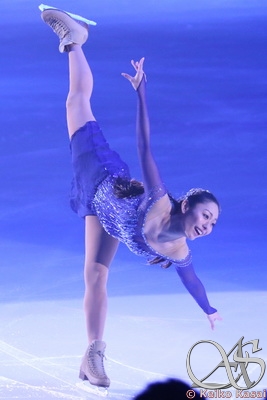 Go to Photopage.