World Championships day by day highlights
April 1, 2014
By Atsuko Kuryu
Photos © Keiko Kasai, Ludwig Welnicki (Joluskating)
Japan has been waiting for these World Championships for so long. The country of the rising sun should have hosted the 2011 Worlds, but the terrible earthquake and tsunami that hit them forced them to think about more important things than figure skating. Three years later, the country recovered from the tragedy and looked forward to see the best skaters of the world in their first post-Olympic big event. The Japanese audience is always fantastic, and it was extraordinarily supporting and grateful for the memorable performances. There were many great programs to remember.
Our reporter Atsuko was there and recounts how she saw the medallists perform and how they commented on their results.
Day 1
Pairs: Short Program
The competition kicked off with the short program of the pairs. Olympic bronze medallists Aljona Savchenko/Robin Szolkowy from Germany won with the score of 79.02.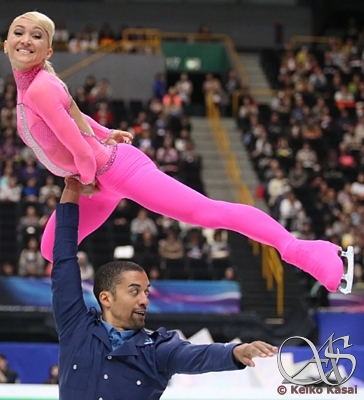 After their performance, the audience gave them a huge standing ovation for their stunning performance. This was what you may call a champion's performance! Not only technically strong but they had great harmony with the music. Their performance to the "Pink Panther" music was really enjoyable. It felt as though they had skated for only a moment, as time seemed to speed by. Robin said they were happy about today's performance and the Japanese fans helped them a lot.
Meagan Duhamel/Eric Radford from Canada, who also received a huge standing ovation from the audience, placed second. They skated the whole program flawlessly. Their movements were smooth and clean, the combination spin was so beautiful. Their score was their season's best, 77.01. When Meagan looked at the score she showed her utter delight with her brightest smile. She said they came here with a mission to perform a clean free program and this nice short program was a bonus for them.
Russia's Ksenia Stolbova/Fedor Klimov from Russia slipped into third after a strong performance, which featured a very high throw twist. The height of this twist was really impressive. Even though they had slight mistakes - Ksenia's extra turn on the landing of side by side triple toe loop - the score was very high at 76.15; just 0.86 behind Meagan/Eric. Fedor said they were happy with their performance and wanted to skate clean tomorrow.
Men: Short Program
Japan's Tatsuki Machida (right) won the small medal tonight in the men's short program with the high score of 98.21 which was his season's best. He was the perfect package. All the elements were excellent and the expression was outstanding.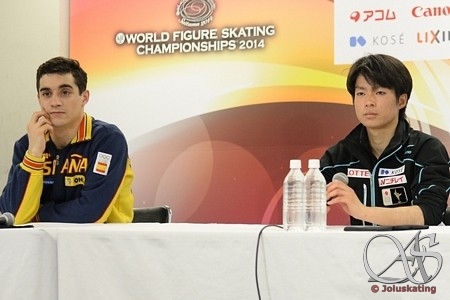 He said he was really motivated after the competition was over in Sochi and eager to start practice from the day he returned to Japan. You can see he has trained a lot because he has improved so much compared to the Olympic performance. What made him this kind of amazing skater? I think one of the reasons is Stéphane Lambiel found and taught him. He showed Tatsuki how he could be more expressive. Tatsuki gained confidence from the fact that Stéphane chose him. He developed his expressiveness first and then improved the technical part.
Spanish Javier Fernadez (in photo above, to the left) was ranked second with a flawless performance. He landed all the jumps clean and his technical elements score, 51.43 was the highest. In addition his performance was very entertaining. He earned a season's best score of 96.42. He said everyone might think he was frustrated with his performance in the Olympics but it was not true. He was very happy because he had given all there. He practiced hard when he returned to his home rink.
His training pal Yuzuru Hanyu (Japan) stayed in third place because he fell on his opening quad toe. When he appeared on the ice, there was much cheering from young girls and they didn't stop until the music started. Could this have influenced his opening quad? Being asked if it affected it or not, he denied this firmly. Despite the fall he collected himself and scored over 90 points. He said he was mad about his performance in the free skate in Sochi so he will skate clean the day after tomorrow.
Day 2
Pairs: Free Skate
Aljona Savchenko/Robin Szolkowy won the free skate and the title after they delivered a stunning free program. Barely 2 minutes in to the program, everyone in the venue knew it would be a great performance.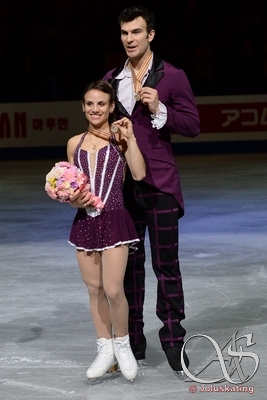 Everything was consistent and beautiful. You couldn't imagine they would make any mistakes from that point onwards. Actually they did; they both singled their attempted double Axels. Fortunately both made the same mistake so it didn't matter for the total impression of their performance. As soon as the music stopped the whole audience stood and gave them huge applause. Their score was 145.86.
The runners-up were Ksenia Stolbova/Fedor Klimov who delivered a brilliant performance. However there wasn't the excitement that Aljona/Robin brought to their program but it was enough for a silver medal. After their performance, they hugged each other and Fedor picked up a flower from the ice and gave it to Ksenia. Lovely, isn't it?
Meagan Duhamel/Eric Radford were fourth in the free skate, but third overall after they finished their sweet program, "Alice in Wonderland". Unfortunately they couldn't achieve their mission of delivering a perfect free program as she fell on the landing of the first jump in the combination jump. Still their performance was fun to watch. They gained 133.83; their season's best score, and at least reached the podium.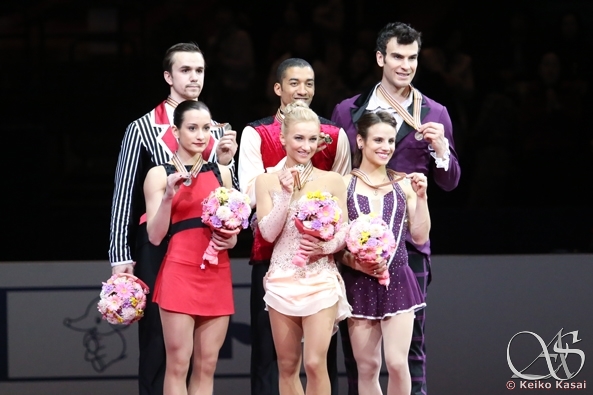 Ladies: Short Program
Almost uniformly considered the best competition of the event was the ladies short program. Mao Asada from Japan successfully landed a triple Axel and won the short program with the score of 78.66. This is 0.16 points more than Yuna Kim scored at the Vancouver Olympics, which makes it a new World Record!
As soon as she finished her program the arena erupted with the whole audience standing up cheering and clapping. Mao covered her face with joy, relief and disbelief. She sparkled during her performance with airy-fairy step sequences and amazing spins as well as her jumps. The audience cheered her long after her performance ended.
Italian Carolina Kostner placed second but her performance was no less wonderful than Mao Asada's. What decided the order was the triple Axel. Carolina's graceful and artistic performance with a perfect technique moved the Japanese audience. The audience responded with almost as much applause as they had given Mao. Carolina's score was just 1.42 behind Mao's.
The powerful young Russian, Julia Lipnitskaia, placed third with the score of 74.54. Her technique was solid in her jumps; she had fast and flexible spins; had wide and speedy ice coverage, but somehow didn't match the level of the two veterans, Mao and Carolina, for artistic impression and/or maturity. She received a higher technical elements score than Carolina but couldn't reach Mao and ended behind both skaters on the program componement score (PCS).
Day 3
Ice Dance: Short Dance
The first competition in ice dance, the short dance, lead to some surprising results. Italians Anna Cappellini/Luca Lanotte won with an awesome performance. They had tremendous speed and wonderful flow. This was the best performance I have ever seen from them. As part of the audience one didn't just watch them but got caught up in the world which they created on the ice. They received 69.70 points.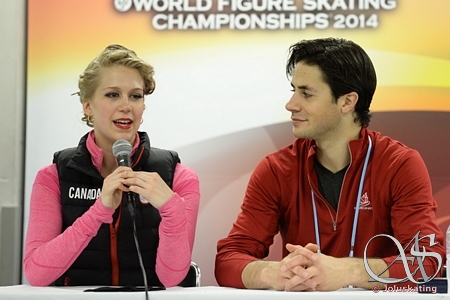 The runners-up were Kaitlyn Weaver/Andrew Poje from Canada. Their program was pleasant, delivered with speed and brisk footwork. Kaitlyn looked so beautiful in her royal blue dress which I thought was one of the best costumes of this event. They received 69.20 for their effort. Kaitlyn said there were three free spots on the podium and that it was different from fighting for only one spot. She also said that she thought anything could happen here. Both Kaitlyn and Andrew must have felt motivated by this and you could see it from their performance.
To our surprise, Nathalie Péchalat/Fabian Bourzat from France only ranked third. Their performance was not the best from them; perhaps because they did not know for sure if they would be competing at Worlds this year. They had joined the Art on Ice tour, which took place between the Olympics and Worlds; therefore preparation time could have been limited. However, they were still very charming. Fabian seemed to lose his balance a bit during their step sequence, but it didn't affect their score much. They received 68.20 just 1 point behind Kaitlyn/Andrew.
Men: Free Skate
Welcome new era! Three young faces stood on the podium. Yuzuru Hanyu bounced back and won his first World title with a stunning performance where he landed the quad Salchow (for the second time in his career) and two other quad toes.
I was lost for words when he collapsed on the ice after he had finished his performance. He regretted his performance in the short program and swore he would do better in the free skate and he kept his word. During the step sequence his footwork did not seem as strong as usual and I wondered if he felt fatigued with the pressure. He maintained his power to the end and delivered an almost perfect performance. His score of 191.35 gave him an overall score of 282.59 which was just 0.33 points ahead of Tatsuki Machida.
Tatsuki nailed a gorgeous "Firebird" routine and all but Yuzuru, who still had to skate, believed he would be the world champion at his first World's event. Tatsuki's performance was not perfect but still great. He stumbled on the landing of the second triple Axel and over-turned on the next triple loop. He landed the rest of his jumps clean and delivered an awesome step sequence and combination spins. The score of his free skate was his season's best (184.05) and he gained 282.26 points overall.
After Tatsuki and Yuzuru nailed two stunning performances, Javier took to the ice. Javier kept focused and skated playfully; entertaining the crowd. His only mistake was popping the triple Lutz to a single. But it didn't affect the result. Gaining 179.51 for the free skate, with 275.93 overall, he made the podium.
Next year, who knows who will be on the podium, as men's figure skating holds such exciting new talents.
Day 4
Ice Dance: Free Dance
We found some new faces on the podium at the World Championships in the ice dance field. Anna Cappellini/Luca Lanotte won gold, with Kaitlyn Weaver/Andrew Poje getting second place. Our old friends, Nathalie Pechalat/Fabian Bourzat placed third. We witnessed something very special on the ice through their performances. All of them delivered stunning performances and the margin between them was small. Dividing gold and silver was 0.02 points and silver to bronze, 0.04. An absence of the two big stars motivated the couples and they battled at their best. As with the men's event, the March wind blew and brought new flowers to this field.
Anna/Luca skated freely and easily amid the rising tension and became the world champions. Anna's position in the first lift was beautiful and Luca commanded the ice as if a boat sailed the ocean catching the fresh breeze.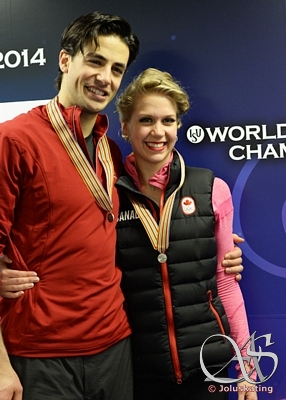 Their humorous expressions were so entertaining. They received 105.73 for their free dance, with which they were only fourth in this segment. But overall this lead to a score of 175.43, which kept them in first place.
Kaitlyn/Andrew nailed a fabulous tango to reach the podium. As I mentioned before, all of the performances in this group were tremendous but theirs stood out for the program's power. I didn't want to take my eyes off them even for one second. What a performance it was!
Nathalie/Fabian gave a very impressive performance, too. It was even the second best free dance of the evening! Their expression was very emotional. This was the story about "The Little Prince" and the Rose he loved. Fabian played the role of The Prince and Nathalie, the Rose. We could see the story that they aimed to show. There was love and tenderness in their performance. Their speed was slower but it felt just right for this program to me.
The score margins were so narrow between the 3 couples that it was hard to decide the order of the medals. In the end it was the short dance which was the deciding factor for which couple got which colour.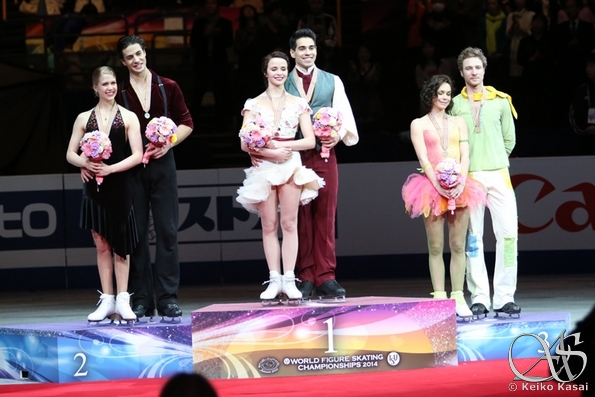 Ladies: Free Skate
Mao Asada won her third world championship title after landing a triple Axel even though it was regarded as under-rotated. Julia Lipnitskaia fell on her down-graded triple Salchow but went up to second place, while Carolina Kostner slid down to third because of her disappointing free program.
Compared to the fantastic short program, the ladies' free skating was a bit of a disappointment.
Landing a clean triple Axel as an opening jump, Mao executed her planned elements one after another successfully except for the solo double Axel. She rushed through to the end with all her might. The audience went crazy after her performance because they knew she could win the World Championships. Her free skating was not as good as at the Olympics about a month ago; however, Mao said she was satisfied with it. It was a wonderful performance. There were masses of flowers and gifts o the ice, thrown like a shower by the fans. Mao's score for her free skate was 138.03.
Julia skated around the rink calmly several times. When the music began she started her performance as planned but doubled the planned triple toe in the combination and was also downgraded on the triple Salchow - and fell. She slipped into 2nd place with an overall score of 207.50.
Carolina didn't have her usual speed from the beginning. She popped 2 jumps and fell once. After she landed the last jump she accelerated herself for the rest of her program. Her performance technically was not so good but the score was not so bad; 126.59. She shrugged her shoulders after her performance. Even though being sixth in the free skate, thanks to her high score in the short program plus her superb skating skills and artistry she did make the podium. She said she couldn't hide her disappointment about her performance tonight and looked sad at the press conference. However during the medal ceremony she was smiling and as radiant as ever.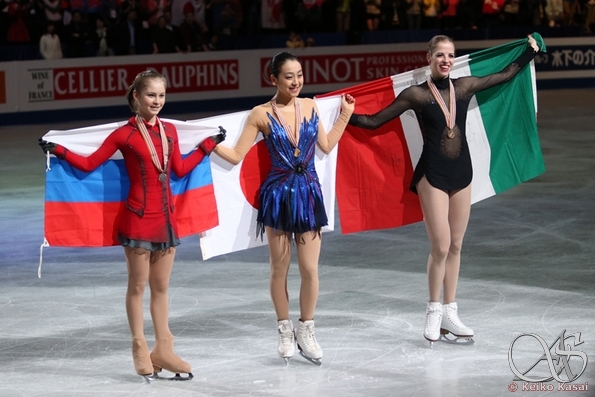 These World Championships consisted of many memorable performances, new faces on the podiums, old favourites skating their last competitive programs. There is much more to tell, which Atsuko will do in the near future. For now we close these emotional championships, but not before awarding one more gold medal, for the awesome Japanese audience. Arigato Saitama!